News > Spokane
From chocolate fountains to 600 eggs, families celebrate tradition at Davenport's annual Easter Brunch
April 21, 2019 Updated Sun., April 21, 2019 at 10:32 p.m. Three generations of women sat around a table covered by a white tablecloth beneath one of The Historic Davenport Hotel's many chandeliers.
Jana Worthington said she and her mother have been visiting the Davenport for brunch since she was 13, and their Easter Sunday family meal has grown to include friends they see every year for brunch and her own daughter.
She said the brunch is one of the few times her mother, step father, her daughter, her daughter's father and his now-girlfriend, share a meal together.
"Family traditions are going away for so many reasons," she said. "Some really matter and that's why we hold onto this so tightly."
Worthington said their families' brunch tradition began in Seattle with special meals with her grandmother, who loved fancy restaurants, and continued when the family moved to Spokane and would have brunch at the Davenport.
"It was the coolest place in town," she said.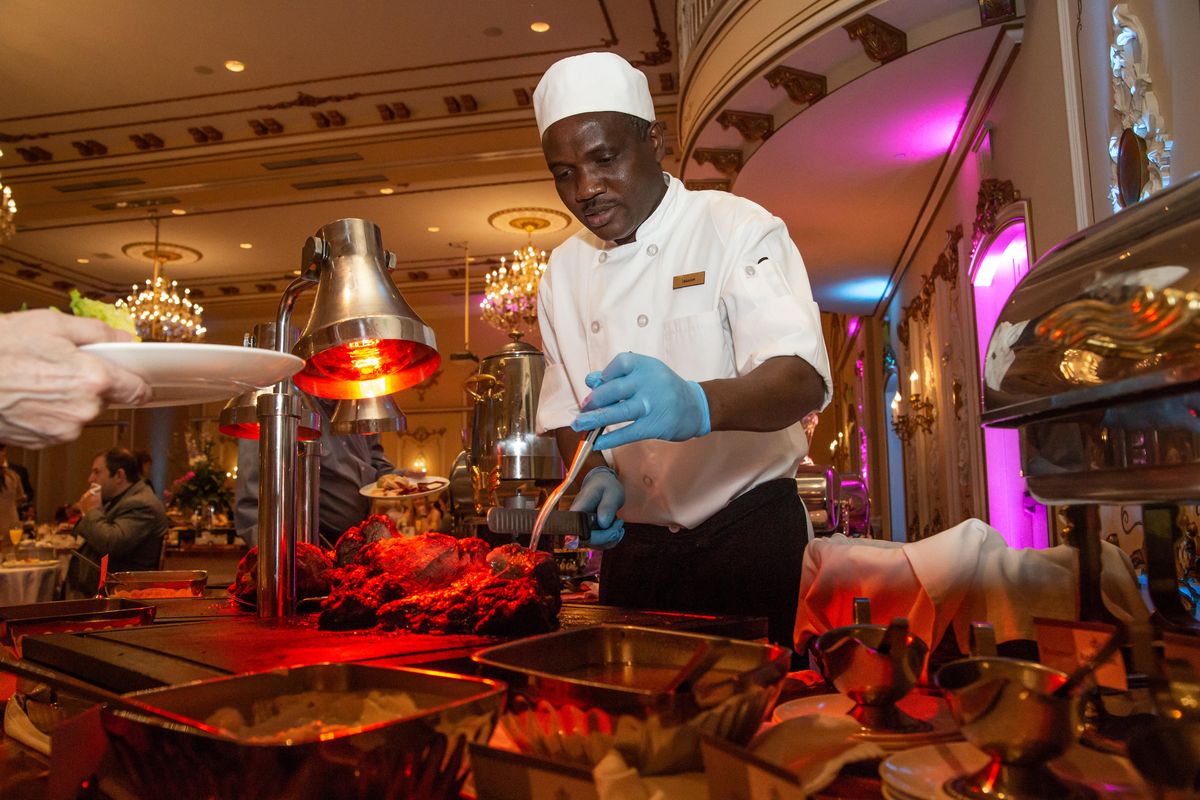 Ibrahim Mohammed cuts beef at The Historic Davenport Hotel Champagne Sunday Brunch on Easter Sunday, April 21, 2019. Mohammed was in charge of lamb, ham and beef, and the hotel had 20 full prime ribs prepared. (Libby Kamrowski / The Spokesman-Review)
Worthington said she went to the Davenport for brunch before it closed in 1985, and began going to brunch again when the hotel reopened in 2002.
During an average Sunday brunch, Davenport staff serves around 200 guests. During their Easter Sunday brunch, they serve about 1,000. Brunch at the Davenport is usually about $50 a person, but for special events such as Easter, it costs about $70 a person.
For Easter, the staff poaches about 600 eggs and uses orders 70 pounds of dark chocolate and 40 pounds of milk chocolate for the Davenport's two chocolate fountains. They also order 2,000 pieces of bacon, 100 pounds of clams, more than 5,000 desserts and more than 200 pounds of shrimp. They also serve about 20 cases of Champagne.
Mary Stratton, also known as Mama Mary by the guests who return, has served brunch at the Davenport for 17 years.
Stratton was nicknamed Mama Mary by a well-known Davenport guest, Don Rickles, a comedian known for his roasts of the famous and nonfamous alike with a career that spanned decades who also played Mr. Potato Head in the film "Toy Story."
She said she remembers many families who would go to brunch with their babies when she first started, and their children are now graduating from high school and picking out colleges. Now, many guests include her in their annual Easter photos.
"The server becomes a part of that collective memory," she said. "It's amazing to be a part of that."
Tim and Larayne Conley, two Spokane natives who have been attending the Davenport for the last four years, said their grandchildren look forward to the brunch every year, and it's one of the few occasions everyone dresses up for.
Larayne Conley said her children and grandchildren all live in Spokane, but their annual Easter brunch is one of the few times they all come together.
"It is a little pricey but we think it's worth it," she said. "In the end, you get what you pay for and we're paying for the atmosphere."
Local journalism is essential.
Give directly to The Spokesman-Review's Northwest Passages community forums series -- which helps to offset the costs of several reporter and editor positions at the newspaper -- by using the easy options below. Gifts processed in this system are not tax deductible, but are predominately used to help meet the local financial requirements needed to receive national matching-grant funds.
Subscribe now to get breaking news alerts in your email inbox
Get breaking news delivered to your inbox as it happens.
---