News > Spokane
100 years ago in Spokane: Lightning strikes reverend, damages house, sparks wildfires
Thu., Aug. 1, 2019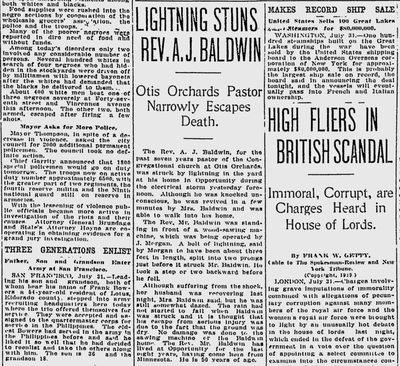 A lightning storm "played hob" with power lines, telephone lines — and one pastor in Opportunity.
The Rev. A.J. Baldwin was in his yard assisting a friend with a wood-sawing machine when a dark cloud came overhead and suddenly a bolt of lighting came down. It split into two prongs, one of which struck Rev. Baldwin, The Spokesman-Review reported.
He took a few steps backward before he fell in a heap.
He was knocked unconscious, but Mrs. Baldwin revived him after a few minutes, and he was able to walk into the house. He was reported to be recovering, but "still somewhat dazed."
Elsewhere, a lightning bolt hit a telephone wire and traveled into the house of A.A. Lindley, who was sitting in the living room. The lightning tore away a corner of the front porch and then knocked the telephone from the wall of the living room. Plaster flew around the room, but Lindley was unharmed. The telephone pole in front of the house was partially split.
From the forest fire beat: The lightning storms set new forest fires in the already-smoky Idaho panhandle. Forest officials reported 13 new lightning fires in the Selway district, 11 in the Kaniksu district, six in the St. Joe district, and four in the Coeur d'Alene district.
Local journalism is essential.
Give directly to The Spokesman-Review's Northwest Passages community forums series -- which helps to offset the costs of several reporter and editor positions at the newspaper -- by using the easy options below. Gifts processed in this system are not tax deductible, but are predominately used to help meet the local financial requirements needed to receive national matching-grant funds.
Subscribe to the Coronavirus newsletter
Get the day's latest Coronavirus news delivered to your inbox by subscribing to our newsletter.
---