News > Business
More than a year after devastating fire, Shogun restaurant to reopen at new location in Spokane Valley
Wed., Aug. 14, 2019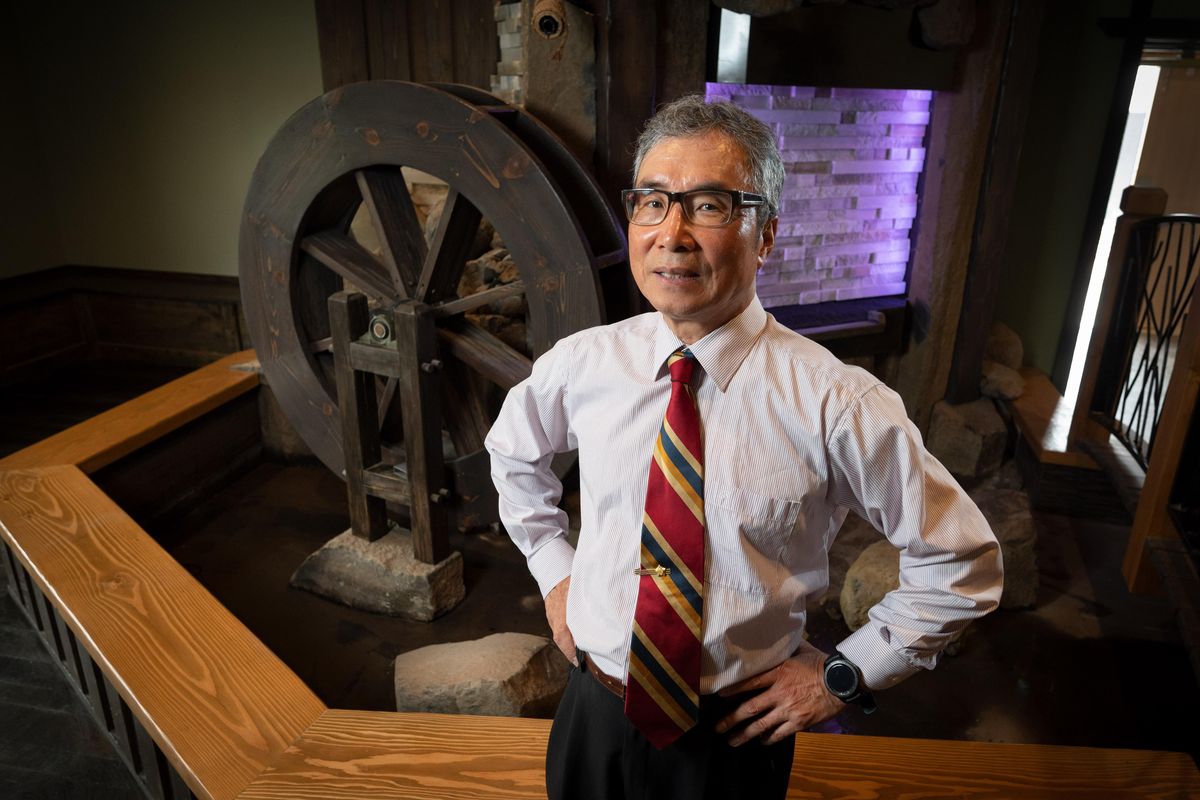 After a fire destroyed Shogun Restaurant in April 2018, owner Joseph Lee made a promise to rebuild. After a year of renovations to a building in Spokane Valley, Shogun is set to open Aug. 19, 2019. (Colin Mulvany / The Spokesman-Review)
After Shogun was destroyed by a fire last year, owner Joseph Lee made a promise to his longtime customers to rebuild the iconic sushi and hibachi restaurant.
Lee purchased the former site of The Roadhouse Bar & Grill at 20 N. Raymond Road in Spokane Valley, and after close to a year of renovations to the building, Shogun is reopening Monday.
Lee said more than 450 people have called him since the restaurant burned down April 2018, asking when it would be open again. Sun Lee, Joseph's wife, wrote down their numbers, one by one, in a notebook to update them about the restaurant's opening date via calls or texts.
"After the fire burned the old restaurant, a lot of people asked us when we would open again," Joseph Lee said this week. "Now, we are born again next Monday."
Post Falls-based ML Architect & Associates Inc. completed interior renovations to the 8,000-square-foot building that will house the new Shogun, which retains a similar Japanese-style interior design as its predecessor.
"I'm trying to maintain the same style as before," Lee said, gesturing toward a newly built waterfall feature, indoor pond and a bamboo bridge in the restaurant's entryway.
The new Shogun has 14 Japanese teppanyaki grills with seating for eight people at each table, a lounge, sushi counter and a "Samurai Room" with additional teppanyaki tables for corporate parties and groups, which can be sectioned off with sliding screens called shoji.
Lee is continuing the restaurant's popular gong shows, and purchased a grand piano for live music, which will be placed on what was once a stage at The Roadhouse.
Spokane Valley-based B&O Construction is the project contractor.
A key difference between the new Shogun and the former location is the addition of a patio with a nearby open area.
"I hope we can do a vegetable garden to provide fresh vegetables," Sun Lee said.
Shogun will be open seven days a week, from 5 p.m.-10 p.m..
The restaurant will have a formal grand opening on Nov. 27 to mark 100 days of operation, which is reflective of "Baek-il," a Korean tradition that celebrates a child's 100th day of life with prayer and food, Lee said.
After the grand opening, it's likely the restaurant will add a lunch menu and extended hours, Lee said.
Lee purchased Shogun in 2004 from the Hwang family, who founded the restaurant in 1992. The Hwangs moved the restaurant from Spokane Valley to the eastern edge of downtown at 821 E. Third Ave., where it became a Spokane institution for its hibachi steak and lively gong shows.
Many customers celebrated graduations, birthdays and anniversaries at the restaurant, which was a "dining experience that is part theater and part high-quality chefsmanship," according to a 2004 Spokesman-Review article.
Lee was devastated when Shogun was destroyed by the fire last year.
The cause of the fire was ruled undetermined by the Spokane Fire Department.
The adjacent Shogun Plaza Self Storage facility at 905 E. Third Ave. – also owned by Lee – sustained extensive damage when water used to extinguish the fire seeped into the building and damaged renters' property in the units.
The city of Spokane filed a lawsuit against Lee last year, requesting the storage facility be vacated and shut down and Lee pay $250,000 in damages. The lawsuit stated the storage facility drew criminals who were living in the units and causing issues for many years, according to the suit.
The damaged restaurant was demolished and the land – as well as the storage facility – were listed for sale.
Assistant City Attorney Matt Folsom told The Spokesman-Review last year if the city could find a buyer for the property, it wouldn't seek financial damages. City Attorney Mike Ormsby confirmed Friday the city is working to close a sale on the property.
Lee said he is ready to put the past behind him and focus on Shogun's reopening in Spokane Valley.
"I'm excited for it," he said. "We've been anticipating it for the past year."
Local journalism is essential.
Give directly to The Spokesman-Review's Northwest Passages community forums series -- which helps to offset the costs of several reporter and editor positions at the newspaper -- by using the easy options below. Gifts processed in this system are not tax deductible, but are predominately used to help meet the local financial requirements needed to receive national matching-grant funds.
Subscribe now to get breaking news alerts in your email inbox
Get breaking news delivered to your inbox as it happens.
---