News > Education
Miss Kendra program coming to Logan Elementary this fall
Thu., Aug. 15, 2019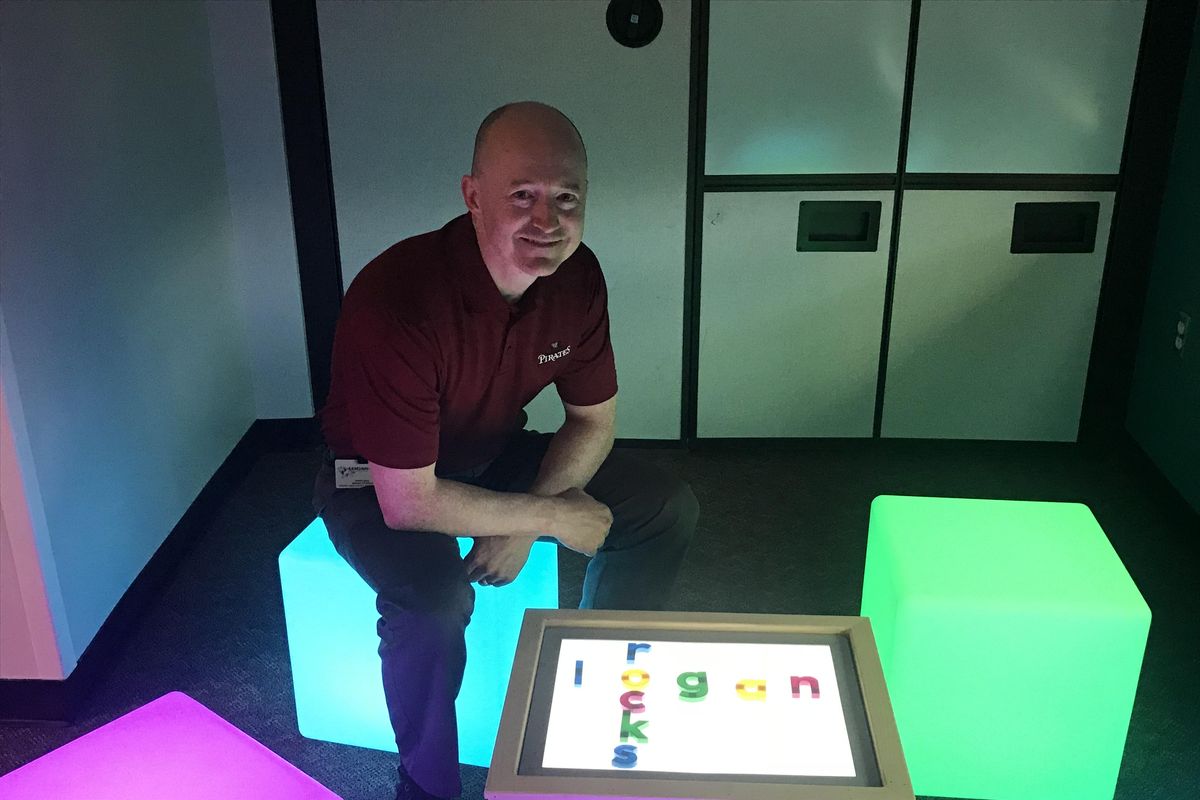 Brent Perdue, principal at Logan Elementary School, is photographed in the school's new sensory room. (Nina Culver / The Spokesman-Review)
When classes start at Logan Elementary later this month, teachers and staff will have just completed new training designed to teach them how to support students affected by adverse childhood experiences thanks to a $35,000 grant from the Hagan Foundation.
"They fully funded the entire program," said Logan Principal Brent Perdue.
The new training is the next step in years of studying the problem of childhood trauma and how it affects learning, Perdue said.
"We've been on this journey of becoming trauma informed," he said. "The trauma kids go through changes their brain chemistry."
Childhood trauma isn't limited to abuse or neglect. It can also include the stress from "household dysfunctions" such as divorce, domestic violence, substance abuse or mental illness. Increased stress leads to more production of the hormone cortisol and long-term higher levels of that hormone can lead to an exaggerated flight-or-fight response that can trigger abnormal behavior, Perdue said.
A child's behavior is often the only language they know to express that something is wrong, he said. "If kids are distracted by their worries, their stress comes out in their behavior," he said. "They're trying to tell us that they're hurting."
This fall the school will begin using the Miss Kendra program that was developed by a clinical psychologist in Connecticut who specializes in post-traumatic stress disorder. It centers around "The legend of Miss Kendra," a book about a woman who lost her child who started volunteering at a local elementary school. Miss Kendra became known as someone who listens to children who are having problems.
Each classroom at Logan will be outfitted with a special mailbox so students can write a letter to Miss Kendra if they are having a problem at home or at school.
"Kids have a way to talk about their worries," Perdue said. "These letters go in the box and Miss Kendra writes back. The kids don't know this, but the staff is Miss Kendra. That's where the training comes in."
The two-day training, led by the psychologist who started the Miss Kendra program and a social worker, will teach the staff how to respond to the letters the students write. Each teacher will receive a curriculum guide for the program.
Perdue said schools have seen increasing numbers of children who need help learning how to control their emotions.
"It's not enough to know how to teach reading and mathematics," he said. "We can't get to the learning part until they feel safe and comfortable."
Perdue said he has little discretionary money in his budget and it would have been impossible to pay for the Miss Kendra program training without the grant from the Hagan Foundation. The foundation is named after Dr. Cornelius Hagan, an ear, nose and throat specialist who worked in Spokane for decades. He created the foundation in 1997 to support educational initiatives.
The Miss Kendra program is only the latest in a series of efforts underway at Logan to help students. Each classroom has a quiet space where children can go when they feel overwhelmed. They can also visit the regulation room, where they can talk to a teacher or counselor about what is bothering them and learn techniques to manage their emotions.
Installation of a new sensory room funded by a $3,500 grant from Mountain West Bank is also underway. It includes a dark, quiet area with bean bags and yoga mats for relaxing as well as lighted blocks arranged around a light table. If a child needs to burn off excess energy they can bounce on an oversized ball, walk a balance beam, hop between plastic "rocks" or use exercise ropes.
It's all designed to provide a distraction, Perdue said.
"The idea is that kids are not thinking when they're upset," he said. "We're trying to support their emotional regulation so they can learn. You can't punish kids to better behavior. Our belief is that kids want to do well."
The Miss Kendra program provides a way for children to feel like someone is listening to them and is concerned about them, Perdue said. "Kids are struggling," he said. "They just want to be heard."
Schools across the country have been signing up for the program and some report significant drops in the number of office referrals and fights. "We're hearing that it's a really great program," he said.
Local journalism is essential.
Give directly to The Spokesman-Review's Northwest Passages community forums series -- which helps to offset the costs of several reporter and editor positions at the newspaper -- by using the easy options below. Gifts processed in this system are not tax deductible, but are predominately used to help meet the local financial requirements needed to receive national matching-grant funds.
Subscribe now to get breaking news alerts in your email inbox
Get breaking news delivered to your inbox as it happens.
---