100 years ago in Spokane: Local air industry debuts with $10 flights; electric power sent to coast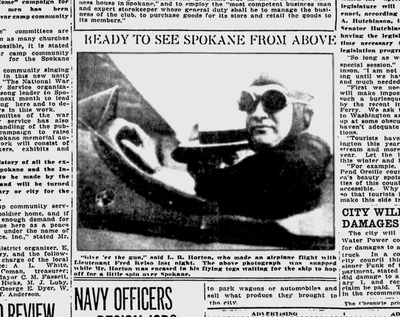 Spokane's passenger air industry debuted when Lt. Fred Kelso began carrying passengers for $10 a flight, the Spokane Daily Chronicle reported.
He carried five passengers on sightseeing flights over Spokane's business center and then downriver to Natatorium Park.
Another pilot, T.W. Symons of Spokane's Northwest Aircraft Co., followed up within two days with his own passenger flights in his Curtiss plane.
Symons' excursions were sightseeing flights as well, but the Northwest Aircraft Co. had larger ambitions.
"After sufficient interest has been aroused, we will probably start an airplane service between Seattle and Spokane," said Foster Russell, president of the Parkwater-based company.
From the electricity beat: "Spokane Juice Now Supplies Coast," said a Spokane Daily Chronicle headline. Juice, meaning electric power, was now being sent from Spokane to Seattle, Tacoma, Everett and Bellingham.
Electricity from the Long Lake Dam was zipping westward after The Washington Water Power Co. hooked in its power networks with those of the Stone & Webster utilities, including Puget Sound Power & Light.
The private power companies of the region had come to realize the advantages of sharing power over interconnected networks.
"We demonstrated clearly that we can send the power to the Coast as readily almost as we can transmit it in the Inland Empire," said the WWP president.
These interconnections would later be formalized and expanded as part of a regional entity called the Northwest Power Pool, which continues to operate today.
---