News > Education
The School Year Ahead: LC construction project will offer big payoff next year
Sun., Aug. 25, 2019 Nothing says the first day of school like a brand-new building.
Or, in the case of Lewis and Clark High School, a massive construction site.
Work is well under way on a $23.5 million project that will transform the school in time for the first day of school – in 2020.
For most students it will be worth the wait, said Marybeth Smith, the school's principal, as she recently walked though the dusty construction site west of LC.
"It's going to be beautiful, very light," Smith said. "And I think everyone is going to be super excited to get new classroom space – we're pretty squishy here."
The two-story complex will add a cafeteria, commons area and nine classrooms. A skywalk will connect the new building to the historic high school above its Howard Street easement.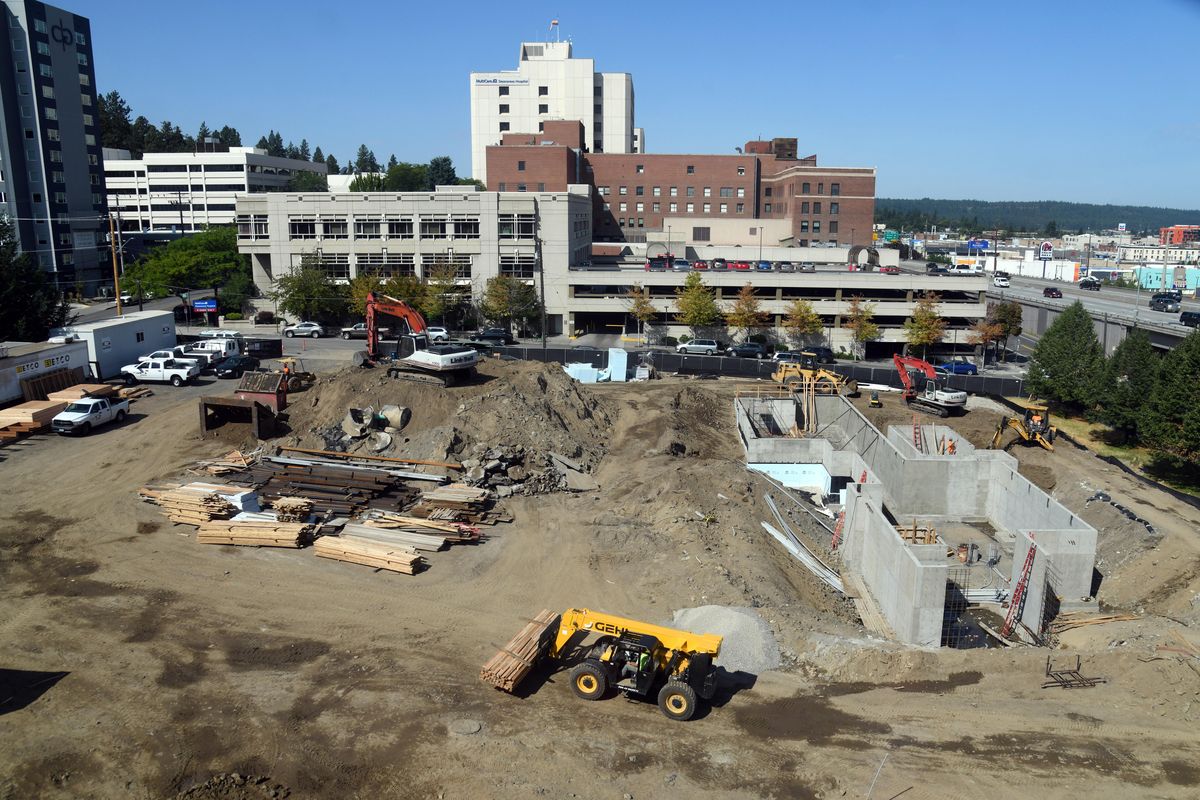 Construction crews work on the new $15 million common/cafeteria project, Thursday, Aug. 15, 2019, at Lewis and Clark High School. (Dan Pelle / The Spokesman-Review)
Its 35,000 square feet will displace part of what was a large lawn, although about one-third of the green space will be restored.
So will some of its treasures, including a Harold Balazs sculpture of the school's namesake explorers and Sacajawea in a canoe, and other artwork and flora. Some of the trees have been placed in storage for replanting next summer.
There will be some inconvenience this year, but nothing more than that, Smith said. Because of the proximity to Interstate 90, classrooms facing the construction site already have triple-pane windows to reduce noise.
Buses will drop students at several sites around the building, fire drills must be reconfigured ("we'll practice that right away," Smith said) and some outdoor events will be moved to the fields next to the school.
The classroom portion of the project will be paid for with funds from a Spokane Public Schools bond measure passed in 2015, and the larger cafeteria addition will be funded through the $495 million bond passed last year.
"The credit goes to the previous projects and how well they've been done," Smith said.
The biggest addition to the district this year is the new Linwood Elementary School in north Spokane.
Costing about $22 million, it's the last major project in the 2015 bond.
At 76,559 square feet, it also will be the biggest, with 36 classrooms, a library, gym and stage and multipurpose room.
Local journalism is essential.
Give directly to The Spokesman-Review's Northwest Passages community forums series -- which helps to offset the costs of several reporter and editor positions at the newspaper -- by using the easy options below. Gifts processed in this system are not tax deductible, but are predominately used to help meet the local financial requirements needed to receive national matching-grant funds.
Subscribe now to get breaking news alerts in your email inbox
Get breaking news delivered to your inbox as it happens.
---