Sandpoint Chocolate Bear thriving in Spokane Valley after fire destroys Sandpoint shop After Sandpoint Chocolate Bear was destroyed in a fire earlier this year, owners Dennis and Carrie Powell saw potential to rebuild and grow their business in Spokane Valley.
"Sandpoint was a great town three months out of the year with a ton of people and we had local support during the holidays, but there was a cap," Dennis Powell said. "There's no cap here. It's endless what we can do here in the Valley."
The couple converted a house owned through Dennis' construction company, Powell Construction, into their new store, which opened in July at 11425 E. Trent Ave.
Although it's disappointing the former Sandpoint chocolate shop closed because of the fire, business has been steady since the opening in Spokane Valley, Carrie Powell said.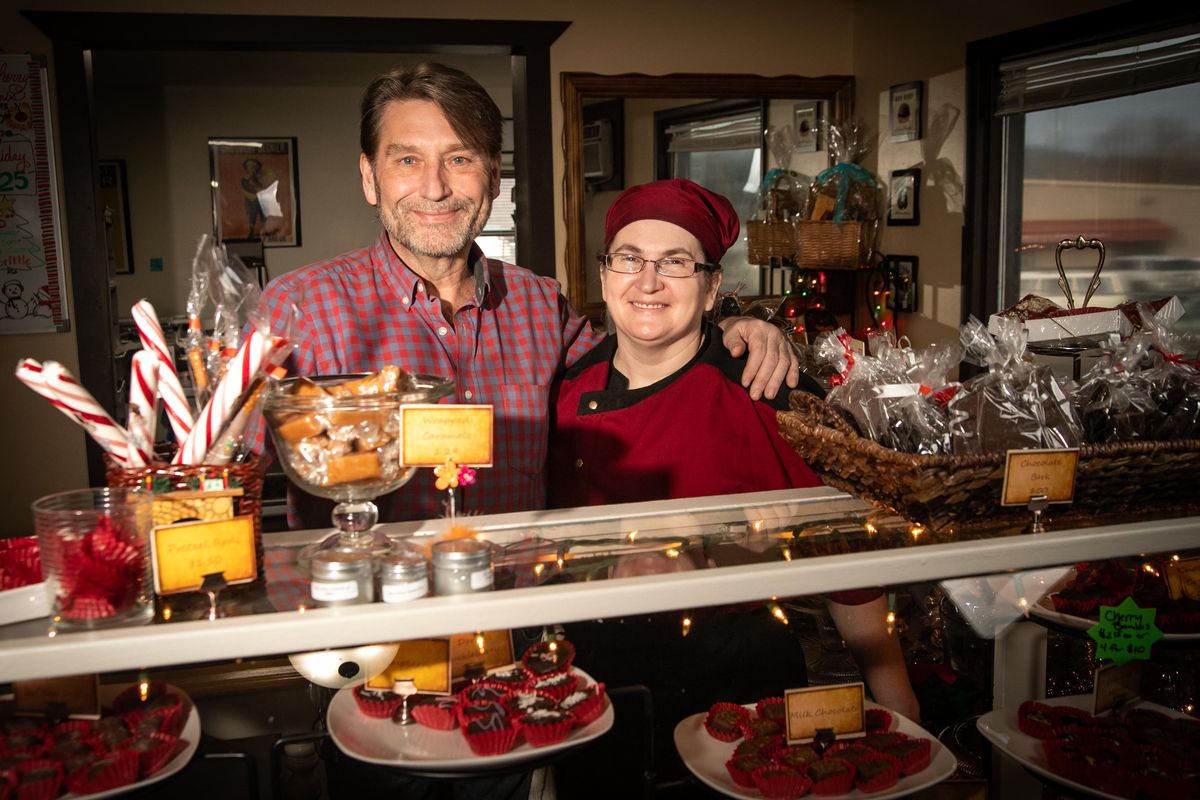 "The good thing is being able to design (the store) the way I want for functionality," Carrie Powell said. "That's a plus, and we will have more opportunity to expand."
The Idaho State Fire Marshal ruled the fire that destroyed Chocolate Bear and four other businesses was accidental and the cause undetermined.
Sandpoint Chocolate Bear specializes in homemade chocolates, caramels and fudge made from family recipes. It also sells Cascade Glacier ice cream, Tom Sawyer Coffee and single-order cocoa nibs used for baking and cooking.
While Carrie creates truffles, chocolate bark and caramels, Dennis grinds cocoa beans sourced from Mexico, Fiji, India and other countries to produce Bean to Bars, which are single-origin chocolate bars.
The Powells, who are Michigan natives, relocated to Idaho and opened Spirit Lake-based Powell Construction in 2008. But as construction jobs declined after the Great Recession, the couple considered a new business.
"We went to Sandpoint, looked around and said 'this place needs a cool chocolate store,'" Dennis Powell said. "We looked at different locations in downtown Sandpoint and we found the perfect location. Rent was reasonable and it was on the way to the beach. Everything was right there."
The Powells opened Sandpoint Chocolate Bear in 2012. Dennis taught himself how to make Bean to Bars from cocoa beans through YouTube video tutorials, while Carrie became a professional chocolatier through online courses by Canada-based Ecole Chocolat Professional School of Chocolate Arts.
"I always liked desserts," Carrie Powell said. "It's my favorite meal of the day, so I thought I might as well specialize in something that's delicious."
The couple, who also owns the Chocolate Apothecary in downtown Spokane, plans to double the size of Sandpoint Chocolate Bear to provide more artisan chocolates to area customers.
"The cool thing about us craftspeople is we are focused on quality. Every chocolate bar is handmade and hand-wrapped," Dennis Powell said. "We don't sell wholesale. We sell direct to the customer. So, if you want our product, you come to our stores. You wont find it anywhere else."
---