News > Home and garden
Ask The Builder: Rolling cabinet, pegboard are great ways to organize tools
Sat., Feb. 23, 2019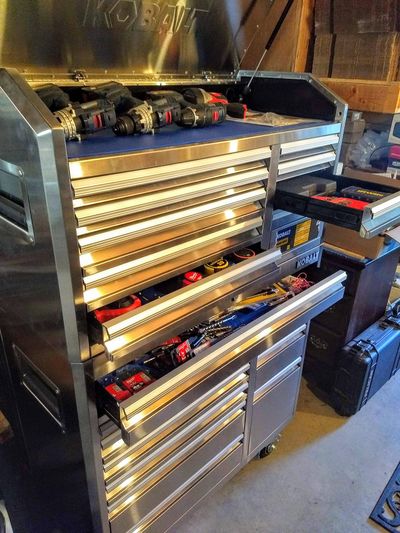 Q. Tim, I lost it last weekend. After I cooled down I realized I had no one to blame but myself. I spent two hours looking for a hand tool I know was somewhere in my garage, basement or shed. I finally found it in my truck. Anyway, I've got a mound of tools that are covering my workbench. Everything is scattered. If you've ever struggled with hand tool organization, how in the world did you solve the problem? How do you store your hand tools? – Andy P., Scranton, Pennsylvania
A. I've got no problem baring my soul. I used to have the same problem. Here's how I finally stopped going on adventures trying to find my own hand tools.
While I was still a full-time builder I had the most wonderful truck. It had a pickup-truck cab but a utility body sat on the chassis. Truck utility bodies have large rectangular cabinets on each side of the body that make use of the void space otherwise wasted by the normal pickup truck bed body.
Plumbers, heavy construction crews and electric utility companies love utility bodies. The cabinets contain shelves and I had all my hand tools organized so I could find them blindfolded. But I realize you'll probably never have a truck with this handy setup.
About 20 years ago I was at the National Hardware Show and I saw the most innovative pegboard. It was made from metal and it had unique clips of every size, shape and design to hold any imaginable hand tool. The metal panels and clips could be had in different colors and everything was powder coated for durability.
I got some of this equipment and covered one wall in my garage with it. Within a few hours, I had my most-needed hand tools up in plain sight. Fortunately, I was already in the habit of returning the tool to its holder after using it. If you don't do this religiously, you'll still have blood pressure and anger management problems.
The metal pegboard couldn't hold all my tools and I still had some confusion. Believe it or not, it took many more years until I finally solved all my hand tool woes. Just last year I took possession of a rolling double-decker tool cabinet that has 21 storage drawers and compartments.
Auto mechanics have used these cabinets for years and now I know why. They are so very handy and well designed. The height and width of the drawers match exactly the size of the most common hand tools. If you put the right tools in the right drawers, there's virtually no wasted space.
I took the time to set up my cabinet so the most-used hand tools are in the drawers that are the easiest to access. I urge you to shop around and give the metal pegboard and rolling tool cabinets a serious look. You'll never ever regret having both.
Need an answer? All of Tim's past columns are archived for free at www.AsktheBuilder.com. You can also watch hundreds of videos, download Quick Start Guides and more, all for free.
Local journalism is essential.
Give directly to The Spokesman-Review's Northwest Passages community forums series -- which helps to offset the costs of several reporter and editor positions at the newspaper -- by using the easy options below. Gifts processed in this system are not tax deductible, but are predominately used to help meet the local financial requirements needed to receive national matching-grant funds.
Subscribe now to get breaking news alerts in your email inbox
Get breaking news delivered to your inbox as it happens.
---