News > Washington
Snoqualmie Pass now open in both directions.
UPDATED: Fri., Jan. 4, 2019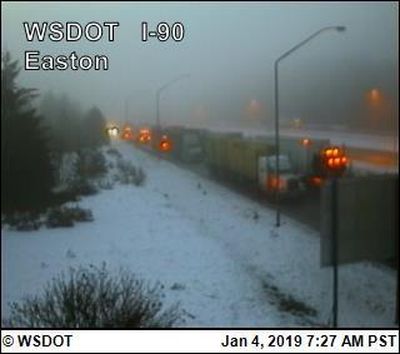 Update:
Traffic lanes are now open in both directions.
Original story:
Seventy miles of Interstate 90 were closed in both directions in stretch that includes Snoqualmie Pass Friday morning as a as icy conditions caused multiple crashes, including one that resulted in a death.
One person was killed in collision involving three semitrucks and a car in eastbound lanes 10 miles east of the pass, the Washington State Patrol reported.
The Washington State Department of Transportation reported before 6 a.m. that I-90 was closed from North Bend to Ellensburg.
The transportation department later announced that officials would evaluate conditions of the pass at noon to determine when it should reopen.
By 12:30 p.m., westbound lanes were open at Ellensburg while eastbound lanes remained closed at North Bend. Officials said they would reevaluate at 2 p.m. as they continue to clean up an oil spill. There were no restrictions on the pass as the roadway was bare and wet.
Other passes over the Cascades, Stevens Pass on U.S. Highway 2 and White Pass on U.S. Highway 12, are open. Traction tires are advised on those routes.
The National Weather Service reported mixed precipitation at Snoqualmie Pass at about 7:30 a.m. But temperatures will rise to about 43 degrees at the pass on Friday.
Local journalism is essential.
Give directly to The Spokesman-Review's Northwest Passages community forums series -- which helps to offset the costs of several reporter and editor positions at the newspaper -- by using the easy options below. Gifts processed in this system are not tax deductible, but are predominately used to help meet the local financial requirements needed to receive national matching-grant funds.
Subscribe to the Coronavirus newsletter
Get the day's latest Coronavirus news delivered to your inbox by subscribing to our newsletter.
---