A&E > Stage
'The Lion King's' Mufasa finds connection in the storytelling
Thu., Jan. 17, 2019 It's the highest grossing Broadway show in history at $1 billion in revenue. It's the third longest-running Broadway show ever, behind "Phantom of the Opera" and "Chicago," having opened on Nov. 13, 1997.
And it's all based on a classic animated Disney film – itself inspired in part by "Hamlet" – that earned nearly $1 billion at the box office around the world.
It's "The Lion King," and it's returning to Spokane next week for its third run. The show opens Wednesday at the First Interstate Center for the Arts and continues through Feb. 3.
The show incorporates imaginative puppetry and costuming to tell the story of a lion cub named Simba, whose father Mufasa rules the Pride Lands. When Mufasa's jealous brother Scar murders the king and sends Simba into exile, the Pride Lands descend into chaos, and only Simba can help restore order. "The Lion King" features music by Elton John and Tim Rice, with a book by Roger Allers and Irene Mecchi. Director Julie Taymor, who won a Tony Award for her work, also designed the show's distinctive costumes and helped create the puppets.
For the actor playing Mufasa on the U.S. national tour, stepping into such a famous role is at once thrilling, humbling and challenging.
"There's also a lot of pressure because it's such an iconic role, because everyone knows who he is, and everyone's had their first experience with Mufasa, on film especially," Gerald Ramsey said by phone from a tour stop in Eugene. "But what an honor it is when it's someone's first time to watch musical theater and it's 'Lion King' and I get to play Mufasa for their first time. So it's very rewarding."
In the two decades since it debuted, "The Lion King" has become a family entertainment staple and often is the first big Broadway show young people see. Ramsey, who has been playing Mufasa on tour for close to three years, said he sees the anticipation and excitement in the audiences who come to the theater.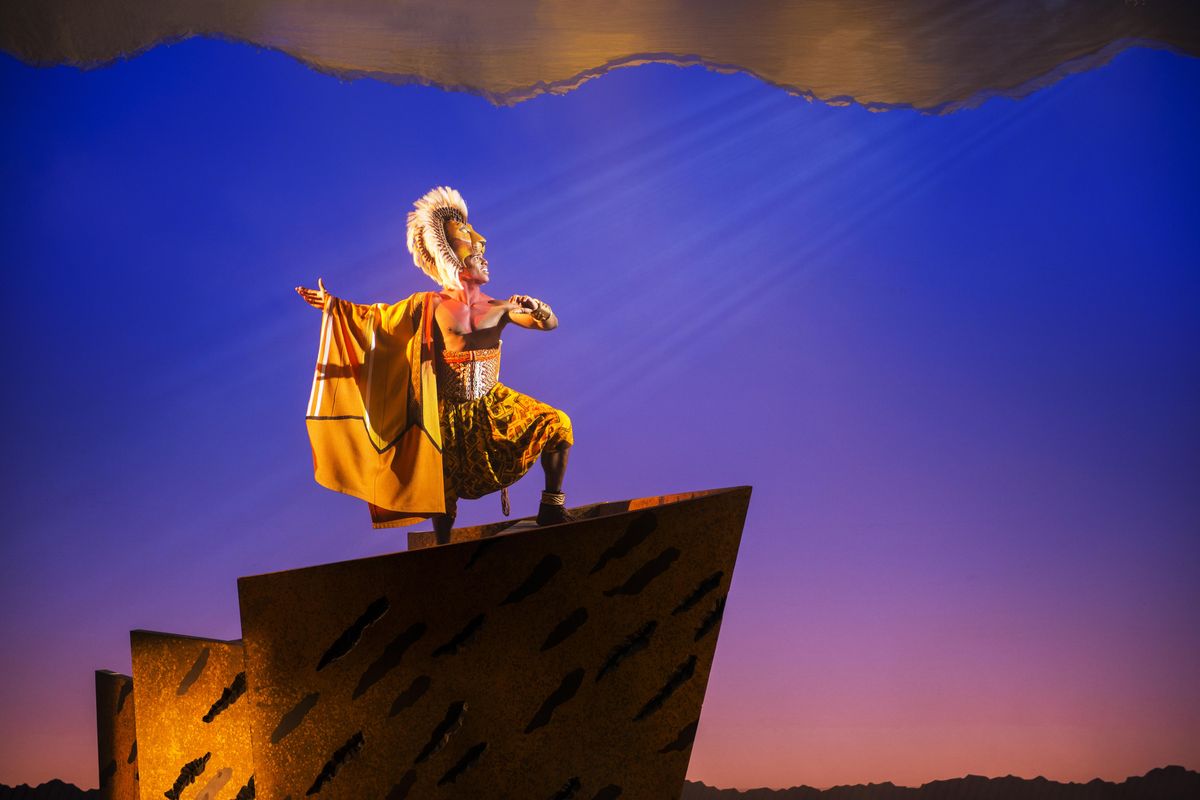 Jared Dixon as Simba in "The Lion King." The touring production comes to Spokane Jan. 23-Feb. 3. (Deen van Meer)
"It's what keeps it fresh every night," he said. "Every now and again I'll go to the lobby to get some merchandise for family and friends, and you can hear and see the excitement of people's first time, especially the kids. It's a multi-generational show, so it's kids and their parents. It's been around so long that it's actually grandparents who brought their kids and now kids are bringing their kids. It's a family event."
Not only is it frequently a first show, it's also a show people see again. And again. Disney puts the total reach of the show at more than 90 million audience members around the globe. More than a few of those are repeat customers.
That long-standing appeal draws from, in part, the universal nature of the story – the "circle of life," literally and figuratively – and in the eye-catching style of its storytelling. And it plays out right in front of you.
"So much of the media we consume is digital," Ramsey said. "There is something very special about this human-to-human connection of storytelling that has been around literally from the beginning of time. And you have to be there to experience it, to know what that connection is between people. I think it's enlightening and it can be very inspiring."
"The Lion King" notably casts many black performers, and often performers from Africa. As casting director Mark Brandon told Playbill in 2017, "At any given time, there's seven to eight productions globally around the world and each show will have seven to nine South Africans in them, sometimes more." There are six African languages featured in the show, including Swahili and Zulu.
It's one of the thing that stands out about Ramsey. He's a Pacific Islander, born in Tacoma and raised in American Samoa. He came to performing after taking up Polynesian dancing in Hawaii after college. While he doesn't have much formal theater training, he's come to see his work in "The Lion King" as an extension of his heritage.
"This journey has helped me realize that as Polynesians, we have a long history of telling stories through song and dance," Ramsey said. "When you think of dances like hula, those are all stories being told through movement and through song."
He also feels a great sense of pride that he is able to represent Pacific Islanders in a show with as wide an appeal as "The Lion King." "A lot of Pacific Islanders, this is their first time coming to the theater," he added. "Once they hear that someone who is also a Pacific Islander is in the role, they'll come out to watch, so that's a lot of pressure, but it's also such an honor."
Local journalism is essential.
Give directly to The Spokesman-Review's Northwest Passages community forums series -- which helps to offset the costs of several reporter and editor positions at the newspaper -- by using the easy options below. Gifts processed in this system are not tax deductible, but are predominately used to help meet the local financial requirements needed to receive national matching-grant funds.
Subscribe to the Spokane7 email newsletter
Get the day's top entertainment headlines delivered to your inbox every morning.
---