A&E > Stage
Broom bristles and turkey feathers: Behind the masks of 'The Lion King'
Jan. 26, 2019 Updated Mon., Jan. 28, 2019 at 8:50 a.m.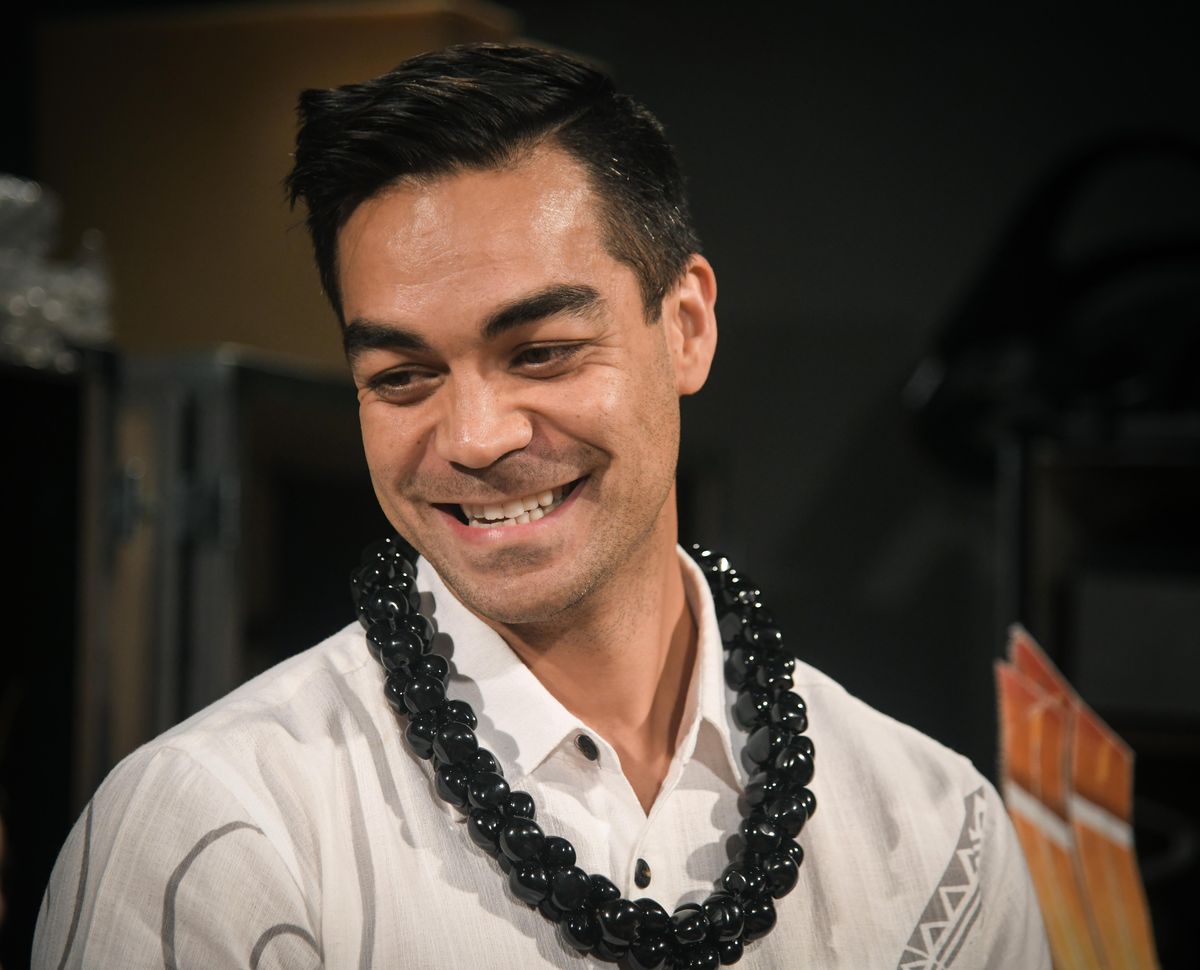 Gerald Ramsey, from Tacoma, plays Mufasa in "The Lion King." (Dan Pelle / The Spokesman-Review)
When at the grocery store, Michael Reilly often turns a few heads.
As puppet master for the touring production of Disney's "The Lion King," playing at the First Interstate Center for the Arts through Feb. 3, it's not unusual for Reilly to buy half a dozen brooms at a time.
Broom bristles, it turns out, make great lion manes.
Reilly andhis two assistants are responsible for maintaining the 230 puppets used in the production.
"Everything from as big as an elephant to as small as a mouse. Literally," he said.
Reilly went to a technical school and, as he put it, fell backward into theater.
He worked on shows like "Starlight Express" and "Cats" before joining "The Lion King" in 1999. He eventually took a four-year break then rejoined the show in 2006.
Reilly enjoys the travel and said the variety of work required for the puppets keeps him interested.
Within the show, there are eight styles of puppets, including masks, body puppets, shadow puppets and hand puppets.
Jesse Tinsley
Though the Simba and Mufasa masks appear to be made of wood, they are carbon fiber. Both masks do, however, feature small wooden pieces hand-whittled by Reilly and his assistants, along with sinew and leather.
The Mufasa mask, worn by Gerald Ramsey, weighs 12 ounces, while the Scar mask, worn by Spencer Plachy, weighs 9 ounces and features a mane of turkey feathers.
The Simba mask, worn by Jared Dixon, weighs 2 pounds. Instead of broom bristles, its mane is made of hair from the tail of a white Mongolian mare in British Columbia that Reilly calls Traveler.
Reilly said director/costume designer/mask and puppet co-designer Julie Taymor wanted Nala's mask, which is worn by Nia Holloway, to look like stone. It too is made of carbon fiber and weighs 9 ounces.
During the show, Ramsey and Plachy also wear motorized masks, which they manipulate with a small control switch hidden in their hand.
"He has the ability with this little control in his hand to take that mask and quite literally put it in front of his face, become that lion," Reilly said about Plachy. "He wears these motors on his hips and he has jodhpurs on so you don't see them but it's certainly a very heavy costume he has to put on and still perform pretty physical things."
Zazu, the only hand puppet in the show, is also the most difficult puppet to master.
There's a trigger to open and close his mouth, another to move his eyes up and down, yet another to make his wings flap. His neck is made from a Slinky, so the puppet is very flexible too.
Reilly said it takes the actor portraying Zazu (Greg Jackson on the national tour) four weeks to get up to speed for the show but about six months to really master all the controls.
"Back here," Reilly said, with the puppet held directly in front of him, "you can't actually see what Zazu is doing. You have to know just by your muscle memory when his eyes are closed, how closed they are, when they're open and all of that stuff."
"The Lion King" is a very physical show, so it's no surprise that the masks and puppets experience some wear and tear.
Day to day, Reilly and his team make small fixes to the puppets based on notes from the previous night's show, repairs like replacing wooden spines on the Simba or Mufasa masks, or touching up paint here and there.
"To be honest, I've broken it a number of times and I always have to go to Michael like 'I'm so sorry. I'm so sorry,' " Ramsey, who plays Mufasa, said. "No matter how careful I've been with it, stuff happens."
But some things aren't so easy to fix. If a puppet breaks during the show and there is no spare available, the team has to think on its feet.
"We can't have a backup for (Pumbaa, played by Ben Lipitz) so one of our jobs is if something happens during the show, you have to get to it right away," Reilly said. "You have to take your tape and your zip ties and your glue and you have to get that back onstage immediately because the show is not stopping."
The puppets aren't inexpensive to create and maintain (Reilly stayed mum on exact figures), but he said he and his team consider how the audience will experience the masks when discussing costs.
"We always weigh the magic something like this has to the costs," he said. "I think it's important to recognize that something that does cost quite a bit of money is such an integral part of the show, that it's important that we maintain that."
Reilly wants to make it clear that "The Lion King" is not a puppet show but rather a show with puppets.
Instead of hiding the puppeteers, "The Lion King" highlights them in what Reilly called a dual event.
"You have the puppet there, but you never obscure the puppeteer," he said. "He's very much on display. We're not going to take away the actor's best tool, which is his face and his voice. We're going to have that on display as well as the puppet at the same time."
When new actors join the cast, Reilly, the resident director and a resident dance supervisor work together to teach them how to handle their masks or puppets during an intensive, four-week rehearsal process.
Actors playing giraffes, for instance, must learn how to walk on stilts.
For the actor playing Mufasa, it's a matter of learning how to integrate the mask into their performance and walk like a lion.
Ramsey, born in Tacoma and raised in American Samoa, had no trouble walking like a lion because of his years of Polynesian dance.
It's a very grounded dance, Ramsey said, with a lot of strong, wide stances, which translated well to his movements as Mufasa.
"I think more importantly what Polynesian dance taught me was who I am," Ramsey said. "Mufasa says a line 'Remember who you are' and I think I would have fallen apart a long time ago, being thrown in such a foreign world. I didn't have that grounding culturally and a lot of that came from dancing for all those years."
When he first began performing as Mufasa about three years ago, Ramsey saw himself and the mask as two entities.
But as he began diving deeper into the character and after speaking with Michael Curry, who co-designed the masks and puppets with Taymor, and Sam Wright, who originated the role of Mufasa on Broadway, Ramsey started to understand the significance of the mask.
"(Wright) really changed my world as far as the mask really being an extension of you as a character and why a scene like when Mufasa takes off his mask to speak to his son, why that type of moment can be so powerful," he said.
Reflecting on the experience of wearing the Mufasa mask, Ramsey paraphrases a famous line from Shakespeare's "Henry IV, Part 2": "Heavy is the head that wears the crown."
The mask isn't physically heavy, he said, but the spiritual weight of it can be a lot to carry at times.
"To watch every day and see how much time, effort, energy, talent goes into the creation of just that mask alone, it's heavy," he said. "There's days where me in my physical body, I'm tired, but knowing that someone put all of this talent, put their own hands and created this on my head, I have to honor that.
"To be honest, sometimes when I'm tired on stage, I know the mask is so beautiful and has its own energy and own life that it gives me energy as well."
Local journalism is essential.
Give directly to The Spokesman-Review's Northwest Passages community forums series -- which helps to offset the costs of several reporter and editor positions at the newspaper -- by using the easy options below. Gifts processed in this system are not tax deductible, but are predominately used to help meet the local financial requirements needed to receive national matching-grant funds.
Subscribe to the Spokane7 email newsletter
Get the day's top entertainment headlines delivered to your inbox every morning.
---