A&E > Music
Robert Cray Band keeps the fun going with 'Hi Rhythm'
Thu., July 4, 2019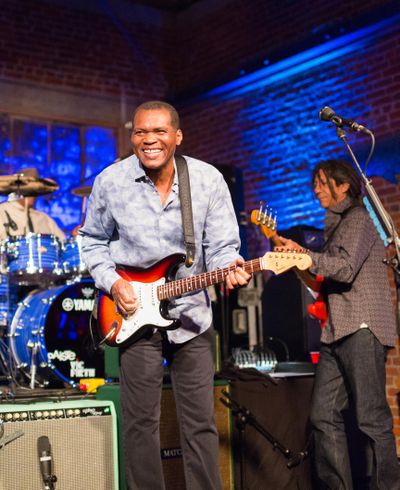 A quick glance at blues singer and guitarist Robert Cray by the numbers makes it very clear just how established he and his band are.
Cray has been releasing music for more than 40 years, including 20 studio albums, 15 of which placed on the Billboard charts, and singles like "Smoking Gun," "Don't Be Afraid of the Dark" and "The Forecast (Calls for Pain)."
Cray's trophy case holds five Grammys from 15 nominations and a "suitcase full" of the Blues Foundation's Blues Music Awards.
The Georgia-born Cray, who eventually settled in Tacoma and attended Lakes High School in Lakewood, Washington, was inducted into the Blues Hall of Fame in 2011 and received the Americana Music Lifetime Achievement Award for Performance in 2017.
Cray's lengthy career has brought him to his latest release, 2017's "Robert Cray and Hi Rhythm," and a headlining show at the Bing Crosby Theater on Saturday.
Cray and Grammy-winning producer Steve Jordan traveled to Memphis with the purpose of making a soul album with Hi Rhythm, which recorded albums with the likes of Al Green, Ann Peebles and Otis Clay at Willie Mitchell's Royal Studios.
Guitarist Teenie Hodges had died, but his brothers Rev. Charles Hodges (organ and piano) and Leroy "Flick" Hodges (bass) and cousin Archie "Hubbie" Turner (keyboard) were still playing.
"It was a soul, rhythm and blues, fantasy camp for us," Jordan, who played drums on the album, said in a statement on Cray's website. "Those guys have been playing in that room for 50 years."
Save for three originals – "You Had My Heart," "The Way We Are" and "Just My Love" – "Robert Cray and Hi Rhythm" is a collection of covers.
Cray and Hi Rhythm put their twist on songs like "The Same Love That Made Me Laugh" by Bill Withers, O.V. Wright's "You Must Believe in Yourself," Sir Mac Rice's "I Don't Care" and "Honey Bad," and "I'm With You Pt. 1" and "I'm With You Pt. 2" by the 5 Royales.
Cray also covered Tony Joe White's "Aspen, Colorado" and "Don't Steal My Love." White, a big fan of Cray, traveled to Memphis from Nashville to sit in on the recording sessions.
Though they had never before met, Cray told the Chicago Tribune he and Hi Rhythm hit it off right away and recorded the album in just seven days.
Since the album's 2017 release, Cray and the band have added a few songs from "Robert Cray and Hi Rhythm" into the setlist.
"We like to change up the list from night to night and after all these years, we have a lot of songs to pick and choose from," Cray told the Chicago Tribune last year. "So we'll go all the way from the 'Bad Influence' album that was released in '83 to the current record. We do a little bit of everything."
After all those years on the stage, Cray isn't tired of any part of being a musician.
To keep things fresh, he and the band give themselves permission to change how they perform each night – approaching the vocals or their respective solos differently from one night to the next – all in an attempt to "catch a groove together and make it more fun."
More than 40 years later, the fun hasn't stopped.
"We all feel really fortunate and really lucky," Cray said. "It's everyone's dream to do what they like and make a living out of it, which is fantastic."
Local journalism is essential.
Give directly to The Spokesman-Review's Northwest Passages community forums series -- which helps to offset the costs of several reporter and editor positions at the newspaper -- by using the easy options below. Gifts processed in this system are not tax deductible, but are predominately used to help meet the local financial requirements needed to receive national matching-grant funds.
Subscribe to the Spokane7 email newsletter
Get the day's top entertainment headlines delivered to your inbox every morning.
---