News > Education
Huong Nguyen found what she was looking for at Summit Christian Academy, and Canada's next
UPDATED: Thu., June 6, 2019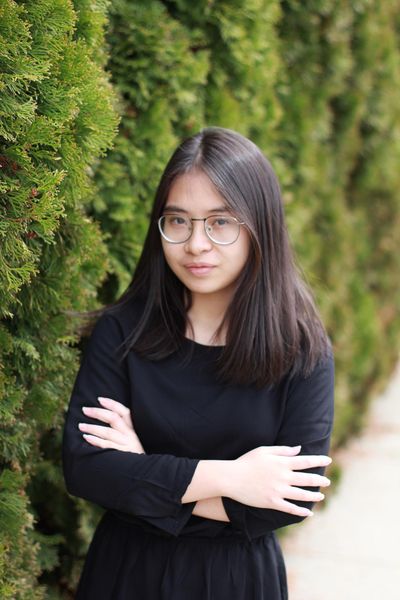 Huong Nguyen walks to school every day, but her home is 7,000 miles away.
Nguyen is from Hanoi, Vietnam, and is an international student at Summit Christian Academy. She is one of two students who graduated from Summit in May. In 2017, she moved halfway across the world in pursuit of a better education. She said she has grown as a student and a person, and has found what she was looking for.
"When I was in my country, I was not a really good student. But no one here can believe that I was a bad student," Nguyen said. In the U.S., she said, she was surprised how much easier it was for her to study and learn in school, where teachers want students to ask questions and encourage dialogue between everyone.
"It's more flexible here. When I came here, everyone was, like, 'You're so smart, you're so intelligent,' and I was so surprised by that. It was so nice. Everyone was so nice."
Not only did she notice that everyone around her was nice. Nguyen said she herself has become a nicer person while living here. "I feel much better here," she said.
One person who has been important to her growth at Summit is Principal Wes Evans. Evans has mentored Nguyen since she first arrived in Spokane as a junior.
"We had a great opening conversation, and I felt, like, 'Wow, she will do well,' and she has," Evans said about the first time he met Nguyen. He was immediately impressed with her English, something that Nguyen and Evans said has improved immensely over the last two years.
"When I first came here, everything was so, so hard," Nguyen said about the language barrier. "There's many new words. In the first and second months, when I read the book, I have to translate many, many words to Vietnamese so I can understand what the book says, and it takes a long time."
Nguyen has quickly developed into a trilingual speaker, fluent in English, Vietnamese and French, which she learned at home in Hanoi. She has also been exposed to a fourth language, as her Spokane host family is Russian and speaks the language often at home.
"I'm amazed that she could transition so quickly from never really being out of the country and away from her family to adjusting and feeling at home here and being very successful immediately," Evans said. "It didn't take her very long to establish some roots."
Although she has established roots here and has enjoyed living in the United States, Nguyen has plans for yet another international move this year. She is looking forward to attending Brandon (Manitoba) University. She has always wanted to travel to Canada, she said.
She isn't nervous about the move, just excited, she said. Even the move from Vietnam to Washington did not scare her.
Evans said Nguyen loves the challenges that come with a new place. She is willing to take risks for the reward of new opportunity.
She hopes to begin studying nursing at Brandon in August.
Local journalism is essential.
Give directly to The Spokesman-Review's Northwest Passages community forums series -- which helps to offset the costs of several reporter and editor positions at the newspaper -- by using the easy options below. Gifts processed in this system are not tax deductible, but are predominately used to help meet the local financial requirements needed to receive national matching-grant funds.
Subscribe to the Coronavirus newsletter
Get the day's latest Coronavirus news delivered to your inbox by subscribing to our newsletter.
---