Sports > Outdoors
Taking a hike on Mount Spokane should be on every local's bucket list
June 20, 2019 Updated Thu., June 20, 2019 at 1:28 p.m.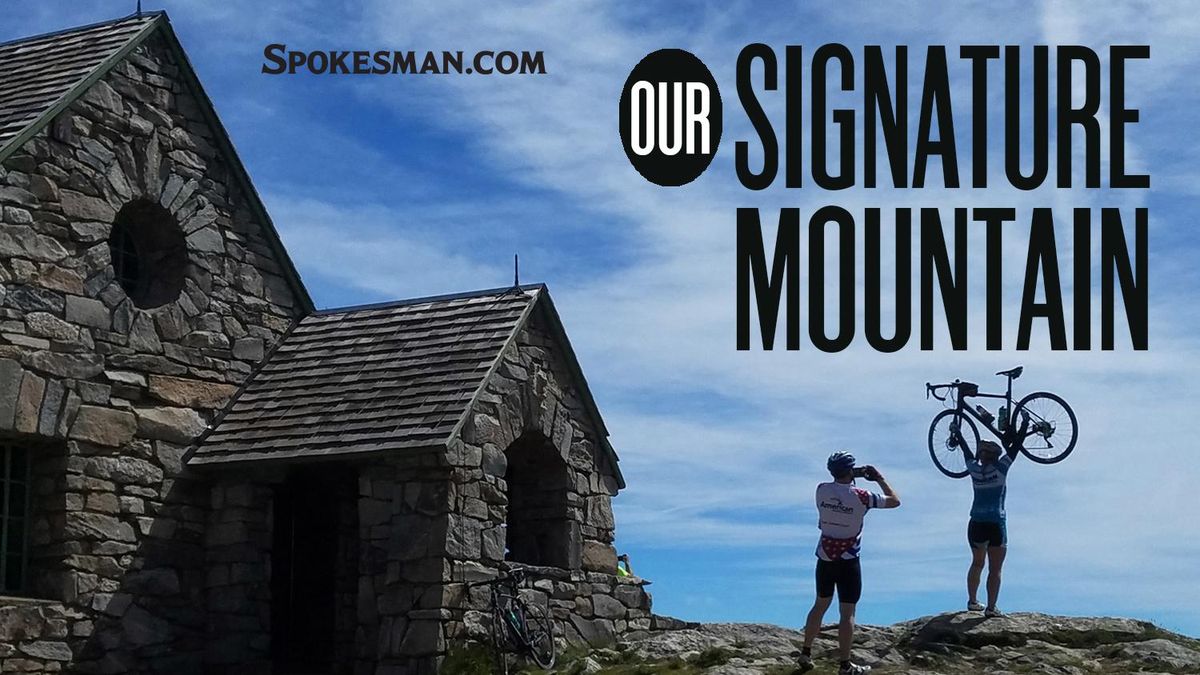 Cyclists celebrate riding the Summit Road to the Vista House near the top of Mount Spokane. In addition to pedaling, visitors can reach the 5,883-foot summit through the year by foot, horseback, snowshoe, ski, chairlift, snowmobile or other motor vehicle. (Rich Landers / The Spokesman-Review)
I was shocked at the number of hands raised when I asked how many people had never been to the top of Mount Spokane. A couple dozen fessed up in the crowd of Northwest Passages Book Club guests at a presentation celebrating the release of The Spokesman-Review's book "100 Things to Do In Spokane Before You Die."
That kills me.
There's something missing in the lives of locals who are unacquainted with Spokane's signature mountain. It only seems right to occasionally pay homage to the backdrop that soothes our eyes as we commute around the city and valley.
The 13,200-acre Mount Spokane State Park is important habitat to critters such as deer, dusky grouse, and pileated woodpeckers, as well as moose, black bears, cougars and even wolves.
It's also a refuge for people who need a quick getaway.
A quest for all seasons, one can reach the top of the highest peak in the area by horse riding and driving in summer and by snowshoeing, skiing, snowmobiling or riding a chairlift in winter.
Now is prime time to explore Washington's largest state park by hiking or biking through blooming wildflowers, ranging from ground-hugging yellow violets to ivory plumes of beargrass blossoms towering on stems 3 feet tall.
Mount Spokane's 5,883-summit is confirmed by a brass USGS marker near the historic rock Vista House at the top of the alpine ski area chairlifts. Completed by skilled stone contractors seven years after the park opened in 1927, the structure once was used as a fire lookout. Now it accommodates thousands of view-seeking visitors and the occasional wedding party.
The paved Summit Road, open from early June into October, is the easiest course through the park to the top. It's a 45-minute drive from Spokane or a thigh-burning trek on a bike.
Blessed with some 300 inches of snowfall a year, Mount Spokane is the state park system's premier winter sports area with a 1,700-acre alpine skiing resort, a 32-mile groomed cross-country ski park, 18 miles of snowmobile trails and numerous options for snowshoers.
But this is summer. Snow groomers are in storage and virtually all of the park's 100 miles of trails and closed roads are open to hikers, including the Ragged Ridge Natural Area Preserve, which is open ONLY to hikers willing to make a long, rugged trek to the Idaho border.
Overnighters can snag a campsite at the tiny and very basic campground. Or you can make reservations for a room with a view in the Quartz Mountain Lookout.
Hiking is the most intimate way to savor Washington's largest state park, starting with the core of trails on the south slope of Mount Spokane.
If you're out for a simple stroll or an adventure with small kids, check out Trail 100 from the hairpin-turn parking lot at Lower Mount Kit Carson Loop Road. The singletrack trail traverses Burping Brook basin and three creeks. These are prize discoveries for youngsters or the dog you bring along, on-leash as park rules require. Hikers can keep their feet dry even in spring flows by crossing volunteer-built foot bridges bordered by ferns.
Trail 100 leads nearly 2 miles to a cute hut, popular with winter snowshoers and a luring destination for summer hikers and mountain bikers.
Trail 130 to the Civilian Conservation Corps Heritage Site is another easy hike that's often overlooked. Starting from the Summit Road at Bald Knob Picnic Area, the singletrack trail leads a mile to the CCC Cabin. A remarkably well-preserved stone walkway leads from the cabin through terraces where tents were pitched in neat rows in the early 1930s for Civilian Conservation Corps crews. Hikers could continue from here for a 6-mile round-trip hike to Day Mountain.
Map readers will notice that east-west trails in the Mount Spokane core trails system have the least elevation gain, while north-south trails rack up vertical. Hikers have to challenge one of those trails to reach the summit by foot.
A top-to-bottom route to the summit starts at the trailhead just north of the park entrance and follows Trail 110 up to Saddle Junction, then Trail 140 to the summit. This is a choice workout if you're training for a big climb such as Mount Rainier. Shorter routes to the summit hikes are available by starting higher on the mountain. This route GPS's out to 2,650 feet of elevation gain in about 5 miles one way. That's 10 miles round-trip if you don't stash a bike or shuttle vehicle at the top.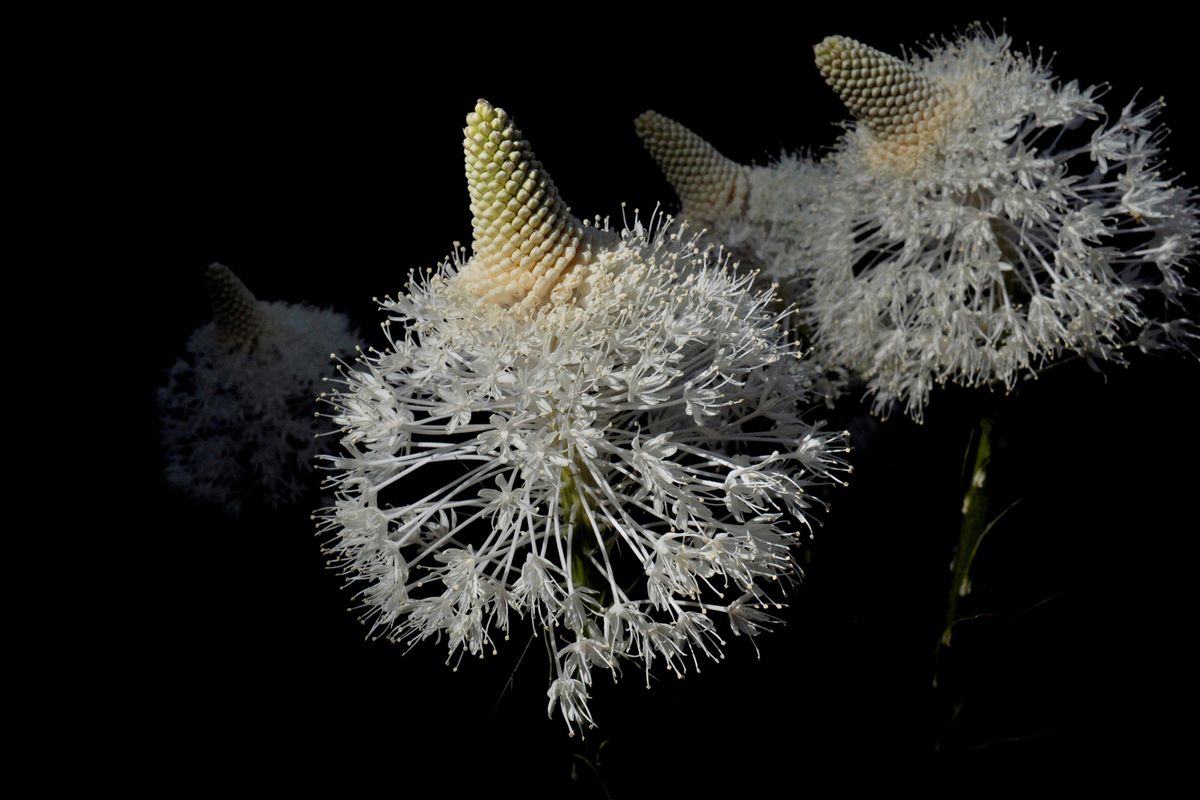 Beargrass, which blooms in June, is a tall attraction for trail users at Mount Spokane State Park. RICH LANDERS PHOTO (Rich Landers / The Spokesman-Review)
The Three Peaks Loop first presented 20 years ago in my guidebook, "100 Hikes in the Inland Northwest," continues to be my favorite way to spend a day of hiking on Mount Spokane. New and better trails have been built since publication. I now prefer the route starting from the hairpin curve trailhead at Lower Mount Kit Carson Loop Road. It runs nearly 15 miles and totals about 3,000 feet of elevation gain. It's worth every step, as I reminded myself last week.
Fond of cool, early starts in summer, I was into the park shortly after the 6:30 a.m. opening time and the first car in the hairpin curve lot. My daypack included plenty of water as I crossed the paved Mount Spokane Park Road, through the gate and quickly branched off the gravel loop road to Trail 100.
My dog, Ranger, lapped up a healthy drink as we crossed each of the three forks of Burping Brook Creek. Our first stop was at the "snowshoe hut" near the Trail 100 junction with Kit Carson Loop Road at Smith Gap. The well-built cabin was tidy with a wood stove, table, benches, and neatly decked out with decorations thoughtfully depicting area flora and fauna.
Two miles into the hike, Ranger and I were just getting started on bagging the three significant peaks in the core trails area, so we pressed onward and upward.
From Smith Gap we headed up Trail 140. In its entirety, 140 runs from the bottom (south) edge of the park to the summit. It's the darling of downhill mountain bikers. I prefer to hike UP this trail rather than down, so I can step off the path at first sight of fast-approaching cyclists.
I don't complain about their hurry to get down. Trail 140 is bordered by huckleberries, and bikers rarely stop to notice; less competition. Just remember to get off the trail if you find berries to pick next month, lest you become roadkill.
At Saddle Junction 4.2 miles into the trek, Trail 140 crosses Kit Carson Loop Road and continues into an old burn that's rich with wildflowers, moose droppings, little critters and other indicators of the mountain's wildlife richness.
Soon Trail 140 begins switchbacking through new Chair 6 ski runs built two years ago on the mountain's northwest slopes by Mt. Spokane Ski and Snowboard Park. The logging is still fresh, and a bit disturbing to some people. But the views off the slopes are striking, and the scenery will improve as the logged-out runs age.
With Ranger on leash, we easily got off the trail as two downhill mountain bikers approached. "Thanks. Just the two of us," one said, giving me the green light to continue.
Breaking out of the trees at the top, Ranger and I walked left to enjoy a snack, water and views from the stone Vista House. Phlox that have somehow dodged millions of footsteps bloom in the cracks of granite slabs. Lady bird beetles clearly are at home here.
We met two cyclists and several visitors who'd come up the Summit Road by vehicle. All compliments about being cute were directed to Ranger.
Then we followed the Summit Road to the mountain's broad main summit, past the communications towers to a row of tubes installed to help visitors spot the slivers of eight lakes that can be seen in the lowlands: Eloika, Newman, Liberty, Hauser, Twin, Coeur d'Alene, Spirit and Pend Oreille.
Content with bagging the first of the "three peaks" after 6.7 miles of trekking, we doubled back and enjoyed a faster downhill pace on Trail 140. The most direct way to Peak No. 2 would be to stay on 140 to Saddle Junction. But I turned left on a spur trail where the Kit Carson Loop Road comes into view. We crossed the road onto a singletrack toward the CCC Heritage area and continued to the restored CCC Cabin.
The route heads down from the cabin on the enduring stone steps that lead through terraces where the corps once pitched their tents in neat rows.
At the bottom of the walkway, the route turns left to a junction with Trail 130. Then we turned right on a short connector down to The Kit Carson Loop Road. Trail 130 shares the road down, around a hairpin curve and down farther to Saddle Junction, where Ranger and I arrived after 9.3 miles.
Next we headed northwest on Trail 130 toward Day Mountain. This is one of the sweetest 1.3 miles of trail in the park, as it lines out through an old burn before slicing through lush meadows of green grasses and lupine. The thin path leads over the timbered high point of Day Mountain and continues down to rock outcroppings. Here, at 10.6 miles, Ranger and I briefly enjoyed soaring hawks over a fine view of the Spokane River valley and points west of Mount Spokane.
Now that we'd bagged Peak No. 2 of the "Three Peaks Route," Ranger and I backtracked on Trail 130 about halfway to Saddle Junction and turned right onto Trail 160.
Trail number markers are posted at main junctions helping hikers follow routes. Blue diamond markers also are installed on trees high above the trails in the core area to guide winter visitors on snowshoes and backcountry skis.
On an uphill stretch, Trail 160 spurs right to the top of Mount Kit Carson – Peak No. 3! Colorful penstemons bloom in gaps in the granite outcropping. Horseflies tend to feel at home here.
Backtracking to the junction, we veered right on Trail 160 and returned to Saddle Junction at 12.6 miles.
From here it's a pleasant 2.3 miles back to the hairpin curve trailhead via Trail 110. This route traverses slopes rich with wildflowers and over several creek crossings that capped Ranger's excellent day. Back to the car after 14.9 miles of peaking out on Spokane's signature mountain, I was buoyed by my foresight to have cold Gatorade and snacks waiting in a cooler.
Local journalism is essential.
Give directly to The Spokesman-Review's Northwest Passages community forums series -- which helps to offset the costs of several reporter and editor positions at the newspaper -- by using the easy options below. Gifts processed in this system are not tax deductible, but are predominately used to help meet the local financial requirements needed to receive national matching-grant funds.
Subscribe to the sports newsletter
Get the day's top sports headlines and breaking news delivered to your inbox by subscribing here.
---