A&E > Books
NW Passages: Five things to know about Peter Heller
Sun., June 23, 2019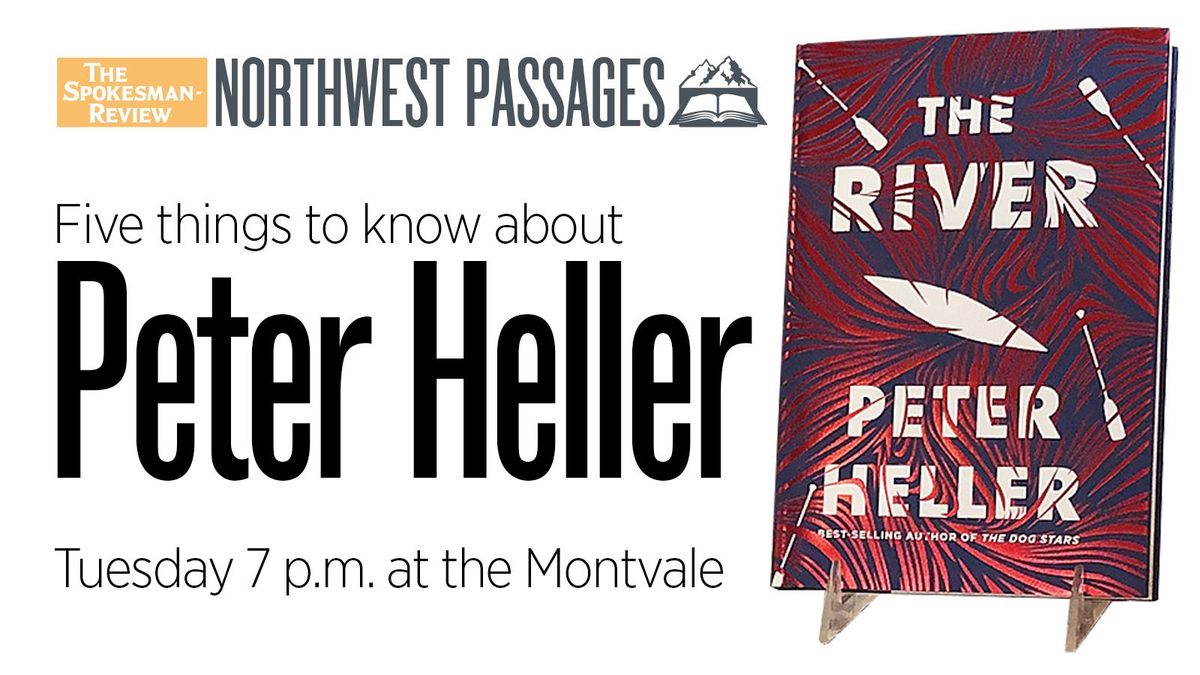 Peter Heller will be in Spokane on Tuesday for an evening discussion with the Northwest Passages Book Club. The acclaimed writer of books such as "Kook," "The Dog Stars" and "The Painter" will talk about his latest book, "The River," at the Montvale Event Center. Here are five things readers should know about Heller and his work.
First writing job
Heller enjoyed outdoor adventures and had been told he could write, and when suggested he combine the two, he took that advice. His writing career started after he cold-called an editor with Outdoor Magazine, and his pitch was accepted: traversing an un-run river on the Tibeaten Plateau.
A natural storyteller with an engaging conversational manner, Heller has been a longtime contributor to NPR, an editor for Outdoor Magazine, Men's Journal, National Geographic Adventure and continues to write for Businessweek and Travel & Leisure Magazine. His nonfiction titles include "The Whale Warrior, Hell or High Water; Surviving Tibet's Tsango River" and "Kook: What Surfing Taught Me About Love, Life, and Catching the Perfect Wave."
Wait … what? Does he surf?
Yes, yes, he does.
In 2010, Heller took on the challenge to go from beginner surfer – a kook – to a shredder, a real surfer within a year. The closest thing he got to a surfboard before that was a kayak. Undetered and ready for adventure, Heller recounts the year in his memoir: "Kook: What Surfing Taught Me About Love, Life, and Catching the Perfect Wave."
He doesn't tweet
There is a Twitter handle for Peter Heller @kookPete, but while the account has been active since 2010, he hasn't tweeted once.
You would think the character limit would work for Heller as he starts each project with one line, not believing in structuring an outline as he described in an earlier interview with The Spokesman-Review:
"When I sit down to write a novel, I want it to be like running a river for the first time," he said. "You get in the current, you travel into territories that you've never been before. … You don't know what's going to be around the next corner. I love that about writing fiction."
His fiction borrows from real life
"The Dog Stars" (Vintage Contemporaries, 2012), Heller's first foray into fiction, was a post-apocalyptic story that centered around a man, his dog and an airplane. Heller is a pilot, a hunter, a fisherman, an outdoorsman and a poet. The main character of "Dog Star," Hig, is also a pilot, a hunter, a fisherman, an outdoorsman and a poet.
In "The Painter" (Vintage Contemporaries, 2014), the character of Jim Stegner bares a striking resemblance to Heller's real-life friend, Jim Wagner, a painter in Taos, New Mexico.
The main character in "Celine" (Vintage Contemporaries, 2017) is based on his mother, an American born in Paris who became a real-life private investigator.
"The River" (Knopf, 2019) is no exception. At 17, Heller spoke to a man whose wife had died on a river expedition. Even at 17, Heller thought he was being fed a line. The main characters in the "The River," best friends Jack and Wynn, also are versions of Heller and Jay, his best friend from college.
Net Zero house
Committed to the environment, Heller lives in a Net Zero house in his hometown of Denver. Net Zero construction combines energy efficiency and smart design – ensuring that the renewable energy produced onsite meets the demand of the energy consumed by the building.
Suggested reading
If you liked reading "The River" – and you've read all his titles, here are a few more adventure-fiction titles for you to check out:
"The Feather Thief: Beauty, Obsession, and the Natural History Heist of the Century: by Kirk Wallace Johnson Johnson succeeds in conveying the gravity of this natural-history "heist of the century," and one of "The Feather Thief's" greatest strengths is the excitement, horror and amazement it evokes. It's nonfiction that reads like fiction, with plenty of surprising moments." Outside
"Where the Crawdads Sing" by Delia Owens A painfully beautiful first novel that is at once a murder mystery, a coming-of-age narrative and a celebration of nature. … Owens (who lives in North Idaho) here surveys the desolate marshlands of the North Carolina coast through the eyes of an abandoned child. And, in her isolation, that child makes us open our own eyes to the secret wonders – and dangers – of her private world." The New York Times Book Review
"Deep River" by Karl Marlantes Inspired by family history, Marlantes ("Matterhorn") offers a sprawling, painstakingly realistic novel about Finnish immigrants in the Pacific Northwest during the first half of the 20th century… Marlantes's epic is packed with intriguing detail about Finnish culture, Northwest landscapes and 20th century American history, making for a vivid immigrant family chronicle." –Publishers Weekly
"The Mountain Story" by Lori Lansens "Lansens has written a colorful, adventurous wilderness survival novel. … The realistic details, such as the traditional herbal medicine used to fight Nola's broken-bone infection and threatening coyotes and vultures, provides the narrative's raw edge. Genre readers will also be swept along as the suspense builds in this first-rate character-driven thriller." Publishers Weekly
Into the Wild by Jon Krakauer "Terrifying … Eloquent … A heart-rending drama of human yearning." New York Times
Local journalism is essential.
Give directly to The Spokesman-Review's Northwest Passages community forums series -- which helps to offset the costs of several reporter and editor positions at the newspaper -- by using the easy options below. Gifts processed in this system are not tax deductible, but are predominately used to help meet the local financial requirements needed to receive national matching-grant funds.
Subscribe to the Spokane7 email newsletter
Get the day's top entertainment headlines delivered to your inbox every morning.
---