News > Health
Spokane clinic gives patients with neurological diseases options to join clinical trials
June 26, 2019 Updated Thu., June 27, 2019 at 7:04 a.m.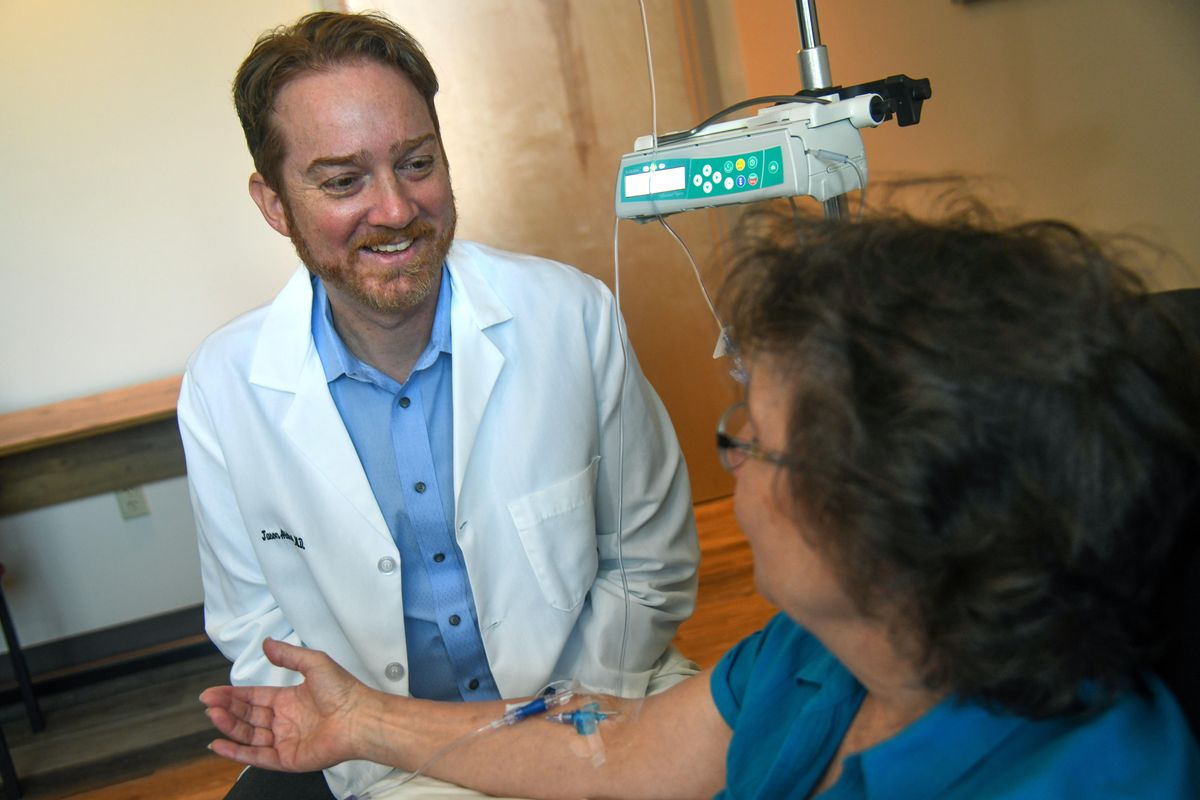 Dr. Jason Aldred of Inland Northwest Research visits with a patient receiving an infusion trial for Parkinson's disease on Tuesday19. (Dan Pelle / The Spokesman-Review)
A Spokane biomedical research group has waded into multiple clinical trials for new treatments to slow or more effectively treat Parkinson's disease and other neurological conditions.
Since 2018, the trials with more than 100 participants have been at Inland Northwest Research, owned by neurologist Dr. Jason Aldred, who also is a Parkinson's specialist at Selkirk Neurology.
Along with Parkinson's research, INWR is among U.S. clinical trial sites in studies for Huntington's disease, amyotrophic lateral sclerosis (also known as Lou Gehrig's disease) and multiple sclerosis.
"Almost all the studies we do are part of multicenter research trials," said Aldred, who while completing a neurology residency at Oregon Health & Science University also did a two-year clinical research fellowship. It taught him how to run a clinical trial and oversee patient safety.
After four years with a Wisconsin hospital system, he became a Spokane-based neurologist in 2014. Here, he took part in a telemedicine clinical trial that helped him realize the potential for working both in his practice and doing research.
"It kind of opened my eyes that you really can do this clinical research for patients as an option," he said. "For Parkinson's patients, it's hard getting the diagnosis, but some of the good news is they realize how treatable the symptoms can be for a long time.
"Then, there is an opportunity to take part in the big fight to develop new ways of treating Parkinson's. That is really what has driven me to continue to do this and build the company."
His OHSU mentor also convinced him that more patients will want the option. "He thought that increasingly patients would be looking for research opportunities along with regular care, particularly for these degenerative brain diseases."
The company's research includes work with private industry and federally funded trials. With six employees, the site has its own lab and exam rooms.
Clinical Trials 101
Aldred said some people have fears about being in studies. With any clinical trial, he said patients should ask questions and know they shouldn't be charged for experimental treatments.
People should ask whether an institutional review board is providing oversight, he said. They can end their time in a trial for any reason. Also, participation in a study shouldn't be presented as something better than available treatment, "because we don't know that yet."
"I would say that research is always optional. It should always occur along with the standard of care."
Typically, the number of people needed per trial depends on the phase of study.
For instance, a phase 1 study, of "first in human" study, that the clinic is starting takes 20 people nationwide, so just two or three in Spokane.
"It's the first time a therapy is tested in people after it's been looked at in animals," he said. "We're looking at how well patients tolerate it, so we do this with a small number of patients because you're testing safety.
After analysis of that early phase and favorable results, its sponsor seeks approval for a second phase, typically involving 100 to 120 participants at more sites. This step involves safety but with a closer look at any measurable difference between investigational treatment and routine care.
Some patients think they must stop taking routine medicine to participate, which isn't the case, Aldred said. "They'd continue on that medicine, but then for the trial, they'd get placebo or the investigational drug."
The third phase of clinical trials occurs when a treatment appears to cause a significant change, involving 300 to 400 patients nationwide.
"That's when we all get very excited because, after that, if a medication being studied shows it's effective and safe and better against routine care, that's when they go for an FDA application."
Local trials
INWR's trials cover Parkinson's at various stages. One project is looking at new medications similar to those used in chemotherapy to see if they slow progression of Parkinson's, Aldred said.
Another trial is exploring a vaccine-type treatment. In Parkinson's, alpha-synuclein in the brain clumps together to form aggregates called Lewy bodies, which scientists believe are toxic and lead to disease symptoms and progression. A vaccine if proven effective might slow down or prevent the spread of Lewy bodies, he said.
"I tell my patients that while a cure sounds nice and is certainly something we all want to see happen, simply slowing the progression to a moderate degree and making it to where Parkinson's progresses no faster than normal aging, that would be a huge victory."
The company starts new research with trials in the next month on treatments aimed at known genetic causes of Parkinson's disease. In the past, it wasn't a concern if someone knew they had a gene for Parkinson's because little could be done about it.
"However, for the up to 10% of patients who may have a genetic form of Parkinson's disease, the new research into this area is very important."
Other INWR studies involve helping patients when their condition progresses far enough that medication relief becomes inconsistent.
Additional research is looking at medications lasting longer than current ones and medicines to treat dementia that can occur later with Parkinson's.
Aldred isn't the only physician running studies at INWR. Dr. Steven Pugh, another Selkirk provider, is studying a new medication targeting the immune system that's activated abnormally in MS. And the company has joined a global consortium study observing Huntington's patients every six months as the hereditary disease progresses.
Aldred said local residents in the past had to travel to Parkinson's trials typically in Portland and Seattle. Now, he's seeing patients from those cities because a trial of interest is here.
When he asks patients why they want to do trials, it's often for reasons beyond their cases.
"Nine out of 10 want to do this because they're thinking it will help others. As opposed to reading about a study in New York or L.A., they can do this here for our neighbors."
Local journalism is essential.
Give directly to The Spokesman-Review's Northwest Passages community forums series -- which helps to offset the costs of several reporter and editor positions at the newspaper -- by using the easy options below. Gifts processed in this system are not tax deductible, but are predominately used to help meet the local financial requirements needed to receive national matching-grant funds.
Subscribe now to get breaking news alerts in your email inbox
Get breaking news delivered to your inbox as it happens.
---