News > Family
Lasting legacy: Granddaughter helps carry on Winston's work
March 1, 2019 Updated Fri., March 1, 2019 at 8:42 p.m.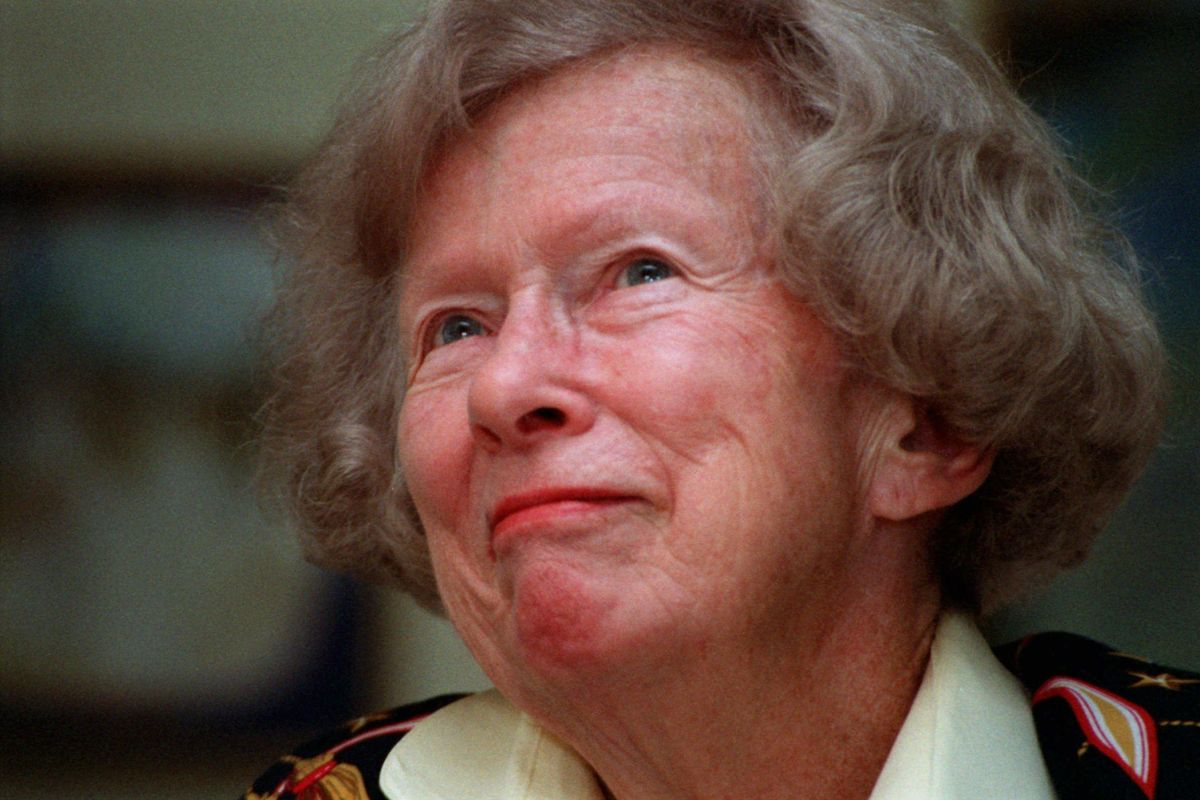 Vivian Winston, who died in 2009, did work to support women and children in Spokane that spanned decades, even into her mid-eighties. She was a co-founder of Women Helping Women Fund, and the organization has a scholarship in her name given to moms in college who also are juggling the cost of childcare. Molly O'Hara photo (SR)
Vivian Winston left a mark on Spokane after her decades of work to remove educational barriers for women and children.
Ten years after Winston's death, another part of her legacy continues through the volunteer efforts of her granddaughter, Stephanie Baumann, a board member for the Women Helping Women Fund that Winston co-founded.
Baumann also chairs the WHWF panel overseeing the namesake Vivian Winston Scholarship, created about 12 years ago to assist mothers enrolled in Spokane-area colleges with tuition and child care costs. Applications this year are due March 18.
"Obviously, I was very close to my grandmother, and I started as a volunteer on the scholarship committee in 2007, because I remember reading the applications to her," said Baumann, 50.
"I'm in awe of what she was able to accomplish in her time here. I think she's one of the most amazing women I've ever met. She has been a role model to me and was always humble. She never thought she accomplished that much, but she always wanted to help others and held out her hand."
Even today, Baumann finds that her grandmother's vision continues to have far-reaching impact. Since the college fund's start, WHWF has awarded 29 scholarships totaling $72,000, Baumann said.
"Our average donation can be $10,000 a year, and it can be broken up according to how many applicants there are. We can have women who apply multiple years in their undergraduate work. I think we've helped more than 26 women with scholarships.
"Vivian had always worked for women and children throughout her career. In all the positions she held, that was always her focus. She always believed higher education and affordable childcare were important to women succeeding."
Winston, who died in March 2009 at age 97, never finished her own undergraduate degree. Although she started at the University of Washington, she dropped out during the Depression to help support her family, Baumann said. But Winston continued enrolling in college classes over the years.
"She would take courses all the time even up into her 70s – English, history," Baumann said. "She did get an honorary degree from Eastern Washington University and gave the commencement speech. I think I have a copy. I was her biggest fan."
Winston married into one of Spokane's pioneer families and became a pioneer herself in social justice issues for women, children and people living in poverty. She gave inspiring talks to women participating in programs helping them transition from welfare to education and work.
She was an advocate for foster children, runaway teens and adoption programs for special-needs kids. In 1985, she was named to the state's Higher Education Coordinating Board. In addition to Women Helping Women, Winston helped found Planned Parenthood of Spokane more than 40 years ago.
Her granddaughter even keeps what she calls the "Viv" file.
"She had quite a life," Baumann said. "I called her Vivian because she wanted me to call her that.
"She was an amazing, kind, giving woman, an icon my life. When I got on the scholarship committee, I wanted to be supportive of the scholarship personally and support that we continue to have a voice and help raise a hand to other women raising children.
"I want to make sure I'm here not only as a voice for my family and my grandmother, but also to help with sustainability."
Baumann, who grew up in Kirkland, spent many vacation days with her grandparents in Spokane and then moved here around 1999. She works as a public relations manager for an insurance company and has served as a WHWF board member for three years.
Women Helping Women actually got its start in her grandmother's living room. In the early 1990s, Winston gathered her friends to listen to two Eastern Washington University students who were struggling out of poverty.
Soon after, Winston and five friends outlined their vision at a lunch together. They would raise and spend funds locally as money given by women for women. The required "donation" for the first lunch was $100, an unprecedented request more than 20 years ago.
Baumann said the same goal has continued, and 100 percent of the proceeds from the annual luncheon fundraiser go to support multiple programs helping women and children. Examples on its website include the YWCA Spokane's Confidential Safe Shelter and the Prime Time Reading Program for children's literacy.
It was her grandfather's law firm, Winston & Cashatt, that donated the $10,000 seed money to establish the scholarship in her grandmother's honor about three years before her death. In the first year of the scholarship, the organization received 11 applications.
Today, the organization receives 40 applications on average, she said.
She kept a quote from her grandmother when the scholarship was founded.
"She said, 'I'm humbled by this outpouring of love. For me, this is about helping someone who might otherwise face nearly insurmountable obstacles in her quest to achieve a better life.'"
In early years, the scholarship requirements called for child care to be on a college campus, but Baumann said in more recent years, the student's children can be enrolled in any licensed childcare or at school's childcare facility.
"A majority of the scholarship is for tuition, but some of it helps with the child-care funding. Vivian wanted the children to be in a good environment where there is child education going on.
"All along she knew that was a hardship for women, finding quality childcare, that if I can get to school, who will watch my child? It also was a push to encourage universities and colleges to have some sort childcare on site. She was a little forward-thinking for her time."
Each year, the Winston scholarship winners are sponsored to attend the WHWF luncheon, held this year on May 21, and they are recognized.
"We try to get the word out. That's our ongoing struggle to make sure there is awareness about the scholarship and to make sure women who need it apply."
Local journalism is essential.
Give directly to The Spokesman-Review's Northwest Passages community forums series -- which helps to offset the costs of several reporter and editor positions at the newspaper -- by using the easy options below. Gifts processed in this system are not tax deductible, but are predominately used to help meet the local financial requirements needed to receive national matching-grant funds.
Subscribe now to get breaking news alerts in your email inbox
Get breaking news delivered to your inbox as it happens.
---