Sports
Bloomsday 2019: Susannah Scaroni sets course record in women's wheelchair race
May 5, 2019 Updated Sun., May 5, 2019 at 7:51 p.m.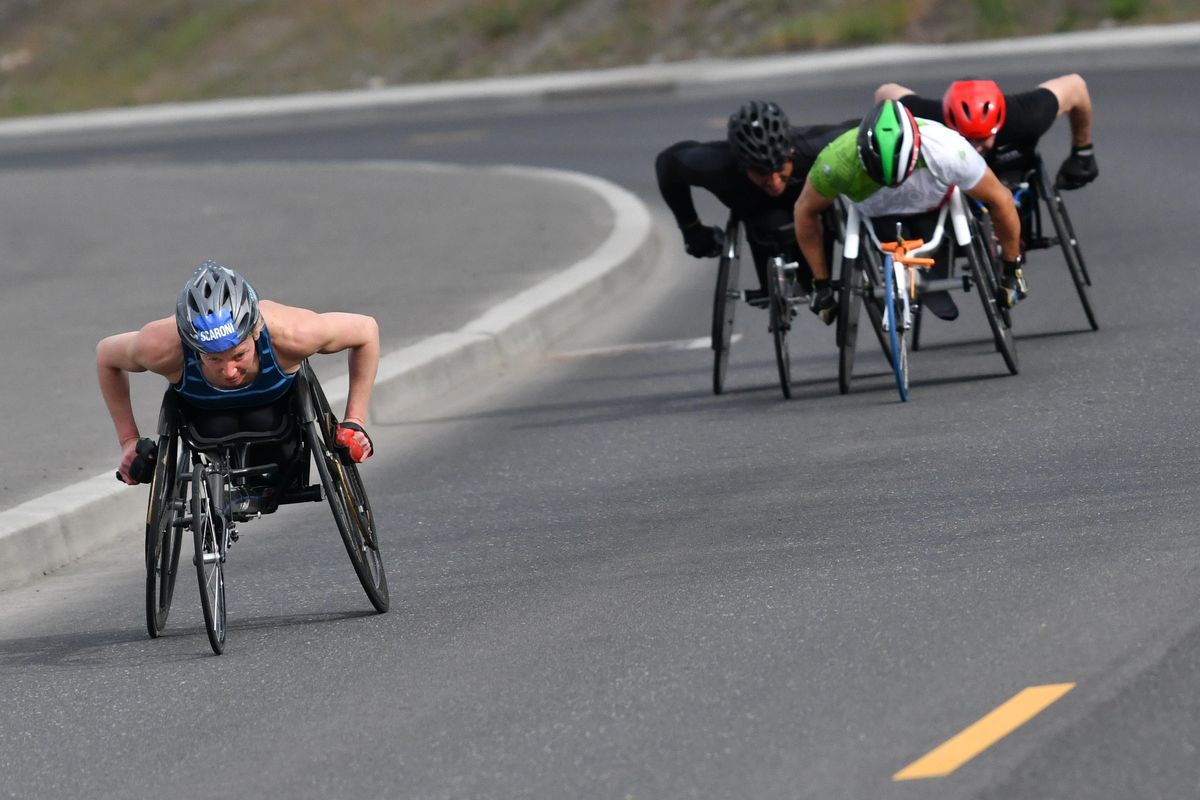 Susannah Scaroni leads the chase pack during Bloomsday 2019 on Sunday, May 5, 2019 in Spokane, Wash. Scaroni won the women's elite wheelchair division in a course-record time of 29:58. (Tyler Tjomsland / The Spokesman-Review)
While the warm and sunny skies may have suppressed the runners' times a bit, the conditions didn't hurt Susannah Scaroni in the least.
The 28-year-old U.S. paralympian from Tekoa, Washington, set a Lilac Bloomsday course record, winning the 2019 women's wheelchair division at 29 minutes, 58 seconds – breaking Tatyana McFadden's 2015 time of 30:42 – becoming the first woman to break 30 minutes in Spokane.
This is Scaroni's 14th Bloomsday and her fifth win. Her previous best time was 30:51 in 2015.
"We had beautiful weather today," Scaroni said. "That's going to help make it a fast day.
"But most of all, it's so special to be here at Bloomsday. This is where I feel like my career started. I saw my first wheelchair race here for the first time and I saw a vision of what I could do."
Scaroni said she develops more feelings for the event every time she participates.
"It's a hard course," she said. "I'm always determined to, like, try and fight back at it, because it's so hard. So I just gave it every single thing I had today, and the weather cooperated to allow it to be fast as well."
It was not a big field for the women's elite race this year, but Scaroni used that to her advantage.
"My big goal today was to get the course record," she admitted. "Because you're racing against the best at that point. And I just wanted to test what my goal was.
"This course means so much to me. It was extremely motivating the entire time."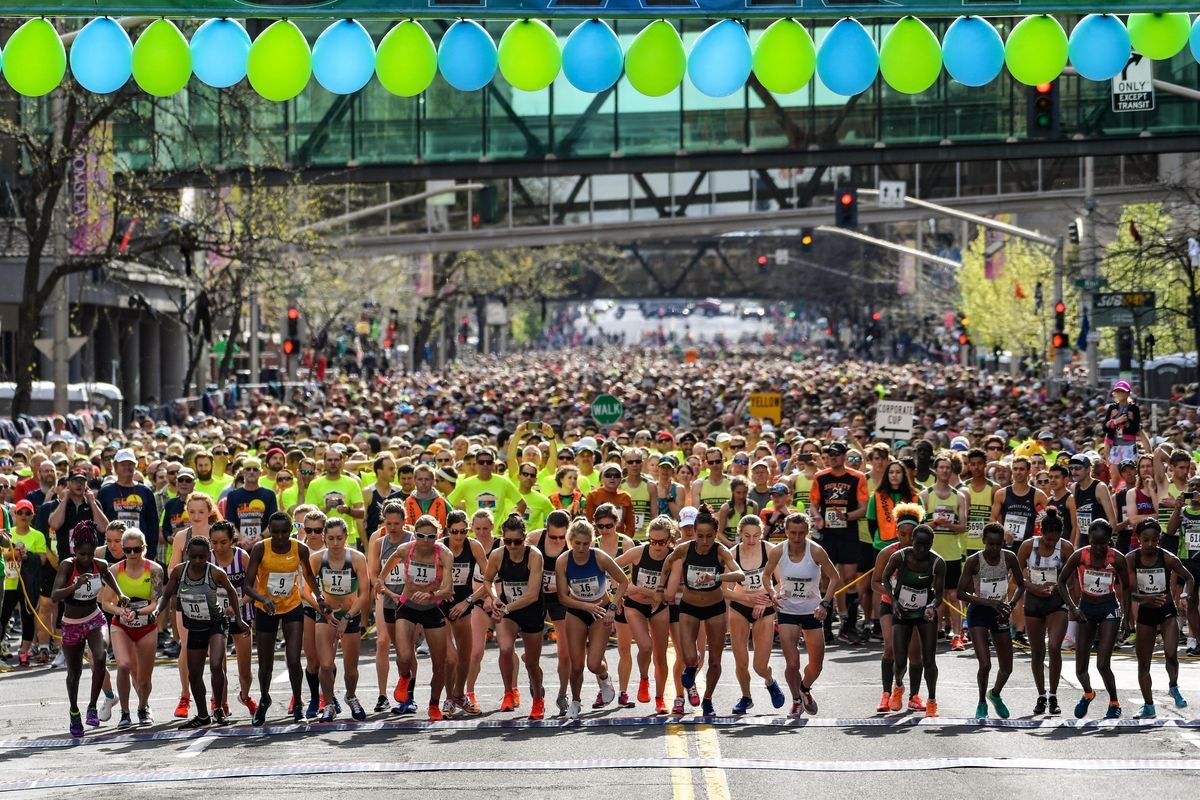 The elite women racers start their race during Bloomsday 2019 on May 5, 2019, in Spokane, Wash. (Colin Mulvany / The Spokesman-Review)
Scaroni said she feels honored that she can be a role model for young wheelchair athletes.
"There were two really amazing young girls out there who were smoking fast," Scaroni said. "They beat my senior record. Parasport (Spokane) is just doing a fantastic job of providing for these young athletes, all the resources they need. And then they're here, and they get to watch me in action.
"That's my favorite part of what I do now."
Scaroni placed fifth in the Boston Marathon earlier this year, where McFadden finished second, and is coming off of a tough London Marathon where a flat tire took her out of contention.
Scaroni participated in the 2012 London and 2016 Rio Games.
The elite men's wheelchair race was won by Aaron Pike, 36, of Park Rapids, Minnesota, in his eighth Bloomsday race. Pike is a dual sport paralympian – he participated in the 2012 London and 2016 Rio Games in road races and in the 2014 Sochi and 2018 PyeongChang games in Nordic and Biathlon.
It was Pike's eighth Bloomsday with two second-place finishes.
Local journalism is essential.
Give directly to The Spokesman-Review's Northwest Passages community forums series -- which helps to offset the costs of several reporter and editor positions at the newspaper -- by using the easy options below. Gifts processed in this system are not tax deductible, but are predominately used to help meet the local financial requirements needed to receive national matching-grant funds.
Subscribe to the sports newsletter
Get the day's top sports headlines and breaking news delivered to your inbox by subscribing here.
---