News > Spokane
100 years ago in Spokane: Murder charges pending after missing man's body found
Thu., Oct. 3, 2019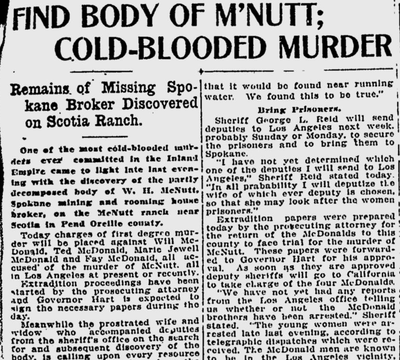 The W.H. McNutt disappearance case was blown wide open when his decomposed body was found on some property he owned near Scotia in Pend Oreille County, the Spokane Daily Chronicle reported.
First degree murder charges were pending against Fay McDonald, Marie Jewell McDonald, Will McDonald and Ted McDonald, said authorities.
McNutt had been in an acrimonious business dispute with the McDonald family at the time of his disappearance in Spokane. Shortly after he disappeared, the McDonalds took off for Los Angeles. Police later found them driving McNutt's car around Los Angeles.
As soon as the body was found, the two McDonald women were arrested in Los Angeles and the two men were being sought. Authorities were still trying to determine exactly who was involved and to what extent.
Detectives in Los Angeles believed McNutt confronted the McDonalds in a hotel room over a business mater. One of the McDonalds accosted McNutt at gunpoint, and they forced McNutt to sign a bill of sale for his auto. Then they killed him and drove his body to his land near Newport.
They buried the body, covered the grave with wood, and set fire to it in order to disguise the site. Detectives said they hoped confessions were forthcoming.
Mrs. McNutt, who had pushed police to investigate the case for months, was present when the body was exhumed. She nearly fainted and almost "fell into the open grave."
The Spokane Daily Chronicle also disclosed another sensational development. Mrs. McNutt had earlier hired a Spokane medium, Selma Armour, to use her psychic powers to solve the mystery. Armour had apparently told Mrs. McNutt that her husband had been murdered and "buried on a ranch."
However, the search on the ranch was not instigated because of the psychic. It was instigated by information telegraphed by detectives in Los Angeles.
Local journalism is essential.
Give directly to The Spokesman-Review's Northwest Passages community forums series -- which helps to offset the costs of several reporter and editor positions at the newspaper -- by using the easy options below. Gifts processed in this system are not tax deductible, but are predominately used to help meet the local financial requirements needed to receive national matching-grant funds.
Subscribe to the Coronavirus newsletter
Get the day's latest Coronavirus news delivered to your inbox by subscribing to our newsletter.
---