News > Health
Doctors without borders: Spokane surgeons join mission to Cuba
Wed., Oct. 23, 2019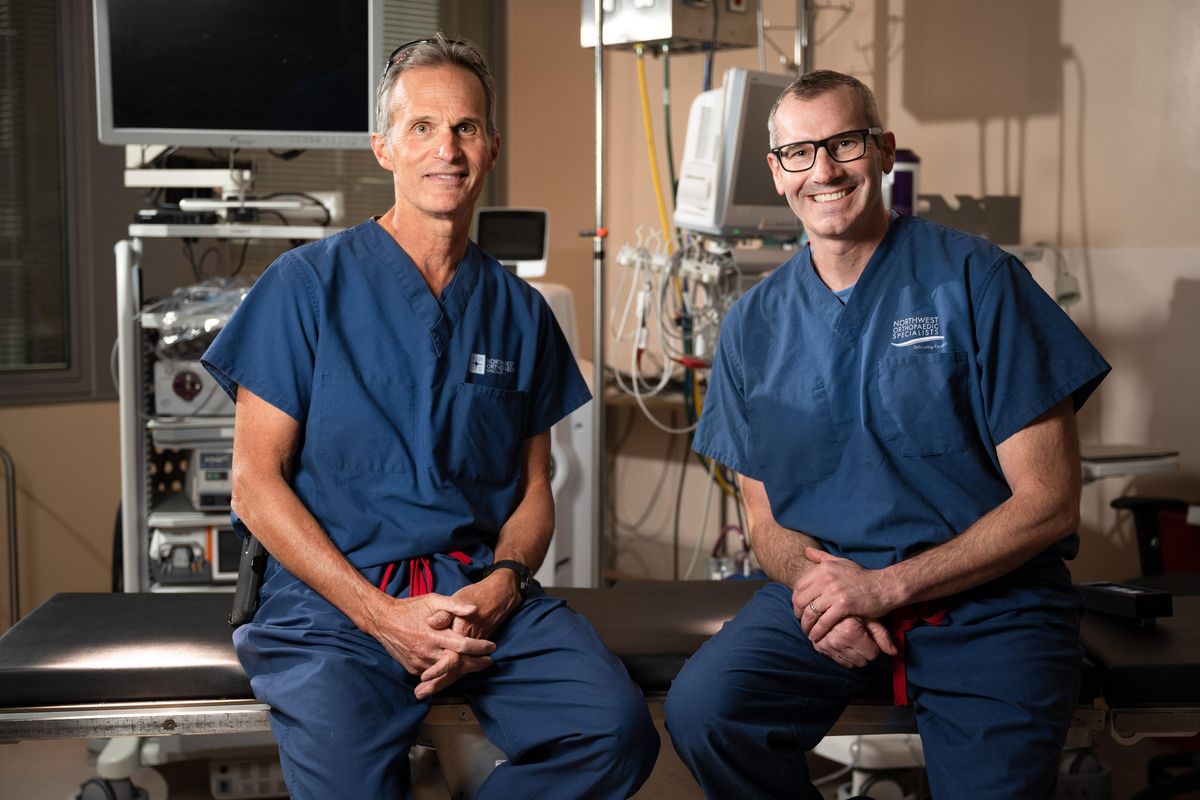 Two Spokane orthopedic surgeons, Dr. Jonathan Keeve and Dr. Kirk Reichard, will join a U.S. medical team in Cuba on Nov. 6 to perform 65 joint-replacement operations for arthritis patients. (Colin Mulvany / The Spokesman-Review)
Next month, two Spokane orthopedic surgeons are set to travel to Cuba with a U.S. volunteer medical team that will perform about 65 joint-replacement operations for arthritis patients.
The hip or knee replacements are rare for Cubans, who have widespread primary care but little access to such advanced surgeries, said Dr. Kirk Reichard and Dr. Jonathan Keeve of Spokane's Northwest Orthopaedic Specialists.
Visiting for about a week at a Havana hospital, the doctors plan to join about 40 Operation Walk medical professionals, most of them from Albany, New York. Operation Walk is a nonprofit organization providing free orthopedic surgeries for patients mostly in developing countries.
"We focus on knee and hip replacements in needy parts of the world that have the facility for us to swoop in and see a group of patients and take care of them surgically," said Reichard, who with Keeve is prepping for the Nov. 6 trip.
"They have to have the means for the patients to be followed up with a doctor locally after we leave," Reichard added. "We actually get all the X-rays ahead of time from a doctor who works and lives down there, then we can review the X-rays and plan accordingly with the appropriate equipment to bring with us."
Reichard first heard about Operation Walk during his fellowship training in Virginia from a training physician who participated. He did his first volunteering with Keeve for the group around 2012 in a surgery on an Inland Northwest resident lacking health insurance.
Then in 2018, Reichard went on an Operation Walk trip to Panama along with a few other Spokane health care professionals and a colleague from his fellowship training, Dr. Jared Roberts, now an orthopedic surgeon in Albany.
An Operation Walk group usually includes several U.S. surgeons, anesthesiologists, internal medicine doctors, nurses, physical therapists and scrub techs.
"It's pretty remarkable when we arrived at this location in Panama, our team of 50 people comes down this hallway, and you see a couple hundred people, most of which are families supporting their significant other who is there to be evaluated," Reichard recalled.
"So as we're walking into this waiting area, all of these patients and their families stand up and applaud the fact that you're even there. Most of them are crying. It's unbelievable how desperate these people are for this type of care."
Keeve didn't go on that Panama trip, but for 21 years, he's regularly traveled the world for various medical mission needs. Mostly, he's volunteered to do joint replacements and surgical training in countries including Vietnam, Cambodia, Myanmar, Bhutan and Nepal.
He also served as Distinguished Visiting Scholar at Landstuhl, Germany, for treating wounded soldiers and on the U.S.N.S. Comfort after the earthquake in Haiti. He recently returned from a medical support trip to Nepal.
On Sept. 28, Keeve received a lifetime achievement award from the Washington State Orthopaedic Association.
"I started on medical missions in '98, and I found it interesting and rewarding, so I try to do this as much as I can," Keeve said. "The need for help doesn't go away. The trips that are most rewarding are ones that allow you to teach so people can help themselves when you're not there."
Reichard said the Panama trip set the stage for him wanting to volunteer overseas when he can. Typically, an Operation Walk team arrives on a Wednesday and spends Thursday seeing a large group of patients in a clinic setting before doing back-to-back surgeries the next three days.
In the U.S., orthopedic surgeons complete about a 1 million hip and knee replacements each year, Reichard said. The numbers typically trickle to a few patients receiving such operations in developing countries unless people can pay cash, he said.
Reichard said many of the adults helped by Operation Walk are the main income providers for families, but they had to stop working because of severe arthritis.
"For them to have an opportunity to have access to what we have in the United States, it's really amazing to be part of that, and it's amazing to change their lives," he said. "Lots of these patients are unable to care for themselves or their family.
"Of course, we're doing the same kind of work here in the United States, but most patients ultimately have access to these types of solutions in the United States. In these other countries, there is truly not an opportunity for these patients to get this kind of care without programs like Operation Walk."
The medical professionals volunteer their time, but Operation Walk raises funds to cover costs for the trips and medical equipment required for the complex surgeries. Operation Walk Spokane has a GoFundMe account to raise money.
Reichard said the Cuba trip will cost about $200,000 overall.
"It's about $5,000 a person to get donated on our behalf, or to pay on our behalf, to go on a mission trip like this to cover housing, food, transportation and expenses as far as the sterile supplies, equipment, gloves," he said.
"A lot of stuff is donated by companies that help support these mission trips, but a lot comes from fundraising."
Dr. Roberts, in Albany, hopes to set up a continuing Operation Walk Albany-Spokane joint program for future trips, Reichard said.
"We're trying to get an Albany-Spokane connection going so we can have this type of a trip every year."
The Spokane volunteers this time include Reichard, Keeve, physician assistant David Baca, nurse Sarah Miller and patient coordinator Erin Myers. Keeve said he hopes other health care professionals consider taking their skills outside the U.S.
"We encourage other people to get involved in medical volunteer work," Keeve said. "There are plenty of people with health care expertise – nurses, physical therapists, surgeons. I think once you start and volunteer somewhere, it's hard not to go back.
"It's really compelling and a rewarding thing to do, not to mention all the people you help."
Local journalism is essential.
Give directly to The Spokesman-Review's Northwest Passages community forums series -- which helps to offset the costs of several reporter and editor positions at the newspaper -- by using the easy options below. Gifts processed in this system are not tax deductible, but are predominately used to help meet the local financial requirements needed to receive national matching-grant funds.
Subscribe now to get breaking news alerts in your email inbox
Get breaking news delivered to your inbox as it happens.
---