Hayden man attacked by grizzly last year makes Animal Planet television debut tonight Nearly a year ago, Bob Legasa was bloody and broken in the Montana backcountry, the unfortunate recipient of the maternal fury of an adult grizzly bear.
"It certainly was something I hope I don't have to endure again," Legasa said this week. "As far as the emotional and physical aspect of it, I'm lucky that I didn't get mauled. That I wasn't being rag dolled and tossed around. It was short and sweet. Or fast and vicious."'
Tonight, Legasa will relive his Oct. 13 experience on national television. The Hayden resident's story will be featured on Animal Planet's "I Was Prey" show.
This is what happened: As Legasa and his partner, Greg Gibson, walked through tall sagebrush – between 6 and 8 feet – they startled a grizzly bear cub and its mother.
The mother bear tackled Legasa. Gibson, of Sandpoint, sprayed the bear with bear spray. The bear dropped Legasa, but not before breaking his arm with her mouth and clawing his face. She then started to charge Gibson. Gibson sprayed the bear again and she retreated.
Covered in blood and nearly blind from the spray, which had blown into their faces, both men hiked out.
In February, Legasa traveled to New York for an interview for Animal Planet's show. Legasa, who owns his own outdoors media company, said he hesitated when first asked to participate. He worried that the show would overdramatize his experience or put an "anti-hunting" spin on it.
After being attacked online by hard-core vegans last year, he wondered if appearing on a television show would again make him a target. Ultimately, he decided to do it, reasoning that it provided him a good platform to spread a few important messages.
"Hunting has been in a weird limelight lately," he said. "It seems like there are more people that are understanding hunting … but then there are also … some activist groups that are really going hard on trying to cut down or stop hunting."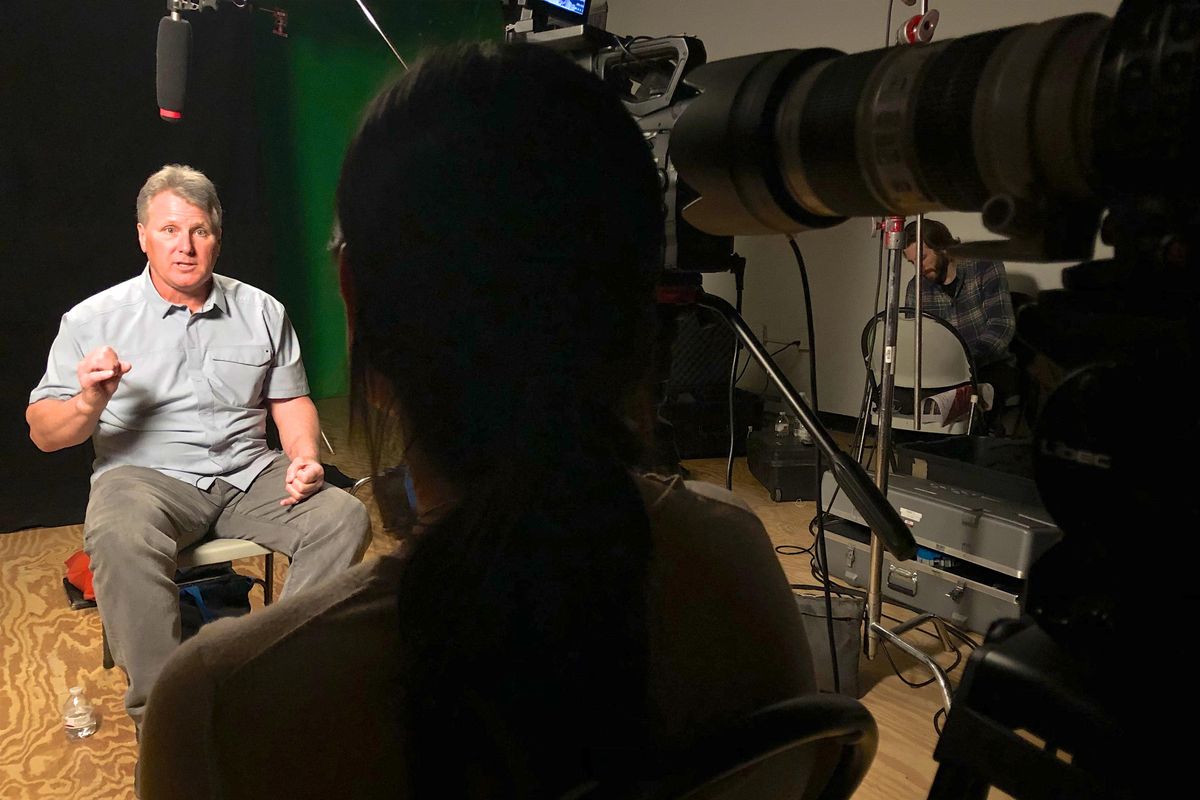 Legasa hopes to emphasize on the show that he hunts for many reasons. He loves being in the mountains and the challenge of stalking prey. He enjoys the pride and accomplishment of killing an animal that provides food for him and his family.
Showing the diverse reasons people hunt is a job many hunters are increasingly taking upon themselves. Only 5% of Americans 16 years and older hunt, according to a U.S. Fish and Wildlife Service study published in 2017. Fifty years ago, 10% of Americans 16 years and older hunted. Those decreased numbers mean that fewer people, especially in urban areas, know anyone who hunts.
"I was hoping that I could at least get a positive message across in that respect," Legasa said.
In addition to burnishing the reputation of hunters, Legasa hopes to reiterate the importance of carrying bear spray, for hunters and nonhunters alike. Since his attack, he's done promotional and testimonial work for Counter Assault bear spray, "preaching that bear spray works."
"It should be the first line of defense," he said. "It just gives you a better option than shooting."
In Legasa's case, if the two hadn't had bear spray, they would have been out of luck. Because the bear was on top of Legasa, Gibson wouldn't have been able to safely shoot the bear with his handgun.
With hunters and hikers heading to the hills this fall, that message couldn't be more important.
As for Legasa, he's mostly recovered from the attack last year. While he still has some residual pain from where the bear broke his arm, it hasn't slowed him too much. Emotionally, he said the fallout has been minimal. Although recently, he did have his first bear-related dream.
"It wasn't a nightmare, but there was a bear running at me," he said. "It made me think for a second."
That won't stop him from hunting this year. In a week, he's again heading to Montana for 12 days of bow hunting for elk.
"I'm going to get back on that horse and ride," he said. "This is in my DNA. Being in the mountains is good for my soul. I'm just counting the days until I get back out there."
---