News > Idaho
Man survives grizzly bear attack in Montana wilderness
Oct. 15, 2018 Updated Mon., Oct. 15, 2018 at 10:34 p.m.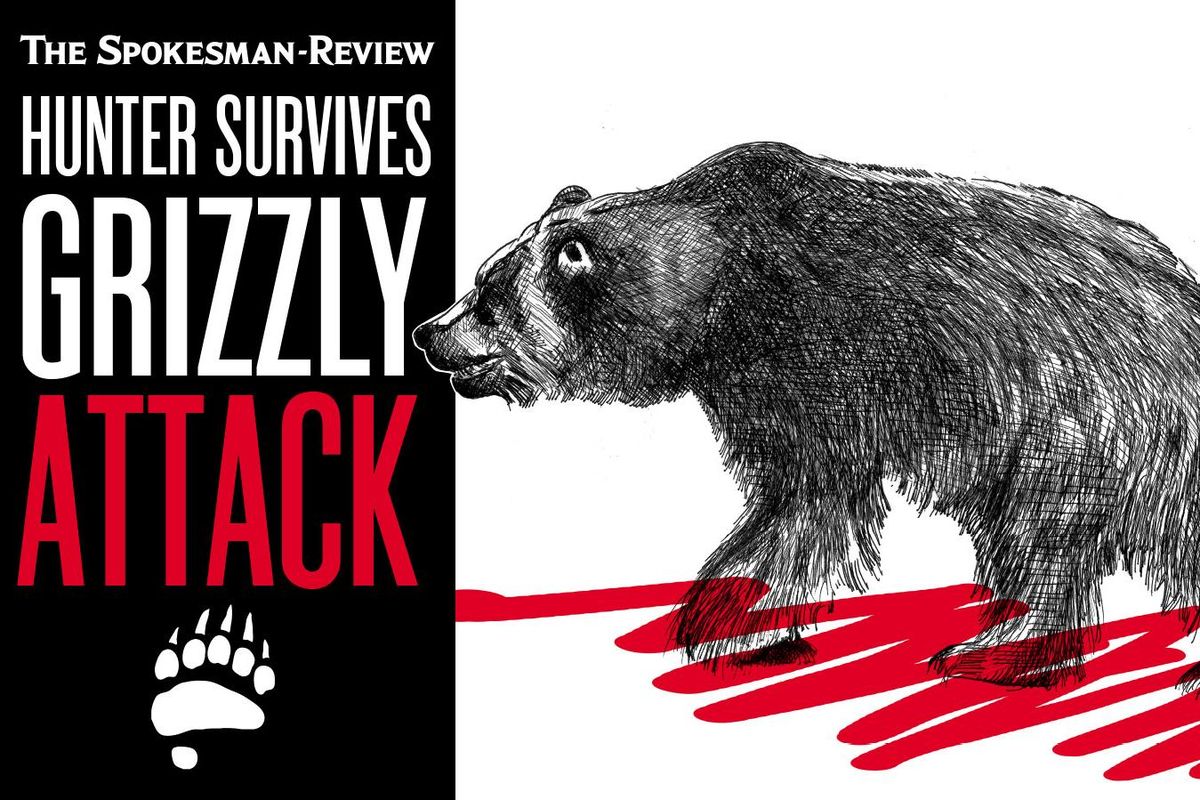 The visibility was tough for two Idaho men bow hunting early Saturday morning near Gardiner, Montana.
The sagebrush was 6 to 8 feet tall – like navigating a corn maze. Darkness had not completely lifted and it was snowing heavily in the country north of Yellowstone National Park. Upon hearing an elk bugle some 100 to 150 yards away, seasoned hunters Bob Legasa, of Hayden, and Greg Gibson, of Sandpoint, headed toward a prominent tree. They sought a clearing to spot the elk they had scouted the day before.
Instead, they were met with the growl of a big grizzly bear cub. About 500 pounds of mother bear wasn't far behind.
Legasa estimates it was 2 to 3 seconds between the cub's growl and the mother bear charging him. He thought the charge was a bluff, but after her second bound, "I realized it was the real deal," he said.
He did not have enough time to grab his bear spray or pistol, so he braced himself for the attack, putting out his hands to protect himself and keep her mouth away from his head. She grabbed his arm with her mouth and clawed his face.
Legasa estimates he fought her another 2 to 3 seconds before Gibson deployed his bear spray. When Gibson sprayed, the bear let go of Legasa, reared up on her haunches. Now she saw Gibson as the threat, Legasa said.
Gibson deployed the bear spray again, and the bear retreated.
"I tried to grab my bear spray," Legasa said. "I had blood in my eyes, I had bear spray in my eyes. Greg also had bear spray in his eyes because the wind blew it back."
Legasa's gloved hands tried to take the safety off his can so he would be ready for a second attack, but when he took the safety off, he squeezed the trigger and shot himself.
"If you touch the trigger, that's enough to knock you off your feet," Legasa said.
For what Legasa and Gibson will both tell you was an agonizing 10 minutes, the men tried to clear the burning bear spray from their eyes with snow on the sagebrush, screaming to scare off the bear, which may or may not have been lurking nearby.
"There was a moment where I thought I couldn't see a damn thing and this could be it," Legasa said. "Soon as I thought that, I thought, 'You gotta fight for it. You gotta fight for this now, you gotta keep going.'"
Finally, their sight returned. There were no bears. The men returned to their truck, about a 30-minute walk, and Gibson drove Legasa to Livingston. He then was driven to Bozeman Health Deaconess Hospital, where he was treated for his wounds. On Monday, Legasa underwent surgery for a broken left arm.
Legasa credits Gibson and the bear spray for saving his life.
Gibson sees it differently.
"He thinks I helped him, but I think he helped me, because the bear attacked him," Gibson said, laughing. "It gave me the opportunity to help him … I'm just thankful that the two of us were there."
While Legasa thought the bear weighed about 500 pounds, Gibson thought she looked more like 300.
"This was not a huge bear – it had a huge attitude," Gibson said. "That's just such a quick judgment, that was just my impression. It was on top of Bob, so I would go with his estimation."
The men had had some practice with bear spray not too long ago. Gibson, who works as a hunting guide, had recently made a bear spray demonstration video.
"I mentioned a couple times to friends and family since the attack that creating the video just a few weeks ago definitely helped," Gibson said. "We did multiple takes deploying it, and at least I had some experience with it."
Both are advocates of bear spray and believe it should be the first line of defense. Legasa said the attack will change the way he hunts in the future: From now on, he will have it on the front of his belt instead of the side. He also plans to stay away from sagebrush.
Legasa, who learned to hunt from his father when he was 16, said he hopes the incident won't change hunting for him.
"At this point I'm not too traumatized by it," he said. "To be honest, I'm not sure how it will affect me."
As for Gibson? He hunted in Sandpoint on Monday.
"I was hunting pretty low in the mountains," Gibson said. "Does lightning strike twice? I'm going to try to think of that when I go back in the woods."
Gibson is returning to Gardiner in less than two weeks as a guide.
Neither man was surprised with the way the bear reacted. Just as they were, the bear was surprised, and on top of that, had offspring to defend. Neither believes the bear should be killed.
"This bear did not seek out and come looking for me as far as being aggressive," Legasa said. "We surprised her, she surprised us, she was protecting her cub, and she charged at me to protect it and the rest is history."
Legasa does think that the bear and her cub should be trapped and relocated for their own safety.
Many opinions of the incident are being expressed on Legasa's Facebook page. His post about the encounter has more than 7,000 likes and 14,000 shares. Many people wished him a speedy recovery, but some expressed anger that he was hunting at all.
Legasa said he has been an advocate for the management of the grizzly population in the Montana and Wyoming areas.
"These altercations are happening more and more because there are more grizzly bears," he said. "Management needs to be taking control here."
On Sept. 24, a federal judge reissued grizzly bear protections, just before Wyoming and Idaho were about to issue the first grizzly bear hunting tags since 1991.
"They are an apex predator, they have no predators above them, they are not afraid of anything," Legasa said. "The grizzly bear population in the Yellowstone ecosystem has surpassed what their standards are and what the park can handle."
Local journalism is essential.
Give directly to The Spokesman-Review's Northwest Passages community forums series -- which helps to offset the costs of several reporter and editor positions at the newspaper -- by using the easy options below. Gifts processed in this system are not tax deductible, but are predominately used to help meet the local financial requirements needed to receive national matching-grant funds.
Subscribe now to get breaking news alerts in your email inbox
Get breaking news delivered to your inbox as it happens.
---