News > Travel
Captive beauty: Florida island formed by hurricane remains aware of vulnerability to ocean
Sat., Sept. 21, 2019 Our Thursday started with a car, then a plane, then a couple moving sidewalks during a layover and then another plane. That got us to Fort Myers, Florida, two months too late for spring training but a couple days ahead of the wedding we were to attend.
Then we had to get to the island. That required a hired shuttle, which took us to the grocery store where our group had pre-ordered six days of provisions, and then to the ferry office, where we loaded our luggage into another large van, which then took us to the ferry.
From there we headed across the Pine Island Sound on a sunset cruise, as it happened, bound for North Captiva Island, where we settled into a pair of golf carts and plotted our course to the northern end of the island to the house we would stay in for six nights.
That was, by my son's count, seven modes of transportation in one day, a record for his five years' worth of travels.
It's a long way to Florida from Spokane, and it is with good reason that most Washingtonians don't bother to head southeast for their beach vacations. Hawaii is equally far – or close, depending on your level of optimism – and California is closer. If you'd rather just look at the ocean and not swim in it, which generally describes me, the Oregon Coast suits just fine.
But Midwesterners love a good trip to Florida, and with most family – including, most importantly, the bride and groom – hailing from Iowa, to Florida we went early this May.
North Captiva, on the Gulf of Mexico side of Florida, is quite aware of its vulnerability to the water around it, how precariously it holds its sandy nose above the surface. The few hundred houses – many of them part of one rental organization – are almost all built with a ground floor that contains little that is crucial so as to minimize damage in a high storm surge.
I lugged our bags through the main entrance and instinctively looked for the kitchen only to realize that I had about 24 steps to go before I could return our snacks to refrigeration and another dozen or so to the top level, where our portion of the family would sleep.
I would get to know those stairs very well returning for the forgotten sunscreen or a water bottle or a book that I wouldn't actually read because the ocean just isn't a place you can leave your small children unattended, certainly not with a current set on sweeping an oblivious 3-year-old out for an ocean adventure. And that much is clear when you're on Captiva: The ocean is a powerful thing.
Indeed, the island was formed, or at least isolated, by a hurricane, which came through in 1921 and cut it off from the rest of Captiva. Hurricane Charley's eyewall swiped the island in 2004, damaging most of the 300 homes and cutting a waterway through the island's southern, uninhabited part. Surely one more big storm could wipe out North Captiva entirely.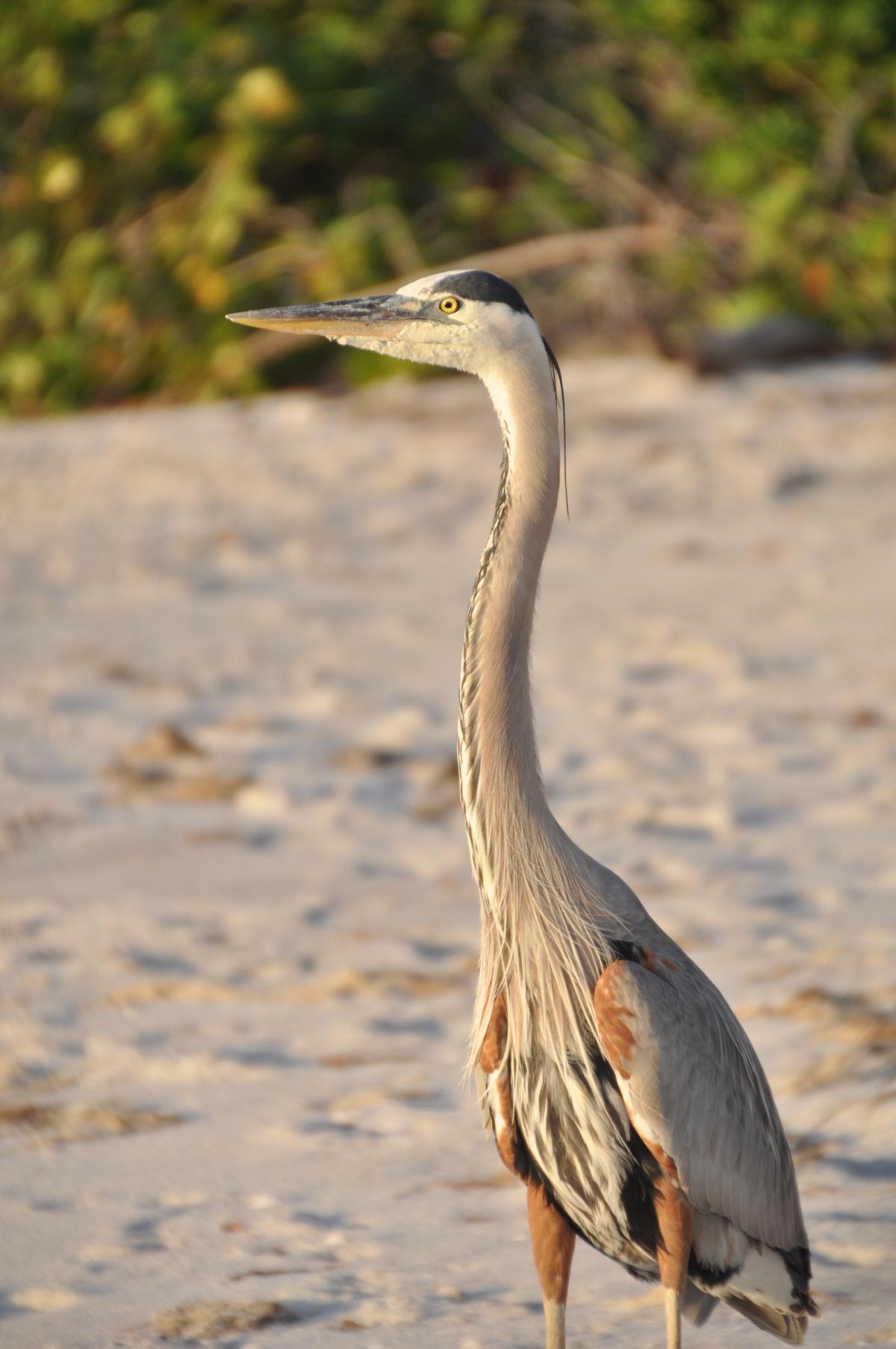 A heron faces out toward the Gulf of Mexico. (Megan Caves)
All that makes the prospect of buying real estate there a bit of a risky venture. Lots remain available. There is even a private airstrip, if one has the means, to skip the ferry entirely. We arrived at night, so my first impression was the omnipresent humidity and the biting bugs that had just made their annual return to the island. But in the morning, it was clear that the island is undoubtedly beautiful.
From a fourth-story perch, I could see the sunrise and the sunset over water. Tortoises, lizards and birds are everywhere. I watched as terns hovered over the water waiting to divebomb from 20 feet up to snag a fish. Sandpipers scurried along the waves poking into the sand for food. Pelicans and ibises fished along the shore. Herons stood by like sentinels.
Coconuts were numerous and tantalizingly out of reach of my repurposed pool net. (The coconuts also were laboriously difficult to open with a kitchen scissors and a blunt chef's knife – but it could be done.) North Captiva's southern relative can be accessed by car via Sanibel Island, which is Captiva's more famous cousin in Fort Myers' family of barrier islands.
But the only motorized vehicles allowed on North Captiva are golf carts, so we got to know the island more intimately. North to south, it is only 4 miles long and never more than a half-mile wide. The southern half of the island is a protected wildlife preserve, so all the houses are on the northern end.
That may prove especially inconvenient in a few decades: According to NOAA simulations that are quite fun – and harrowing – to play with online, just 3 feet of sea level rise would put most of the island's northern half underwater. Two more feet would basically make the island nothing more than a dainty drop of land for manatees and dolphins to visit.
A day after the wedding, we walked the western coast of the island in search of shells, which are tossed upon the shore constantly, creating a layer in some stretches that you cannot help but crunch with every footfall.
A sandbar sticks out into the ocean about midway up the western coast, so we made for that in search of the rarer shells that get picked over by early morning beachcombers elsewhere but appear throughout the day on the bar. On our walk, we met a couple, with their two children, from Boston who were staying in their family's house for the last time.
Their family had owned the house for two decades, but it was no longer worth the taxes to keep, so the family had sold it. The sand bar was convenient now for them, just a short walk from their front door, but it shifted gradually with the tides and had been moving north over the years.
Even from the time we got there to the time we turned around, what had been a 12-foot-wide channel had shrunk to half that with the receding tide. The children in our party happily hopped the waves as they came in, and we left with a bucket of shells to take back with us.
Sunsets are quick in Florida, and our private beach became a rallying spot before bedtime. Our oldest son wrote his name in the sand, not realizing that by morning the tide would have erased it. Our family stayed on a few days past the wedding, and on Tuesday my wife and I ditched our three children with their grandparents.
With some cousins, we borrowed a small fleet of kayaks so we could see the island a bit ourselves. We headed along the eastern, sheltered side of the island to a part of the shore known for its dolphins – ironically, only a five-minute walk from our rental house but a good 20 minutes of hard paddling away under a blazing midday sun.
I sat for an hour in the kayak taking videos and pictures while my wife and her cousins tried in vain to touch the dolphin that swam among them. It would surface, swim toward one of them only to dive deep just ahead of their outstretched hands, in a game the dolphin looked to be enjoying. The humans certainly were. At one point, a manatee ambled by and then disappeared, less interested in playing tag along the surface.
We returned the kayaks and walked back toward the house, stopping for a drink at one of the handful of restaurants on the island. With no grocery store to speak of, groups need to bring basically all their food when they ride in on the ferry. Aside from some basics – less than what you'd find at a convenience store on the mainland – the island's store isn't stocked with food.
That gives a trip there a sort of camping feel, and it requires plenty of preparation on the front end of your trip. But once you're there, the isolation is rather freeing. It's not convenient to go back for a day trip to Fort Myers, and there isn't much reason for one anyway. At least, not one compelling enough to pull you from the beaches.
If you need more provisions, you can hire a company to bring groceries across on the ferry for you. We left on a hot, muggy morning with a long day of travel ahead of us, facing the reverse of all those modes of transportation that got us to North Captiva.
We may never be back. It is a long way to go for a beach. Still, it was nice to see a place that may not be there in a few generations, and to have, even for just a week, a bit of the rising ocean just to ourselves.
Local journalism is essential.
Give directly to The Spokesman-Review's Northwest Passages community forums series -- which helps to offset the costs of several reporter and editor positions at the newspaper -- by using the easy options below. Gifts processed in this system are not tax deductible, but are predominately used to help meet the local financial requirements needed to receive national matching-grant funds.
Subscribe now to get breaking news alerts in your email inbox
Get breaking news delivered to your inbox as it happens.
---