Home-cooked delights: Local chefs and a mixologist share recipes for dishes, cocktails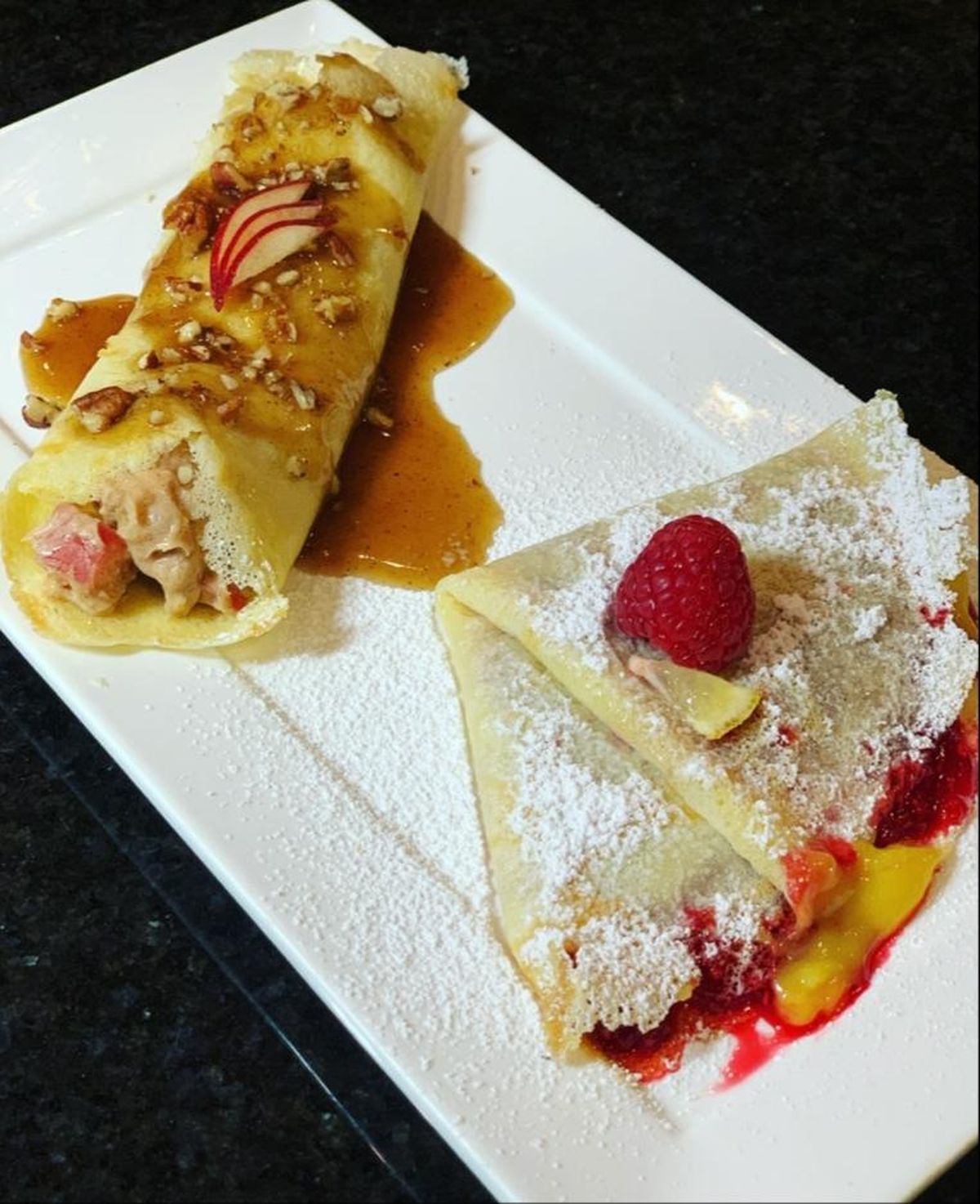 In last week's Food section, members of Spokane and the area's culinary industry shared their pantry essentials and why the items are necessary. Chefs Chad White and Ricky Webster also, unsolicited, shared recipes for their gluten-free meatloaf and sourdough pasta, respectively.
Since there was no room to run them in Food, it prompted this week's Food feature, and, to make the meal at home complete, Blake Caldwell adds his balsamic roasted vegetables, Sarah Kitchings contributes three crepe recipes, Emily Crawford whips up tiramisu, and Zac Fullerton mixes up not one but two cocktails.
You're welcome. Here are their recipes – bon appetit and cheers!
Gluten-free Meatloaf
Chad White, chef/owner, Zona Blanca, High Tide Lobster Bar and TT's Old Iron Brewery and BBQ
3/4 pound ground pork
3/4 pound ground brisket
2 eggs
2 cups pork panko or ground chicharones (pork rinds)
2 tablespoons black pepper
2 tablespoons granulated garlic
1 cup chopped dill pickle
12 pieces of bacon pounded flat (I used the back of a ladle)
1/2 cup TT's Old Iron Brewery and BBQ Kansas BBQ sauce
4 tablespoons yellow mustard
6 tablespoons Spiceology honey habanero spice rub
Mix all the ingredients (except bacon, mustard and Spiceology rub) really well and form into a loaf about 4-by-10 inches. Rub the outside of the loaf with yellow mustard.
Layer all the bacon on a sheet tray stretched and overlapping each piece by 1/4 inch. Place the loaf on the bacon and fold the bacon slices over to tightly wrap the meat loaf. Massage the ends to make the bacon stick together.
Season carefully all sides with the Spiceology rub. Place the meatloaf bacon seam side down on a Traeger and smoke for 1 hour at 325 degrees or until the internal temperature reaches 155 degrees. (This also can be baked in an oven at 350 degrees).
When using a thermometer, check the temperature in the same hole rather than testing in multiple spots, which would cause the juices to run out. If you want more smoke, lower the temp to 250 degrees and smoke for approximately 2 hours.
Pull from the smoker and let it rest for 15-20 minutes before slicing.
Sourdough Pasta
Ricky Webster, business resources/chef consultant, Sysco Spokane
2 cups all-purpose flour
1 2/3 cups semolina flour (if you do not have semolina, you can use another 2 cups all-purpose flour)
1/3 cup sourdough starter
4 large eggs, room temperature
2-3 tablespoons water, room temperature
Combine flours in a large bowl and make a deep well. Add the starter and cracked eggs into the well. Using a fork, combine the eggs and starter while slowly working in the flour from the sides.
When it becomes difficult to mix, dump out onto a counter and add up to 3 tablespoons of water while kneading and working until all the flour is incorporated.
This will take some time, and the dough will be very firm and tough, but it should all come together and be very taut/smooth. You want this so your pasta has a nice toothsome bite to it.
When incorporated and smooth, let it rest on the counter for 30 minutes. Continue to knead for 5 minutes to ensure smoothness and that ingredients are all well incorporated.
Divide dough into four, individually wrap each portion tightly with plastic, and store in a refrigerator for at least 24 hours. Roll, cut and or fill to your desire. Treat as any normal pasta dough. Boil in heavily salted water that tastes like sea water.
Balsamic Roasted Vegetables
Blake Caldwell, executive chef, Commellini Estate
Marinade:
1/4 cup olive oil
1/4 cup balsamic vinegar
2 tablespoons honey
1 sprig of rosemary
4 sprigs thyme
2 crushed garlic cloves
1 tablespoon chile flakes
Vegetables:
1 red onion, peeled and cut into roughly 1-inch squares
1 pound zucchini cut into thick, 3/4-inch rounds
2 red bell peppers, seeded and ribs removed, flesh cut into roughly 1-inch squares
1/2 pound crimini or button mushrooms, halved
Salt
Black pepper
Preheat oven to 400 degrees if convection or 425 degrees if conventional heat. In a large bowl, mix the balsamic vinegar, honey, chile flakes and olive oil. Break the rosemary stem in several places and add them in with the thyme and crushed garlic cloves. Stir into the marinade and let it sit while you prepare the vegetables.
In the same bowl as the marinade, add the cut vegetables, tossing to coat with the marinade, then transfer the vegetables to a parchment-lined baking pan (this will help prevent the residual marinade from burning on the pan). Sprinkle with salt and then dust with a few grinds of freshly ground pepper. Make sure the vegetables have plenty of space; if not, use a second pan to spread them out evenly.
Roast for 15-25 minutes, check doneness by looking for a nicely roasted vegetable while still having some bite. Ultimately, it's your call as you know what you like. If needed, it's OK to use a spatula to flip the vegetables halfway through the cooking process.
Carefully remove the pan from the oven, allowing to cool for 1 to 2 minutes, remove herb sprigs and then transfer to a serving bowl.
Crepes
Sarah Kitchings, pastry chef, Candle in the Woods
1 cup all-purpose flour
1/4 teaspoon salt
6 tablespoons water
1 cup whole milk
2 eggs
1 teaspoon vanilla
3 tablespoons melted butter
Add the flour and salt in a bowl, whisk and set it aside. Add all liquid ingredients to a bowl or blender, whisk or blend and gradually add dry ingredients; mix until incorporated and smooth.
Preheat your pan over medium heat; I recommend a nonstick pan for ease. Add 1/4- 1/2 cup of batter to your pan. Roll the pan to spread the batter in a thin layer and cook, flipping once. Crepes are thin pancakes, so the first pancake isn't always the best. Keep trying!
The best thing about crepes is they're versatile. Here are some of my favorite variations – use as much of the filling as you'd like for each crepe. Get creative and try your own, too.
Lemon Raspberry Crepe
Lemon curd:
1/2 cup sugar divided
3 tablespoons lemon zest
3 large egg yolks
1 egg
1/2 cup fresh lemon juice (2-3 lemons)
5 tablespoons butter
Raspberry sauce:
2 cups raspberries (frozen or fresh)
2 tablespoons lemon juice
1/4 cup plus 2 tablespoons sugar
For the lemon curd: In a medium bowl, whisk together the 1/4 cup of sugar, egg yolks and egg. In a medium sauce pan, add the remaining 1/4 cup of sugar, lemon juice and zest. Bring to a low boil over medium heat. Add the lemon juice in a slow stream to the egg mixture, whisking constantly. Transfer back to the sauce pan and cook until thick, stirring constantly. Once thickened, add butter 1 tablespoon at a time, stirring to incorporate. Run the lemon curd through a fine mesh strainer; this step is optional, but it does produce a nice smooth curd.
For the raspberry sauce: Add all ingredients to a medium saucepan and cook over medium heat until thickened to your liking. Strain if desired.
To serve, spoon curd onto crepe, then fold or roll crepe. Top with raspberry sauce.
Athol Orchards Crepe
2 cups of diced apples (about 1/2 inch)
2 tablespoons butter
1 tablespoon lemon juice
1/4 cup packed brown sugar
1/2 teaspoon salt
1 teaspoon cinnamon
4 ounces cream cheese
Athol Orchards apple cider syrup
Chopped pecans, option
Melt the butter in a pan. Add the apples, brown sugar, lemon juice, salt and cinnamon. Saute until the apples are soft and the sauce has thickened like a warm caramel. Transfer the apples into a bowl and add the cream cheese. Mix until combined. Mixture will look runny, but it will firm up when it cools. Once cool, spoon into a crepe, fold or roll it and garnish with Athol Orchard syrup. Add chopped pecans if desired.
Chocolate Crepe
Chocolate mousse:
2 cups semisweet chocolate chips
2 1/2 cups heavy cream, divided
1 teaspoon vanilla extract
Chocolate sauce:
1 cup semisweet chocolate chips
3/4 cup heavy cream
For mousse: Add 2 cups heavy cream in a mixing bowl and place it in a refrigerator. Add the chocolate chips and 1/2 cup heavy cream in a saucepan and melt the chocolate over low medium heat, stirring constantly. Be careful not to overheat your chocolate, or it will separate. Alternately, you can melt it over a double boiler. Once the chocolate is melted and smooth, remove it from the heat and add the vanilla. Let the chocolate cool for at least 5 minutes. You also can keep stirring to help it cool faster. Take cream out of the refrigerator and whip it until stiff. Fold in the cooled chocolate with a rubber spatula and chill until set.
For sauce: Add the ingredients in a sauce pan and melt over low heat. Again, be careful not to overheat your chocolate, or it will separate. Alternately, you can melt it over a double boiler.
To serve, spoon mousse onto crepe, then fold or roll crepe. Top with chocolate sauce.
Tiramisu
Emily Crawford, baking and pastry director, Eat Good Group and Doughlicious
6 large egg yolks
3/4 cup sugar
3/4 cup whole milk
32 ounces mascarpone or cream cheese, at room temperature
Zest of 1 orange
1 1/2 cups espresso or strong coffee, at room temperature
1/2 cup brandy or cognac
3 bags Pepperidge Farm Milano Cookies
1/4 cup Dutch-process cocoa powder
Bittersweet chocolate, for shaving
Line an 8-inch-square baking dish with plastic wrap, leaving a 3-inch overhang on all sides. Fill a large bowl with ice water.
Make the custard: Whisk the egg yolks and sugar in a heatproof bowl set over a saucepan of barely simmering water (do not let the bowl touch the water) until the sugar dissolves. Slowly whisk in the milk and cook, whisking constantly, until the custard is light and foamy, about 10 minutes (a thermometer inserted into the mixture should register 170 degrees).
Remove the bowl from the saucepan and set in the bowl of ice water; whisk until the custard is cool, about 1 minute. Put the mascarpone and orange zest in a large bowl. Fold the custard into the mascarpone with a rubber spatula until almost combined, then whisk until just smooth (do not overmix, or the custard will be grainy).
Combine the espresso and brandy in a shallow bowl. One at a time, dip the cookies in the espresso mixture until soaked but not soggy; arrange two rows of about five cookies each in the baking dish. Spread one-third of the mascarpone custard over the cookie. Repeat with a second layer of espresso-dipped cookies, arranging them in the opposite direction.
Top with another one-third of the custard. Repeat with the remaining cookies, alternating directions. Spread the remaining custard on top and dust with the cocoa powder. Cover with plastic wrap; refrigerate at least 4 hours or overnight. Before serving, remove the plastic and shave curls of chocolate on top with a vegetable peeler.
Capt. Kirk
Zac Fullerton, mixologist, Table 13 Restaurant and Whiskey Bar
3 slices muddled cucumber
2 ounces Captain Morgan White Rum (4 tablespoons)
1 ounce triple sec or simple syrup (basically something sweet and citrus) (2 tablespoons)
1 ounce lime juice (fresh lime is best, but it is a pandemic) (2 tablespoons)
Add all ingredients to a cocktail shaker, shake and strain into a martini glass, or pour all the ingredients together over ice and stir well. For the adventurous, add muddled jalapeno.
Unnamed cocktail
Zac Fullerton
1 sprig rosemary
2 ounces Tanqueray Gin (4 tablespoons)
1 ounce lemon juice (2 tablespoons)
3/4 ounce simple syrup (1 1/2 tablespoons)
2 dashes Angostura bitters
Gin and bitters aren't necessarily typical household items, but this is still a simple-to-make drink. Add all ingredients to a cocktail shaker, shake and strain into a martini glass. This drink pairs well with gluten-free meatloaf.
---