News > Spokane
Full-time Spokane parks employees shift into new roles as other workers get furloughed
Sun., April 19, 2020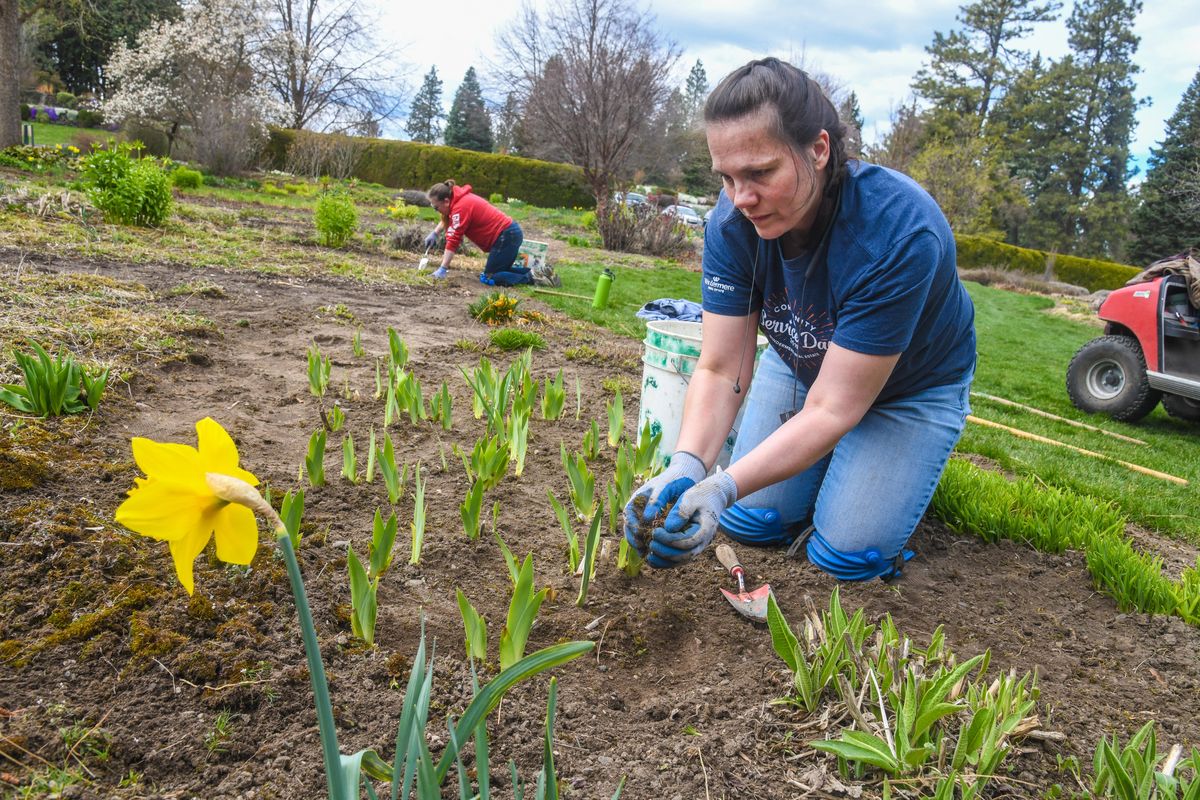 Kristal Louden, right, and Megan Qureshi, from the Spokane Parks and Recreation Department's accounting office, weed an area of the Ferris Perennial Garden at Manito Park, Wednesday, April 15, 2020, in Spokane. The pair are helping outside their regular office jobs because of the disruption caused by COVID-19. (Dan Pelle / The Spokesman-Review)
If this were a typical spring, Ryan Griffith would be hiring and training temporary workers, preparing summer youth programs and promoting the upcoming recreational opportunities put on by Spokane Parks and Recreation.
But this spring is anything but typical.
Instead, on Tuesday, Griffith was power-washing the six-lane, 25-yard pool inside the Shadle Aquatic Center.
"This isn't what I do normally, so it's kind of just getting everything running to basically the bare minimum," said Griffith, assistant recreation director for Spokane Parks.
He's not alone in taking on some new duties amid the COVID-19 pandemic.
Try dialing Spokane Parks and Recreation Director Garrett Jones and there's a chance he won't hear the phone ring over the drone of his lawnmower tearing across a city park.
Even Jones will take shifts tackling the kind of work normally handled by seasonal employees, because the parks department furloughed about 100 summer workers and has held off on hiring about 100 others.
The new assignments are just one facet of the department's stark and rapid adjustment to life amid a pandemic, which has forced the closure of playgrounds, postponed outdoor concerts and postponed recreational sports leagues – all as city residents are as desperate as ever for recreation.
And while Jones is no slouch behind a lawnmower, he and the skeleton crew can't replace what a team of dozens can accomplish across the city's nearly 100 parks.
So for now, grass will be mowed less frequently, fewer annuals will be planted and most public restrooms will remain closed.
"Parks are a great outlet for this community; we want to continue that," Jones said. "We just want to work together, and a lot of that is through communication."
That communication will include park officials updating residents as government restrictions evolve. But the department also wants to hear from the community, Jones added – even if it's only to alert staff to an overflowing garbage can.
"We might not have the eyes that we normally have out there," Jones said.
While city parks remain open in a modified way, the parks department has been far from insulated from the economic impacts of the coronavirus.
The department typically hires about 200 seasonal workers every spring, for jobs that include lifeguards and landscapers. But given the department's limited scope of operations and projected hit to revenues, the department has put hiring on hold.
The remaining employees – fewer than 100 – have focused on maintaining what Jones called "core services." That includes maintaining sanitation and garbage at the parks, which remain open, and protecting the department's assets from degradation or vandalism. Park rangers continue to patrol city parks, which have seen an uptick in vandalism and misuse.
"What we don't want to do is not maintain a facility that we're going to see long-term impacts from," Jones said.
Parks and Recreation also is studying its finances, both in the near term and in preparation for a potential yearslong hit to its budget, as well as working to protect its own employees and the public during a health crisis.
The department is building models to assess the impact all of these changes will have on its budget. About one-third of its annual revenue is based on fees charged every time someone visits an attraction, participates in a program or attends an event – all of which have been postponed or canceled during the pandemic.
The department is now forecasting a potential 10% to 15% reduction of its overall operating budget.
In the long term, if the city's budget contracts, so will that of the parks department.
As restrictions relax, Jones said, the department will make "data-based decisions" about which services and amenities to bring back, aiming for a high impact on the community but a low impact on the department's finances.
And while Gov. Jay Inslee's "Stay Home, Stay Healthy" order could be lifted at any point, it doesn't necessarily mean the parks department will immediately have the ability to relaunch all of its services and amenities.
For example, it will take the department six to eight weeks to prepare one of its aquatic centers for public use.
Despite the governor's order bringing private-sector construction to a halt, the city and parks department have vowed to plow ahead with infrastructure improvements planned for 2020. That includes more upgrades to Riverfront Park and new landscaping at Manito Park.
And with so much of its outdoor programming canceled or postponed, park employees are getting creative.
Acknowledging so many Spokane residents are quarantined at home, the department regularly has posted "boredom buster" videos to its Facebook page, encouraging people to stay creative and active through the "Stay Home, Stay Healthy" order.
In a lighthearted April 2 video, Therapeutic Recreation Supervisor Alice Busch filmed her husband, Steve, as he provided instructions on how to set up a makeshift pickleball court inside a home garage with little more than a roll of tape – complete with a crude drawing of an opponent named "Gary" on a piece of cardboard taped to the wall.
Changes to parks services are documented on a coronavirus updates page on the city of Spokane's website.
Local journalism is essential.
Give directly to The Spokesman-Review's Northwest Passages community forums series -- which helps to offset the costs of several reporter and editor positions at the newspaper -- by using the easy options below. Gifts processed in this system are not tax deductible, but are predominately used to help meet the local financial requirements needed to receive national matching-grant funds.
Subscribe now to get breaking news alerts in your email inbox
Get breaking news delivered to your inbox as it happens.
---