News > Business
Renovated Otis opens as Hotel Indigo during pandemic
Aug. 6, 2020 Updated Thu., Aug. 6, 2020 at 8:36 p.m.
General Manager Patrick McLaughlin of the Hotel Indigo Spokane, gives a tour of the hotel on Thursday. The hotel had been the Otis Hotel since 1956 before it was refurbished by owner Curtis Rystadt. (Tyler Tjomsland/THE SPOKESMAN-REVIEW)
Generations past what were considered its glory days, the former Otis Hotel has been transformed from a bastion of urban decay into a luxury hotel that doesn't try to erase its storied past. It embraces it.
The Hotel Indigo Spokane opened last week about the same time Davenport Hotels owner Walt Worthy announced 274 permanent and temporary layoffs because of lack of business caused by the coronavirus pandemic. Despite Spokane having lost more than half of its 11,000 hotel and restaurant jobs, developer Curtis Rystadt pushed through the delayed opening of Hotel Indigo, at 110 S. Madison St.
Rystadt purchased the five-story Otis Hotel in 2017 for $1.4 million. He wouldn't say exactly how much he's invested to gut the building, but he said he's installed hardwood floors in every one of the 108 rooms and completely upgraded everything from the plumbing to the electrical systems and even added a low-noise heating and cooling system.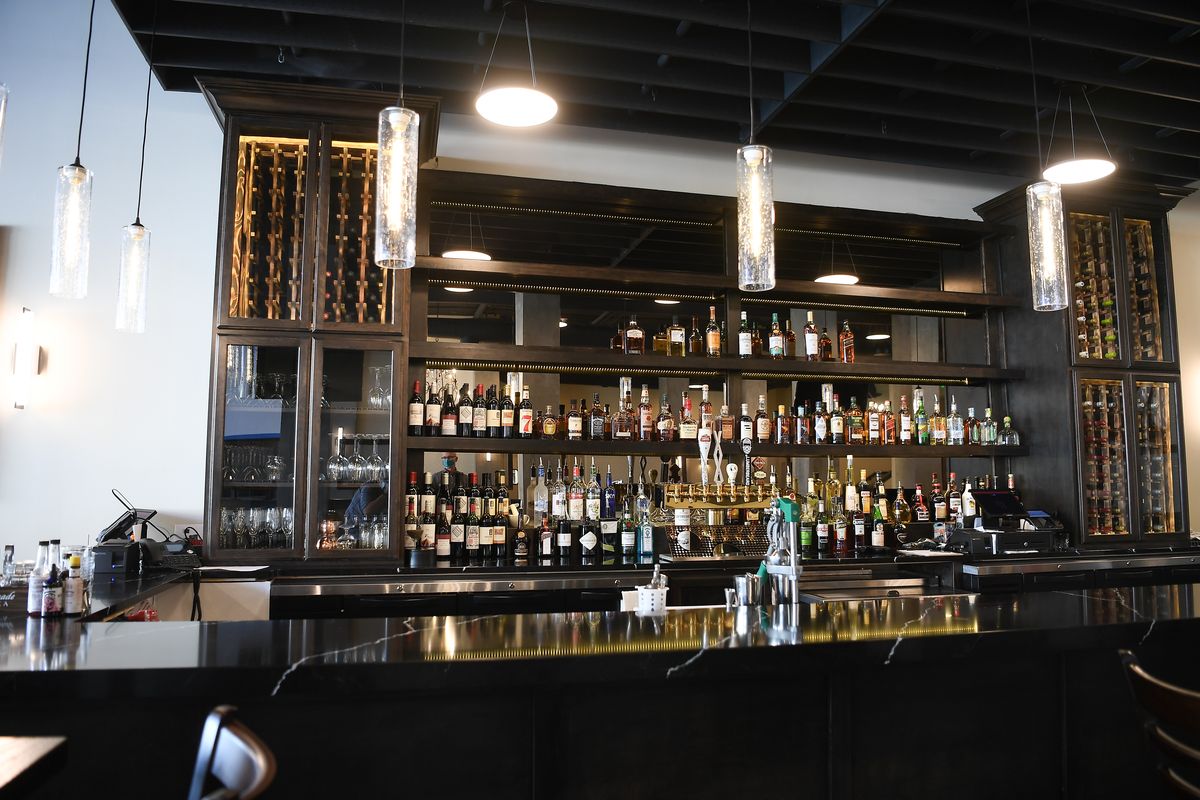 This photo from Thursday shows Hotel Indigo Spokane's bar in downtown Spokane. The 108 room hotel now occupies what had been the Otis Hotel since 1956. (Tyler Tjomsland/THE SPOKESMAN-REVIEW)
His excitement about the hotel's future is infectious.
"I like challenges," the 50-year-old former mortgage broker said. "I like to buy things where I see value. Here's the reality. Spokane is a great town. This was a functionally obsolete building. Nobody was willing to go through the effort to restore it to where it was. I'm bringing that back."
The ground floor includes a full restaurant called Magnolia American Brasserie, and it's run by chef Steve Jensen.
"Steve will come to your table and you can have your input," Rystadt said. "He is so capable. He has kids point their finger on a map. Whatever country they point to, he makes them dinner from that country. I dare you to … have a better meal somewhere else. If you do, please tell me because I want to go there."
The 108 rooms all have murals that pay tribute to the building's past – all the way back to when it was constructed in 1911. In fact, Rystadt openly welcomes anyone who possesses historic photos of the building, which he will incorporate into the decor.
"We are telling the story of Spokane. What better way than to reach out to the people of Spokane and ask for their input," he said.
The Hotel Indigo was built in 1911 as the Willard Hotel, a place for transient workers who rented small rooms and shared a communal bathroom on each floor. The hotel changed hands and names many times through the years. It's been called the Willard, the Atlantic, the Milner, Earle before finally becoming the Otis in 1956.
While the hotel was always linked to a hardscrabble lifestyle, it became a symbol of downtown's decay near the end of the 20th century. In the mid-1990s, The Spokesman-Review described the "litter-strewn, two-block strip of West First," where 400 people paid as little as $140 a month to live, as the city's "most dangerous downtown neighborhood."
The building's original design, with the communal bathrooms, became the largest hurdle for developers to overcome, until Rystadt upgraded the plumbing in every room. And, while all four floors of rooms are built the same, every one of the 108 guest rooms is different, he said.
"We have mud-set showers, solid wood furniture," he said. "Every room has a full mural photograph of a historic photo of downtown Spokane."
The demolition and remodeling also had its challenges.
In December 2018, the Spokane Regional Clean Air Agency issued asbestos-related violations to five companies and fines totaling nearly $140,000 for worker health and safety violations.
Rystadt pushed back against state and local agencies' claims and has maintained innocence since the state Department of Labor and Industries stopped work on the building in March 2018, while local and state inspectors investigated the handling and removal of asbestos and lead, the latter in the aged building's paint.
But Rystadt worked through the challenges, only to open his hotel as health officials restrict the size of gatherings and the number of customers who can be allowed in a restaurant.
"It's kind of hard to have a grand opening," he said. "Otherwise, I would … have a big party and this place would be packed. I'd like to show them the finished product."
Rystadt, who gave personal tours of the building this week, is confident Spokane residents will embrace the new hotel. It's managed by InterContinental Hotels Group, has a 24-hour fitness center, a 24-hour business center and includes valet parking with its own covered parking garage.
"I can't control COVID or the effects or what Gov. (Jay) Inslee does, or how people feel about COVID," Rystadt said. "But what I can control is I can create a great product, which includes hardwood floors, hardwood furniture and hand-set tiles. And, I can provide great service."
Shannon Smith, director of sales at Hotel Indigo, said that since the hotel is part of InterContinental Hotels, customers can use points earned staying at other hotels managed by the group, including the Holiday Inn Express Spokane-Downtown and Holiday Inn Spokane Airport.
"We are more of a corporate-travel-business hotel," Smith said. "That is kind of obsolete at the moment. Trying to find business travel now is difficult. I'm trying to sell staycations. A lot of people are wanting to get out of their houses and have a road trip. It's a safe, clean place to stay. And it's a beautiful historic building."
Part of retaining that history included the effort to restore the floor of the main lobby. Crews dismantled each piece of stone tile from the original floor from 1911, heated them, cleaned them and returned them to the floor.
"We didn't redo it and try to pawn it off as historic," Rystadt said. "This is not fake. This is actual historic. Our stone floor is actually stone tile. It was hand-set. The craftsmanship was amazing. You have to come in and see the place to appreciate it."
Despite the economic downturn from the pandemic, Rystadt said he hopes his three-year effort to restore the building will be well-received.
"I want people to feel they can appreciate the value, have good history, get good service and good food," he said. "I put my heart and soul into this. It's priceless."
Local journalism is essential.
Give directly to The Spokesman-Review's Northwest Passages community forums series -- which helps to offset the costs of several reporter and editor positions at the newspaper -- by using the easy options below. Gifts processed in this system are not tax deductible, but are predominately used to help meet the local financial requirements needed to receive national matching-grant funds.
Subscribe now to get breaking news alerts in your email inbox
Get breaking news delivered to your inbox as it happens.
---