News > Spokane
Culp urges students to return to school, with or without masks
Aug. 12, 2020 Updated Wed., Aug. 12, 2020 at 6:24 p.m.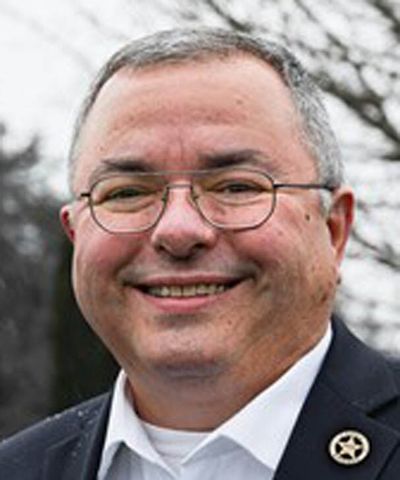 Gubernatorial candidate Loren Culp spent Wednesday morning handing out backpacks to children.
The GOP hopeful also dispensed some advice for school districts as they weigh the pros and cons of distance learning and face-to-face instruction that buck the guidance from public health experts.
"Let's get the kids back in school and get their parents back to work," Culp said. "When we go back and look at the statistics, less than 1% of people die," Culp said. "We need to get this economy open."
And when those children return to class, they should not be compelled to wear a mask.
"That should be up to the parents," Culp said.
In his first campaign appearance in Spokane since advancing to the general election last week, Culp made it clear that he agrees with few of Gov. Jay Inslee's decisions regarding COVID-19.
At the top of the list was Inslee's mandate of last March that closed all schools in the state.
"I would never have shut down our economy," said Culp, the police chief in the small town of Republic. "It's not the role of the governor to dictate what we do in our daily businesses."
Culp likened Inslee's actions to President Franklin Roosevelt's order of 1942 to place Japanese Americans in internment camps.
"The same thing happened in World War II, when a Democrat president pulled people out of their businesses, out of their homes … because they were of Japanese descent 'for our safety.'
"We have to protect the rights of citizens," Culp said.
Culp also said that Inslee's directives have disproportionately harmed small businesses. Citing the case of a Snohomish barber who faces $90,000 in fines for defying Inslee's stay-at-home order last spring, Culp said that big-box stores haven't seen similar penalties.
"That should be between the business owner and the customer," Culp said.
Culp said he didn't disagree with Inslee's decision to leave school reopening decisions to individual districts, but wondered why Inslee didn't take the same approach with businesses.
"The governor should not dictate every aspect of our lives," Culp said. "This virus is real – I'm not saying it isn't – but we as free people, we know how to protect ourselves.
"Also, the governor should never dictate to us that we are going to stay home and go broke."
Culp said he wants to protect working families – "those who can't afford a sitter or a nanny" – to give them the opportunity to send their children back to school.
Though he said children shouldn't be compelled to wear a mask at school, he did approve of screening people before they enter school buildings.
Culp also touched on education issues outside of the coronavirus issue, saying schools should place more emphasis on the trades at the high school level.
"Not everyone needs to go to college," Culp said. "That's a huge debt burden, and there are good-paying jobs in the trades."
And Culp revisited his opposition to the controversial sex education bill passed by the Legislature and signed by Inslee last spring.
"It's disgusting, and I haven't talked to a parent yet who approves of it," Culp said. "That should be a family matter."
Culp's message played well in the primary, where he finished second in a field of 36. Statewide, he received 17.2% of the vote, double that of any other Republican but well behind Inslee's 50.3%.
Culp polled 15.5% in Spokane County, but received more votes than Inslee in 11 counties.
Local journalism is essential.
Give directly to The Spokesman-Review's Northwest Passages community forums series -- which helps to offset the costs of several reporter and editor positions at the newspaper -- by using the easy options below. Gifts processed in this system are not tax deductible, but are predominately used to help meet the local financial requirements needed to receive national matching-grant funds.
Subscribe now to get breaking news alerts in your email inbox
Get breaking news delivered to your inbox as it happens.
---