News > Travel
The 'stuff' of history: Montana's Miracle of America Museum offers a peek into the past
Sat., Dec. 19, 2020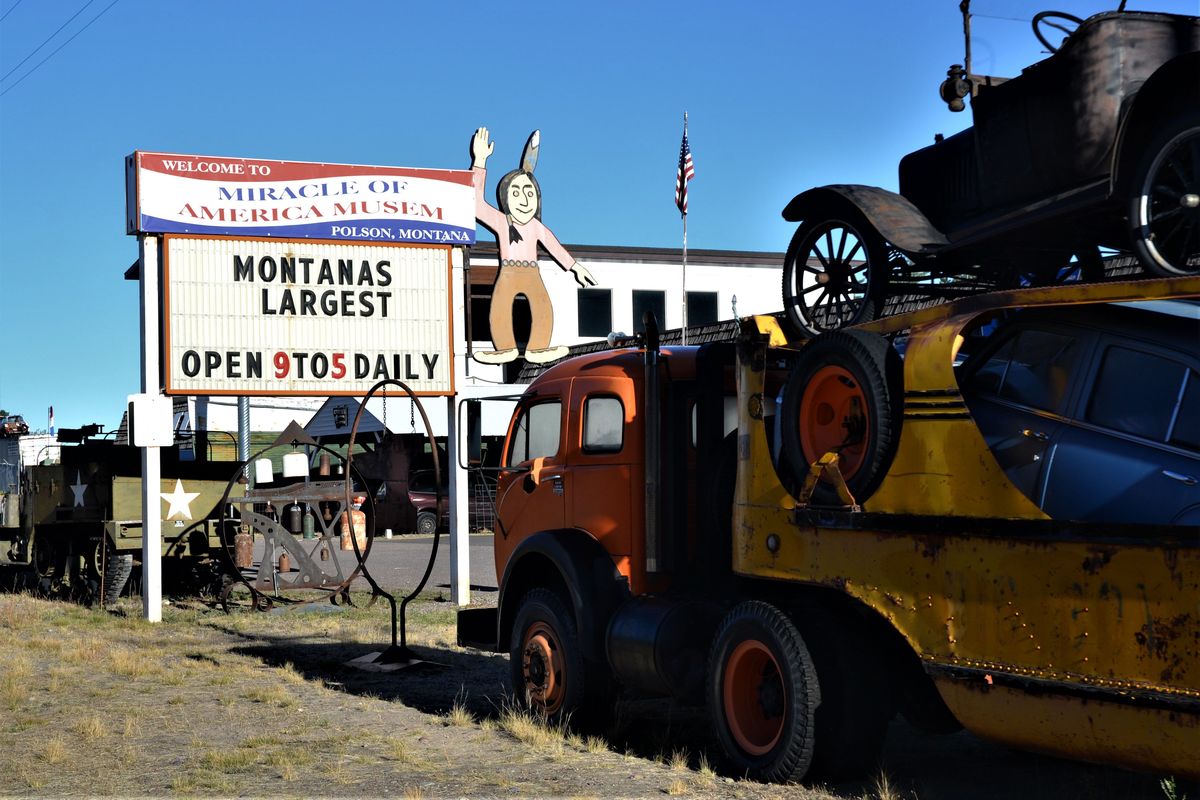 The frontage road to the museum is named Memory Lane. Some exhibits can be seen and passed even before entering the museum. (Mike Brodwater/For The Spokesman-Review)
On a visit to the Miracle of America Museum, it is guaranteed that you will find historic items that you have no idea what they were used for in the past.
The museum in Polson, Montana – sometimes called the Smithsonian of the West – has an impressive collection featuring more than 340,000 items.
Inside, there are floor-to-ceiling cabinets and displays with Native American artifacts, dishes, guns, kitchen items, old toys, phonographs, World War II uniforms and patriotic signs. Near the back door, there's a full-size soda fountain. The counter, floor and walls are filled with signs, equipment and other items associated with an old-time soda fountain.
Outside, there is a maze of buildings representing historic businesses along gravel streets. Some of the buildings are original from the region and have been moved onto the museum site. For example, there is a log cabin with a grass sod roof, a one-room schoolhouse, a blacksmith shop, a drugstore, a general store, a 1948 gas station and a barn with horse-drawn wagons and implements.
There also are sheds with antique cars, over snow vehicles, motorcycles, tractors and boats. One new building displays an impressive collection of rifles and pistols. The dentist's office with manual tooth drill will give you chills.
Other items outside at the museum include a helicopter, wooden windmill, 1971 A70 jet plane, military jeeps and trucks, steam locomotive and a 65-foot tugboat called the Paul Bunyan used to tow logs on Flathead Lake.
There's so much to see, it's worth checking the museum map. It might cross your mind that if some of these items could talk, what a story they would tell. The next best thing would be to find Gil Mangels, who founded the museum in 1981. Often, he is available and is happy to answer questions.
Because he has personally accepted the local donations, moved the historic buildings or purchased practically every item displayed, he is the go-to guy for questions.
Over the years, this museum has been his and his wife's passion. He has applied for numerous grants to keep the lights on. Several sculptures scattered around the grounds that he built from spare and extra metal parts are for sale. The money raised is used to benefit the museum.
One of Mangels' passions within a passion is the collection of more than 70 motorcycles. There is a restored 1912 Harley and three large showcases of cycle memorabilia. When a video or movie set require some historic prop, Mangels finds what they need. Also, he will be hired as an extra if the prop needs to be started and driven.
Perhaps the best description of the museum comes from visitors' comments: "Really neat place full of treasures of all kinds! If you like the show 'American Pickers,' the Miracle of America Museum is a must see!"
Another review: "Almost drove by without stopping. What a mistake that would have been. … It was a museum unlike we have ever seen because of the variety and uniqueness. The largest collection of 'stuff' we have ever seen.
"So, explore this place. Find some historic thing that that you have never seen before or something that brings back warm memories. That will make the Miracle of America Museum's 'stuff' seem to become useful and alive."
Local journalism is essential.
Give directly to The Spokesman-Review's Northwest Passages community forums series -- which helps to offset the costs of several reporter and editor positions at the newspaper -- by using the easy options below. Gifts processed in this system are not tax deductible, but are predominately used to help meet the local financial requirements needed to receive national matching-grant funds.
Subscribe now to get breaking news alerts in your email inbox
Get breaking news delivered to your inbox as it happens.
---