Dishman Hills is L.R. Montgomery's muse and labor of love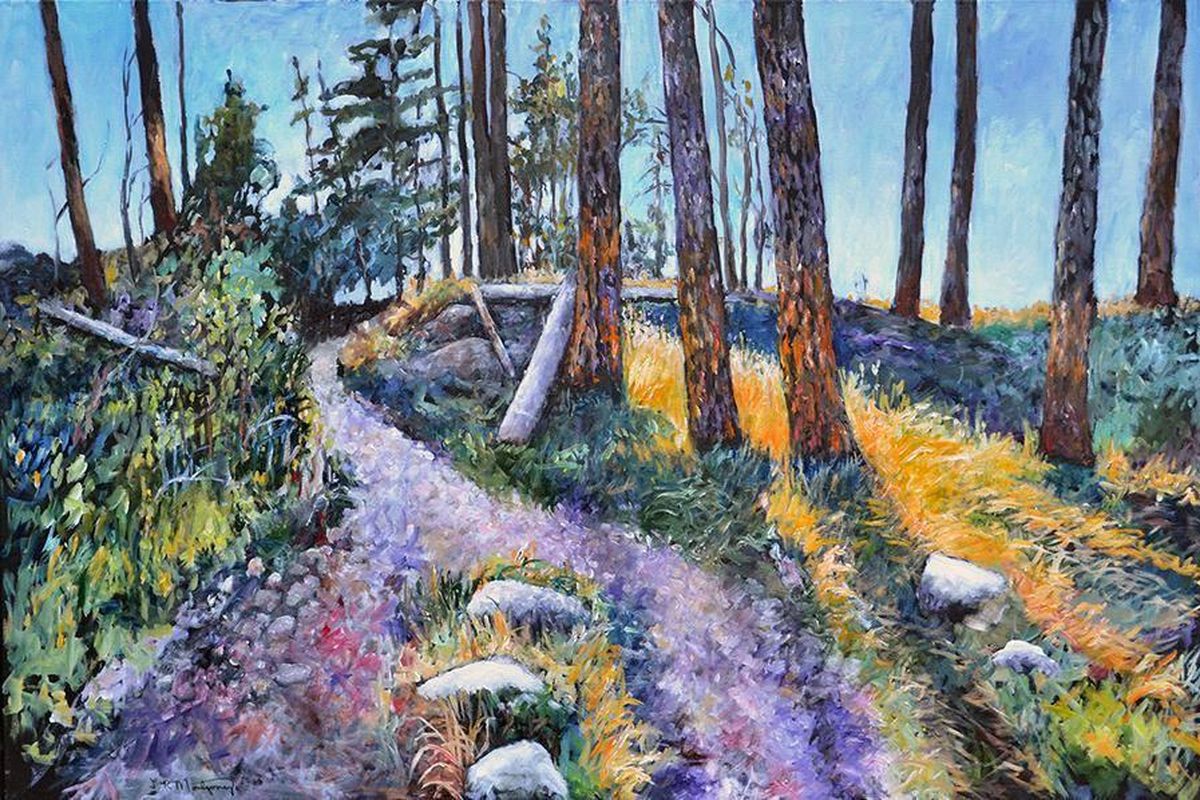 For Dishman Hills Conservancy artist L.R. Montgomery, his Valentine's Day showcase, "Valentine's Day Art Adventure," will be a tribute to doing the job he loves at the place he loves.
The exhibit, at the Shape Executive Center from 5-8 p.m. Friday, will offer original, impressionist and oil paintings of Dishman Hills landscapes for sale, and a portion of proceeds will go to the Dishman Hills Conservancy.
"It's so much fun to paint there and be part of this organization, that my art can be indicative of what I love to do," Montgomery, 72, said.
The longest operating land trust in Washington, the Dishman Hills Conservancy has aimed to connect the woodlands between Spokane and Spokane Valley as preserved territories since 1966.
The recreational activities that the organization intends to protect in its land, like hiking, trail running and painting, is how DHC executive director Jeff Lambert chanced upon meeting Montgomery in the hills one day.
Now, in his fifth year as the DHC's artist-in-residence, Montgomery has continued to embrace his title while Lambert has appreciated the passion he brings to the table.
"L.R. paints frequently in the hills, and he is frequently asked about his work, and he is such a passionate advocate in explaining how important it is not just to enjoy the beauty, but to advocate for permanent protection of the area," Lambert said.
Creation has always been at the heart of expression for Montgomery, the son of a World War II mechanic. "Growing up with my dad being a machinist and millwright mechanic, you learned how to make things, do things," he said.
The Minnesota-born Montgomery then spent several years in Potlatch, Idaho, before finding roots in Spokane, where he graduated from Rogers High School and took up a stint in the Army – a familial rite of passage.
After his service, Montgomery returned with a passion for woodblock art and etching, a creative outlet sustained through two etching presses made by his dad.
Afterward, Montgomery started receiving commissions for his etchings, including the prints that appeared on the graduation diplomas at Saint George's School.
It wasn't long after that he adopted art as his calling, which has led him to cataloging the Dishman Hill scenes that have produced a job rooted in his passion.
"Every day, there's something really different to paint there. … I'm always packed and ready to go to Dishman Hills. I don't even have to think about it," Montgomery said. "For me, it's like I have arrived home. That's why I really love Spokane and love that area."
And it's continued to be that love for the Inland Northwest's most natural and striking scenes that have kept his catalog relevant, especially on his website, where much of the work features local locations like Manito Park and the Spokane River.
Now, Montgomery gets to give back to the inspired essence of the environment through his work at DHC. Especially when these labors of love get to shine on Valentine's Day, which are circumstances that are not lost on Lambert.
"Valentine's Day is all about love, and the Dishman Hills is the wild heart of Spokane — so it's a perfect match."
---