A&E
Beyond gratitude: Etiquette experts say thank you cards also convey honor, respect
Fri., Jan. 3, 2020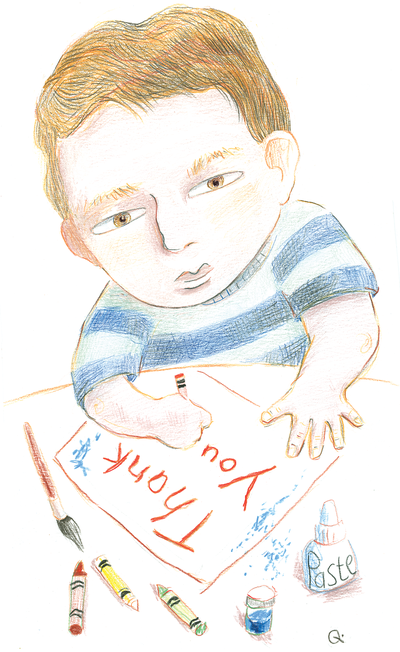 With presents unwrapped, families can unwind. Yet there's still time for one more gift as a welcome surprise for grandparents and other givers – a child's creative thank you note.
How do you encourage kids to do what might seem like a fading tradition of handwritten cards? Two Spokane etiquette consultants offer several ideas to make it fun and not a chore. Parents can set out craft materials and talk with kids about the giver's thoughtfulness while adding hot cocoa and snacks.
"They need to be handwritten," and adults can help the younger kids, said Merrily Bjerkestrand, a Spokane trainer in etiquette skills for Power & Polish Consulting. "The best time is when the children are young and they get in the habit.
"You don't always have to do notes if the family opens the gifts all together and you give them a personal thank you, but if someone has taken the time and effort to send you a gift, you definitely want to send them a handwritten thank you note."
She names three reasons – to show thoughtfulness, to thank the giver for their time and effort and to acknowledge that you received the gift.
Personalized notes send a message beyond gratitude, added Monica Brandner, a Spokane image and etiquette coach.
"It's a good idea to send thank you cards because it's showing honor and respect for someone, and I believe that's something we're missing in society," Brandner said. "So many times, all we can think about is ourselves. We lose sight of people around us who love and care for us."
She co-authored "Sarah Elizabeth Plans a Tea Party" with her mom, Lorene Keen. The two women and Brandner's daughter, Kayla Reid, operate the Etiquette Princess for publishing and run KML Ministries for life skills coaching.
Brandner knows from experience that it's best if parents set up various craft materials for kids to make their notes. What to avoid is being an "etiquette police," forcing kids to sit down and write something, she said.
"A personal thank you card is like a mini gift. There really is no life to an online thank you card. When somebody takes the time actually to make one and use their own handwriting, it's like a love language.
"It's really sharing kindness and respect."
Involving the child
Many craft stores carry blank cards with white surfaces ready for a child's creativity. Parents also can take the child into a store to select note cards or crafting materials.
"They can write thank you on the front," Brandner added. "They can draw a picture on the front and back, and then in middle they can write a note."
If a child is too young to write, an adult can ask what they'd like to say and jot that down. "Just let them color what they will. Then as a parent, you can write in, 'What would you like to say to grandma?'
"Don't make it lengthy. Meet the children where they are. Have grace with them if they don't want to do it one day and let them pick a day, but give them a timeline."
Parents can help younger kids identify why a gift is meaningful, she said. An example is a grandmother who knows her grandson enjoys snowboarding, so she gave him a gift of a warm beanie.
"He might say, 'Thank you for the blue hat you got me. I'm going to love wearing it on the ski mountain. Love, Jimmy,' " Brandner said. "This is powerful for grandparents or even great-grandparents.
"Who doesn't love going to the mailbox and finding this beautiful, precious card from a child?"
Younger children might enjoy selecting stamps at the Post Office and dropping off the note. Older children should have more freedom in the note writing. Allow them to express themselves.
Teens might want to start with a design on a computer, then add handwritten thoughts. Bjerkestrand gave her children some extra motivation, a strategy that could work with teenagers.
"My rule was you need to write the thank you note before you can spend it, or you have to write it before you use the gift."
Older children should be encouraged to use their best handwriting, Brandner suggested, which helps convey thought and effort. "You could say, 'This is about showing honor to your grandparents.' "
A child's crafted note helps make a connection that's important in relationships, she said.
Bjerkestrand agrees that handwritten notes are often treasured, especially in today's digital world.
"It's actually the connections, the relationships and sense of community," she said. "It seems like such a small thing, but it does. For older generations, when they get a thank you note, they talk about that with their friends."
Such letters and notes are keepsakes. "You can stick them in a drawer, and people find them later. They're mementos and reminders of relationships."
Best sentiments
Notes should start with a thank you and naming the gift, then writing about how it will be useful or appreciated, Bjerkestrand said.
"If it's new watercolor paints or something the child really likes, the child can say, 'Thank you for the paint box. It will come in handy when I'm drawing pictures,' or 'I just love the colors. It will help me paint beautiful pictures and relax.' "
Parents might also include a photo of kids with the gift. A younger child can at least attempt their name as an endearing touch.
For anyone who thinks about sending thank you notes, those cards can be in appreciation of something material or for an act of kindness such as when someone hosts a holiday dinner, Bjerkestrand said.
Even if gifts were given in person with a verbal thank you, kids can still send a short note. "You're never wrong to write a thank you note," she added. "That extra effort means a lot because that's why we write the notes instead of just emailing them because somebody else took time and effort.
"When you respond in kind, it helps you appreciate the effort."
Bjerkestrand encourages people to write something about appreciating a gift even if it wasn't a huge hit because the other person gave their time and generosity.
"Thank them for thinking of you even if you get a bunny outfit like in 'The Christmas Story' or an ugly sweater. You just say the pajamas will keep me warm. Connect with the intention of it, and thank them for the gift and thoughtfulness, that they took the time."
Notes should sound sincere, she said, but don't worry about too much detail. If kids get a gift from a distant relative they don't really know, parents can help them think about the gift and kindness.
Parents can serve as a role model in writing notes, too, Bjerkestrand added, and help make it feel special. "Say, 'Let's make their day and send them a note.' "
"It opens a different world of connecting with people for children."
Adults also need to avoid being a perfectionist and let the kids be creative, Bjerkestrand said.
"If kids wants to use glitter, let them. It can be a gift to see and hear what your child comes up with, especially those younger ones who are really sincere. It creates some cool memories whether you're watching or receiving."
Local journalism is essential.
Give directly to The Spokesman-Review's Northwest Passages community forums series -- which helps to offset the costs of several reporter and editor positions at the newspaper -- by using the easy options below. Gifts processed in this system are not tax deductible, but are predominately used to help meet the local financial requirements needed to receive national matching-grant funds.
Subscribe to the Spokane7 email newsletter
Get the day's top entertainment headlines delivered to your inbox every morning.
---