News > Spokane
Getting There: Big changes underway in Kootenai County to keep crowded roads from clogging
Mon., Jan. 20, 2020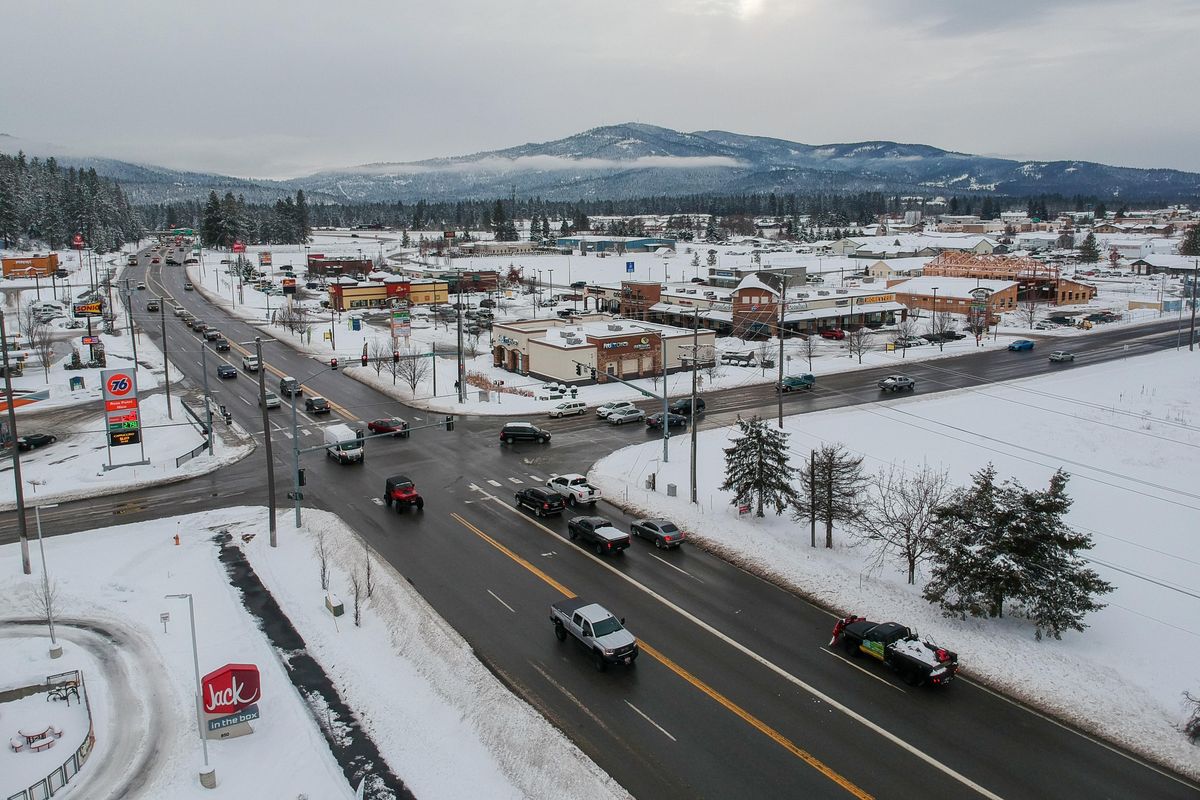 The busy intersection of Highway 41 and Mullan Road on the east side of Post Falls has the Idaho Transportation Department proposing a complete redesign of the highway and its connection with Interstate 90. The staggering increase in traffic over the past 20 years has multiplied traffic, much of it headed to new subdivisions on the prairie. (Jesse Tinsley / The Spokesman-Review)
Ask Megan Sausser what will be different about Kootenai County in the near future, and she will give you a straight answer: "There will be a lot more cars."
Sausser sees things from a particular point of view, as the Idaho Transportation Department's public information officer, but all signs indicate she's right. The county's population grew almost 17% between 2010 and 2018, going from 138,000 to 162,000 people. And the county's state highway system saw a 14% increase in traffic between 2014 and 2018.
With no sign of those trends slowing down, the already taxed road system is bound to get more crowded.
Sausser's agency anticipates the number of vehicles per day on Interstate 90 in the area will jump from 58,000 in 2019 to 111,500 in 2045. On Idaho state Highway 41, which connects Post Falls to Newport, Washington, via Rathdrum, the department anticipates traffic will double over the same period, from 24,500 vehicles per day to 50,000.
"If we don't make changes to capacity," Sausser said, "it'll essentially be a parking lot."
And so that's what the department is doing – or trying to do: avoid that stalled fate by expanding and improving the area's main traffic arteries. Those roads – state Highway 53, U.S. Highway 95, state Highway 41 and I-90 – form four sides of a rectangle connecting Post Falls, Rathdrum, Garwood and Coeur d'Alene that Sausser calls, somewhat ominously, "The Red Box."
The scope of the work on the highways and interstate is limited, like seemingly everything else, by funding realities. So while the work planned is expansive, it still may not be enough, Sausser said.
"We're going to see traffic levels like we've never seen before," Sausser said. "And if funding levels stay as they are, it's going to be very challenging to maintain mobility in this area."
The first major step in what is expected to be a seven-year, countywide road-improvement process is "optimizing" Highway 95 within Coeur d'Alene, Sausser said.
While some advocated for widening the road through town, the Transportation Department took what Sausser described as a more cost-effective approach, using a $5.1 million federal grant to pay for more than half of the $9.3 million cost of adding turn lanes to side streets, spacing traffic signals a half-mile apart to create the "optimal flow," and creating curbed medians and other features to reduce access points to the road.
That work should be done this fall.
"And after that," Sausser said, "95 is pretty much going to be what it's going to be."
That's true in town, she noted, but not for the stretch to Sandpoint, where "the future of 95 … is access control." That's shorthand for reducing the number of places cars can get on the highway and for improving safety and traffic flow at the remaining spots where that happens.
One example of such access-control work can be found where Highway 53 and Garwood Road intersect with Highway 95. Work is underway to replace those intersections with a new interchange connecting the two highways, which should be complete this fall, and an overpass on Garwood, which will be done in fall of next year.
The Transportation Department also plans to rehab the entire stretch of Highway 53 from Rathdrum to the Washington state line within the next several years, adding new lighting and turn lanes and creating a new interchange at Pleasant View Road, Sausser said. That new interchange will eliminate several railroad crossings, shift the highway north and reroute Hauser Lake Road, Hollister Hills Road, Beck Road and McGuire Road into the interchange.
But the biggest – and most expensive – changes to the local road network will occur on Highway 41, which will be completely rebuilt and widened from Post Falls to Rathdrum and which will have a new connection to I-90.
The road-widening project will come first and should begin this summer, though it hasn't yet been put out to bid. When complete after about two years of construction – and disruption – the two-lane road will be a four-lane divided highway. That will ultimately ease travel along the rapidly developing corridor, but in the meantime, it could be a headache.
"People living in Post Falls are going to need to prepare for some construction impacts," Sausser said.
And once that work is complete – in 2023, if all goes according to plan – motorists will have to endure another major disruption to the road network: the beginning of a complete reconstruction of the interchange connecting I-90 and Highway 41.
That interchange has been a headache for drivers for years, causing confusion and accidents, some of which have been fatal, Sausser said. The problem, she said, largely has to do with the existing eastbound off-ramp, which descends along a curve with a changing pitch.
The Transportation Department has held a pair of well-attended public meetings about the project over the past couple of years, Sausser said, and received about 120 comments that have helped the department settle on a redesign.
That redesign will entail replacing bridges, shifting Highway 41, realigning on- and off-ramps and creating what's known in the business as a single-point urban interchange. A SPUI (rhymes with "phooey") is an interchange where all the ramps converge at a single intersection. In this case, that intersection will be set just north of I-90, with eastbound ramps passing under the interstate and the westbound ramps on a more gentle, consistent curve.
Highway 41 will also shift to the west, so that after it passes under the interstate it will connect directly to Heborn Road at Seltice Way, where a new traffic signal will be installed just south of I-90.
To the north of the new interchange, the intersection of Highway 41 and Mullan Road will also see an overhaul, with a divided median, dedicated turn lanes on both roads in each direction, and three lanes heading north and south on Highway 41.
In short, Sausser said of the new intersection, "It's going to be big."
It's also going to be expensive. All told, the work on Highway 41 from Rathdrum through the new I-90 interchange is expected to cost some $121 million, Sausser said. When you add about $63.5 million for work on Highway 95 and about $32 million for Highway 53 improvements, the total is … a lot. Or $216.5 million, for those counting at home.
But Sausser said it's still probably not enough to do what really needs doing in The Red Box.
I-90, she points out, is already overburdened, and many have called for it to be widened to three lanes in each direction. The Transportation Department plans to add one eastbound lane between Atlas Road and Government Way at a cost of another $9.5 million, but that work isn't slated to start until 2026. And when you imagine the thousands of new cars expected to be plying the interstate in Kootenai County by then, it's difficult to believe it will be enough.
There's a lot to road work to keep track of in Kootenai County, and itd.idaho.gov is a great place to do so. The department also plans to host a public meeting in Post Falls this spring to provide more information about what construction on Highway 41 will look like over the next – at least – four years. .
All in all, Sausser said the work to improve The Red Box will "ultimately" make drivers' "lives better," even if it "will be a little painful" in the meantime.
Work to watch for
In the nearer term, most road projects have been paused for the winter. But drivers in Spokane should be prepared today to avoid the Martin Luther King Jr. Day Unity Rally and March, which takes place from 11 a.m. to 11:30 a.m. on the following closed streets:
Spokane Falls Boulevard between Browne and Washington streets;
Main Street and westbound Riverside Avenue between Bernard and Washington streets;
Bernard and Washington streets between Riverside Avenue and Spokane Falls Boulevard.
On Tuesday, Wall Street will be completely closed between Second and Third avenues for Avista work.
Your two cents
The Spokane Regional Transportation Council, which helms the transportation-planning process in Spokane County, is seeking volunteers to join its Transportation Advisory Committee. The citizen committee makes recommendations on studies, plans and priorities that the SRTC's board of directors ultimately decides.
County residents are asked to apply by Feb. 26. For instructions, visit the council's website at srtc.org or contact the SRTC at contact.srtc@srtc.org or (509) 343-6370.
Local journalism is essential.
Give directly to The Spokesman-Review's Northwest Passages community forums series -- which helps to offset the costs of several reporter and editor positions at the newspaper -- by using the easy options below. Gifts processed in this system are not tax deductible, but are predominately used to help meet the local financial requirements needed to receive national matching-grant funds.
Subscribe now to get breaking news alerts in your email inbox
Get breaking news delivered to your inbox as it happens.
---