News > Spokane
Artist celebrates author Toni Morrison's work with film 'The Foreigner's Home' and exhibit
Thu., Jan. 30, 2020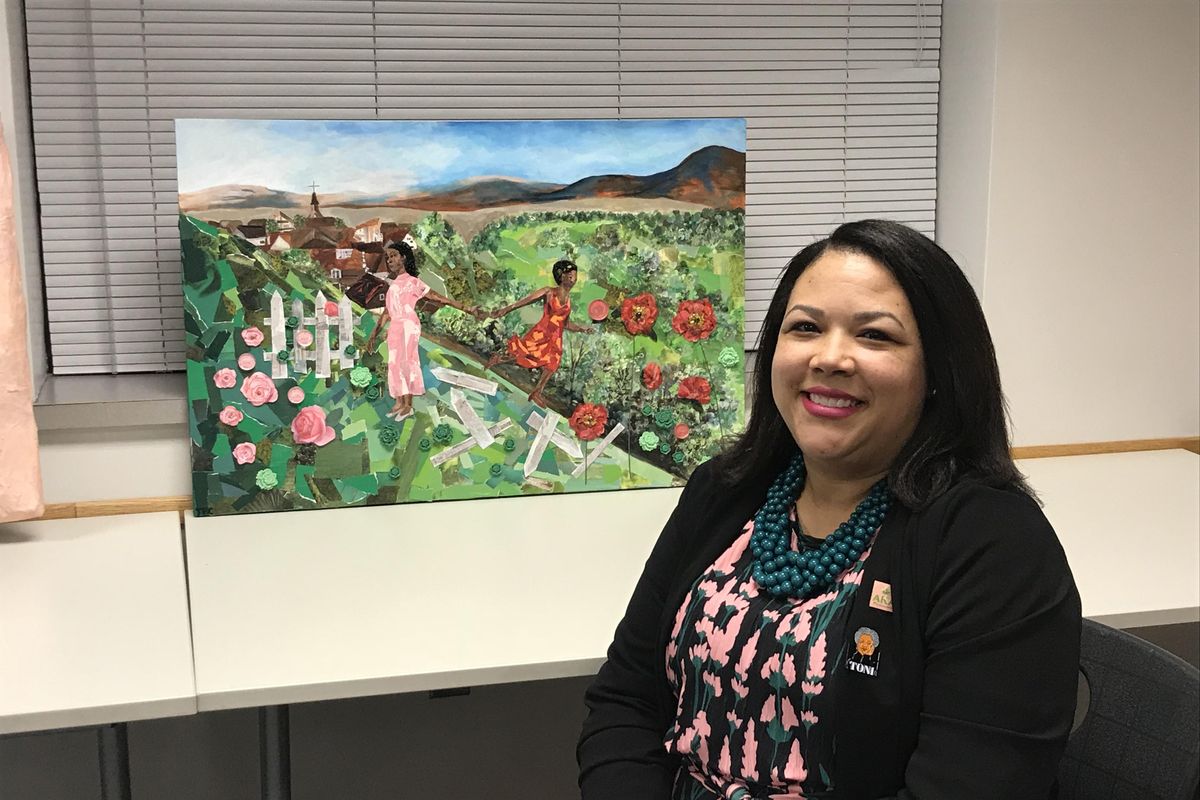 Tracy Poindexter-Canton will present her mixed-media piece, "My Rose of the World," based on Toni Morrison's novel "Sula," on Saturday, Feb. 1, 2020, 2 p.m., at East Side Library, 524 S. Stone St., in Spokane. (Nina Culver / The Spokesman-Review)
Black History Month begins with a film and art exhibition Saturday celebrating African American author Toni Morrison at the East Side Public Library, 524 S. Stone St.
The "The Foreigner's Home" is a documentary on Morrison's guest-curated exhibit at the Louvre in Paris in 2006. It will begin at 2 p.m. Saturday, and those attending can win Morrison-themed door prizes. The art exhibit will include multimedia pieces based on four of Morrison's novels by local artist and writer Tracy Poindexter-Canton.
The event is being presented by the Spokane Public Library and Psi Nu Omega, a local chapter of the national Alpha Kappa Alpha Sorority. The sorority, founded in 1908, was the first African American sorority and luminaries such as Morrison and Maya Angelou were members.
Poindexter-Canton, who works for ESD 101, has a background in creative writing but has also always loved art.
"I've always done art throughout my life, even as a child," she said. "I work full time and do left-brain work. At home is when I do most of my right-brain work."
Her creativity often shifts between writing and painting but in recent years she has focused more on her art.
"I like to tell stories within my work," she said. "A lot of my work is based on literature. I really got a passion for that about three years ago."
Poindexter-Canton said that's when she was contacted by poet Stephen Pitters, who asked her to create a painting based on one of his poems.
"It just came out really well," she said.
Poindexter-Canton was inspired to begin writing after she read Morrison's "Song of Solomon" when she was 16.
"I was just amazed at how descriptive she is and how meticulously she writes," she said. "She was a magnificent writer. One of the best."
Like the famous author who inspired her, Poindexter-Canton tries to include the African American experience in her art. Last year Poindexter-Canton decided to do several pieces based on novels by Morrison as a way to celebrate the woman she called her "favorite author of all time."
Morrison died in August, just a couple of months before Poindexter-Canton was set to exhibit her work based on four of Morrison's best-known novels, "The Bluest Eye," "Song of Solomon," "Beloved" and "Sula."
"Within those pieces are themes that resonate with the African American experience and the human experience," she said.
Her piece on "The Bluest Eye" is focused on beauty and self-love, while the piece inspired by "Sula" is about friendship and sisterhood. Poindexter-Canton said it's difficult to pick a favorite among the four, which look and feel very different from each other.
"It's hard," she said. "It changes every day."
Spokane library branches will host multiple events during February in honor of Black History Month.
Poindexter-Canton said Saturday's event will also include a celebration of Morrison's birthday, which is Feb. 18. Carrot cake, which Morrison was known for making, will be served.
"It'll be a fun event," Poindexter-Canton said. "We're hoping to get a really good turnout. I hope the event and my work inspire people to check out Toni Morrison's novels and learn more about Toni Morrison."
Local journalism is essential.
Give directly to The Spokesman-Review's Northwest Passages community forums series -- which helps to offset the costs of several reporter and editor positions at the newspaper -- by using the easy options below. Gifts processed in this system are not tax deductible, but are predominately used to help meet the local financial requirements needed to receive national matching-grant funds.
Subscribe now to get breaking news alerts in your email inbox
Get breaking news delivered to your inbox as it happens.
---