News > WA Government
Newhouse faces five challengers in 4th congressional district primary
July 4, 2020 Updated Sat., July 4, 2020 at 10:15 a.m.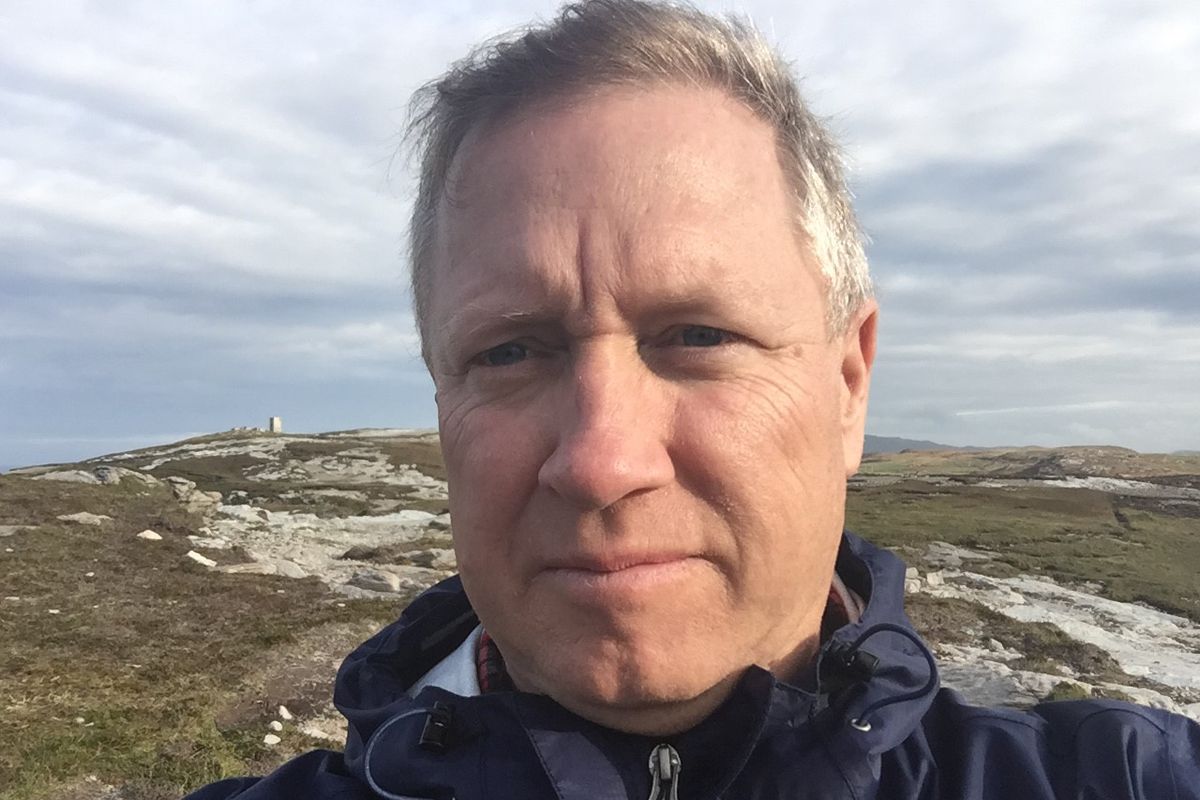 Jones
Washington's Aug. 4 primary will see a crowded race for the 4th congressional district, with three-term Republican incumbent Rep. Dan Newhouse facing five challengers for his seat representing Central Washington.
Newhouse, who served as a state representative and state Department of Agriculture director before entering Congress in 2015, easily dispatched his last Democratic challenger, longtime Tri-Cities broadcaster Christine Brown, with nearly 63% of the vote in 2018.
Brown is not running this year, setting up a rematch between Newhouse and Tri-Cities attorney Doug McKinley, a Democrat, who won 22% of votes in the 2016 primary. Joining them on the ballot are four newcomers: Libertarian Ryan Cooper, independent Evan "Ev" Jones, and Republicans Sarena Sloot and Tracy "Justice" Wright.
Washington's 4th is the most Republican-leaning district in the state. President Donald Trump won nearly 58% of votes there in 2016 and Mitt Romney captured almost 60% in 2012. Rep. Richard "Doc" Hastings safely held the seat for two decades until his retirement in 2015. Newhouse's most serious challenge came in 2016 from fellow Republican and perennial candidate Clint Didier, who ran to Newhouse's right and won 42% of votes. In Washington's "jungle primary" system, the top two vote-getters, regardless of party, face off in the November general election.
Didier was elected as a Franklin County commissioner in 2018, giving other candidates an opening to vie for the district that stretches from the Yakima Valley to the Canadian border. After Gov. Jay Inslee waived the usual requirement to either pay a $1,740 filing fee or collect the same number of signatures to get on the ballot, the barrier to enter the race was quite low.
"It made things way easier," Wright, who ran unsuccessfully for Grand Coulee City Council in 2019, said of Inslee's move. "I felt like it was God knocking on the door and saying, 'Your opportunity is here now.' "
Newhouse, 65, a third-generation farmer whose family still operates an 850-acre farm near Sunnyside, sometimes breaks with his party, especially on immigration issues. He was one of seven House Republicans to vote for the Dream and Promise Act in 2019, a reform package that would give permanent legal status to "Dreamers," immigrants who entered the U.S. as children, as well as immigrants stuck in legal limbo under the Temporary Protected Status program.
He also spearheaded a bipartisan bill that would overhaul the H-2A guest worker program, mandate the use of the E-Verify system to check farm workers' immigration status, and let undocumented workers – who make up at least half of the agricultural labor force, according to the U.S. Department of Agriculture – earn legal status.
"Something I learned in my time in the state legislature," Newhouse said in an interview, "is that you have to work across the aisle. I think that has borne a lot of good fruit."
Still, Newhouse has voted with Trump's position 93% of the time, according to politics website FiveThirtyEight. His campaign website describes him as a "farmer, businessman, and conservative Republican."
"What I try to illustrate (to voters)," he said, "is that I am uniquely qualified to represent the 4th district, and I say that as humbly as I can. I was born and raised in the district, and I come from a farm family in the Yakima Valley. I've also done as much as I can over my three terms in D.C. to educate myself."
Incumbents in the House of Representatives typically always have huge advantages in fundraising and name recognition over their challengers – they have won more than 90% of the time since 1964, according to the Center for Responsive Politics – and restrictions on gathering amid the COVID-19 pandemic have made for an even steeper climb for outsiders this year. But Newhouse's positions have opened him up to attacks from both the left and right.
McKinley, 57, a Richland attorney who is leading a class-action lawsuit on behalf of thousands of Hanford nuclear reservation workers who lost pension benefits, is trying to tie Newhouse's fate to the president, whose approval ratings have slid to an all-time low in recent weeks. In an interview, he cited the Republican's opposition to the Affordable Care Act and silence in the face of what McKinley called "ethical breaches and criminal conduct" by the president.
"I think this election is going to be a referendum on Donald Trump, and I think the referendum on Donald Trump should extend to Congressman Newhouse," McKinley said. "He has marched in lockstep with the administration."
On the other end of the political spectrum, Wright, a 53-year-old consultant and former computer programmer, said she was motivated to enter the race by Newhouse's stance on immigration.
"Our representatives keep voting for things that benefit them," Wright said, accusing Newhouse of supporting the H-2A program, which allows foreign workers to enter the U.S. on temporary work visas, so that "he can have cheap labor come into his plantations."
Sloot, a 36-year-old nurse practitioner from Kennewick, said she didn't have anything negative to say about Newhouse but suggested that "people just want someone that's more present." The first-time candidate said she decided to run for federal office because of her focus on health care issues, especially reopening the economy after coronavirus-induced shutdowns.
"I really didn't set out to have any political aspirations. It really started when COVID happened," Sloot said. "I have zero intentions of ever leaving here. I just want to represent our district. I've been here, whereas there are constituents that feel he's kind of checked out."
Cooper, 40, said he left the GOP after Trump became the party's nominee in 2016. He ran unsuccessfully for state representative in 2016 and state senator two years later, and threw his hat in this year's congressional race out of frustration with both Republicans and Democrats toeing their respective party lines. The Pasco resident called McKinley "a friend" and Newhouse "a nice guy," but warned that either candidate would just follow his party's leaders.
"If you don't check every box, you're not good enough," Cooper said, asserting that voters want to elect a free thinker. "I think that's what I represent: a growing movement of people saying, 'No, we're done playing that game.' "
Jones, 59, is not only a political newcomer but also a recent arrival to the state. He moved to Richland a year ago when his wife got a job at the Pacific Northwest National Laboratory. He's still getting to know the district and credited the governor's waiver of the filing fee and petition requirement with giving him an opening, "the only time a regular Jones like myself could have run."
"What we need are people that aren't bound by the party bosses and can bring new ideas to the table," Jones said, calling for compromise and an end to misinformation.
"All I want to do is to use this district to be a catalyst in changing the way we're getting information at the local level."
Candidates for the 4th Congressional District
In the order in which they will appear on the ballot, per WA Secretary of State's VoteWA website:
Ryan Cooper, Libertarian
Age: 40
Education: Graduated from Valley High School in Caledonia, Missouri, in 1998. Earned a bachelor's in journalism from Missouri State University in 2007.
Political experience: Ran against state Rep. Brad Klippert in 2016 and State Sen. Sharon Brown in 2018; chair of Benton County Libertarian Party since 2018; led a 2018 effort to legalize cannabis retail stores in Richland.
Work experience: Works in newspaper sales; Army veteran.
Family: Not married. Has one son.
Tracy "Justice" Wright, Republican
Age: 53
Education: Graduated from Edmonds High School in Edmonds, Washington, in 1985. Earned a bachelor's in computer science from Seattle Pacific University in 1987.
Political experience: Ran for Grand Coulee City Council in 2019.
Work experience: Self-employed as a consultant; previously worked as a computer programmer
Family: Not married, but has what she calls "an accomplice." Has four children.
Doug McKinley, Democrat
Age: 57
Education: Graduated from Groveton High School in Alexandria, Virginia, in 1971. Earned bachelor's degrees in management and finance and a master's in business administration from the University of Utah, and a law degree from Willamette University College of Law in 1991.
Political experience: Ran against state Sen. Sharon Brown in 2014 and against U.S. Rep. Newhouse in 2016.
Work experience: Has worked as an attorney for 30 years, formerly for Pacific Northwest National Lab and now in private practice.
Family: Married. Has four adult children.
Evan "Ev" Jones, independent
Age: 59
Education: Finished high school at the New York Military Academy, Cornwall-on-Hudson, New York, in 1978. Earned a bachelor's in sociology from Kenyon College in 1982.
Political experience: First-time candidate
Work experience: Education consultant and part-time baggage handler at Tri-Cities Airport; previously worked as school teacher and administrator and as communications director for Keep America Beautiful.
Family: Married. Has two adult daughters.
Sarena Sloot, Republican
Age: 36
Education: Graduated from Kennewick High School and earned an associate in applied science from Columbia Basin College via Running Start in 2002. Earned a nursing license from Columbia Basin College in 2007, then a bachelor's in nursing in 2011 and master's in nursing in 2013 from WSU Tri-Cities.
Political experience: First-time candidate
Work experience: Nurse practitioner at Kennewick Medical Center and in private practice.
Family: Married. Has three sons.
Dan Newhouse, Republican
Age: 65 
Education: Graduated from Sunnyside High School in 1973. Earned a bachelor's in agricultural economics from Washington State University in 1977.
Political experience: Elected to Congress in 2014. Previously served as director of Washington Department of Agriculture 2009-2013, and before that as state representative 2003-2009.
Work experience: Third-generation farmer. His family still operates an 850-acre farm near Sunnyside, growing hops, tree fruit and grapes.
Family: Married. Has two adult children.
Local journalism is essential.
Give directly to The Spokesman-Review's Northwest Passages community forums series -- which helps to offset the costs of several reporter and editor positions at the newspaper -- by using the easy options below. Gifts processed in this system are not tax deductible, but are predominately used to help meet the local financial requirements needed to receive national matching-grant funds.
Subscribe now to get breaking news alerts in your email inbox
Get breaking news delivered to your inbox as it happens.
---