News > Spokane
Music instructors adapt to help students turn notes into songs, despite distancing directives
UPDATED: Thu., July 9, 2020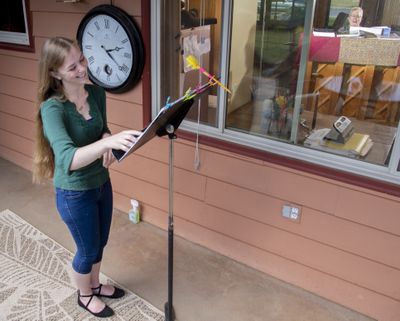 A few months ago, vocal teacher Nancy Klingman rolled her piano into her kitchen and in front of a window facing her patio.
That way her students can enter through the back gate, stand in front of the open window and begin with vocal exercises to warm up their voice before they begin singing.
The arrangement is the result, of course, of COVID-19 and Klingman's efforts to continue her lessons while limiting the risk to herself and her students.
One of the those students, Maleny Mannino, 19, said that although she can't actually see Klingman's face during her lessons because of the sun in her eyes, it's been remarkable to watch how Klingman has altered her teaching style to help students continue to improve.
Klingman isn't the only music instructor whose teaching style has shifted as a result of the pandemic and restricted the way students and teachers interact, but she said it has been worth it to adapt. .
Klingman, who's been teaching for over 25 years and works through Holy Names Music Center, said she quit teaching altogether for a few weeks when pandemic restrictions began in March.
"It was horrible. Then I thought, 'Well, I'll try online lessons,'" she said. "But I just didn't feel like my students were getting what I would like to give them."
Singing is very physical, and not being in the same room limits a teacher's ability to point out what the singer needs to adjust to have proper body coordination and use their muscles properly, she said. So in mid-April, Klingman began holding patio lessons.
As a young girl Klingman traveled from show to show with her mother, who was a classical music singer and sang for the choir in the church where her father was a minister, she said.
"To me, being involved with music and poetry is just life-giving, and I would be lost without it," she said. "It's enriching not just for me, who's had my whole life in this, but for all people."
Virtual lessons presented challenges for many students, including Mannino, who said the poor sound quality and wavelength delay made it difficult.
"My mic couldn't handle a lot of the high notes, so it would just cut out, and we did that two more times before Nancy said, 'We have to go outside,'" said Mannino, who's been learning from Kingsman for about five years.
It's been great to have so much fresh air and be able to vocalize in an open space, especially when it can be easy to hold back at times to avoid overwhelming an enclosed space, she said.
Mannino has been singing and performing in theaters for about 10 years and said she misses going out and enjoying live music and storytelling.
"I am just completely elevated when I am performing," she said. "There's something about singing classically. Your whole body becomes an instrument, and the sound just echoes and vibrates through every part of you."
With so much uncertainty and instability in the world, people are turning to the arts right now and it's been amazing to continue with lessons, Mannino said.
Violin player Hongyong Li, 18, loves the journey he embarks on as he works toward mastering a piece. It begins with focusing on the technique and then on the artistry needed to bring out what the composer intended the piece to achieve, he said.
Li was 5 years old when he first picked up the instrument after attending a violin recital at a Wisconsin mall with his parents.
"I just found it really interesting how all those sounds could come together and make a unique picture and art, and I've carried that along with me for 13 years," he said.
For the past six years Li has been taking violin lessons from Spokane Symphony concertmaster Mateusz Wolski, who Li describes as a very patient and caring teacher. In keeping with social distancing and health conscious practices, Wolski has been holding virtual lessons for his students.
"One of the most important aspects of when you're actively performing is that you gather a lot of knowledge and wisdom that you feel like you want to be able to pass on," said Wolski, who's been with the symphony for over a decade.
When a teacher is giving in-person lessons, they're able to fix some technique issues by watching the student play from different angles, and that has been challenging to do over FaceTime or Zoom, Wolski said. Another challenge is not being able to immediately correct their posture, he added.
Despite the challenges, it has been easier for teachers of students learning instruments than it is for vocal coaches , he said.
"We essentially have our instrument outside of our body, but with singers everything that they do is happening on the inside of their body," he said.
Despite the hurdles, Wolski has still managed to find ways for the students to learn from each other by setting up virtual recitals at least once a month.
There are ways to play that are accurate but boring, and there are ways to bring a piece to life and make the audience feel something, he said.
The process begins with teaching students how to put their technical skills to use and to translate the small music markings on a page into a world of sound, he added.
"The whole mission, I think, for the artist is to try to connect people and bring them experiences that kind of remind them of their humanity," Wolski said. "You take that away and then all of a sudden we all feel empty and disconnected, so we're trying the best we can to kind of use the alternatives to fill that void."
Editors note: This story was changed on July 9 to correct the spelling of Mateusz Wolski's name.
Local journalism is essential.
Give directly to The Spokesman-Review's Northwest Passages community forums series -- which helps to offset the costs of several reporter and editor positions at the newspaper -- by using the easy options below. Gifts processed in this system are not tax deductible, but are predominately used to help meet the local financial requirements needed to receive national matching-grant funds.
Subscribe to the Coronavirus newsletter
Get the day's latest Coronavirus news delivered to your inbox by subscribing to our newsletter.
---