News > Features
Narrowing the gap: Coeur d'Alene High graduate, 18, starts nonprofit to provide technology to low-income students
Mon., July 20, 2020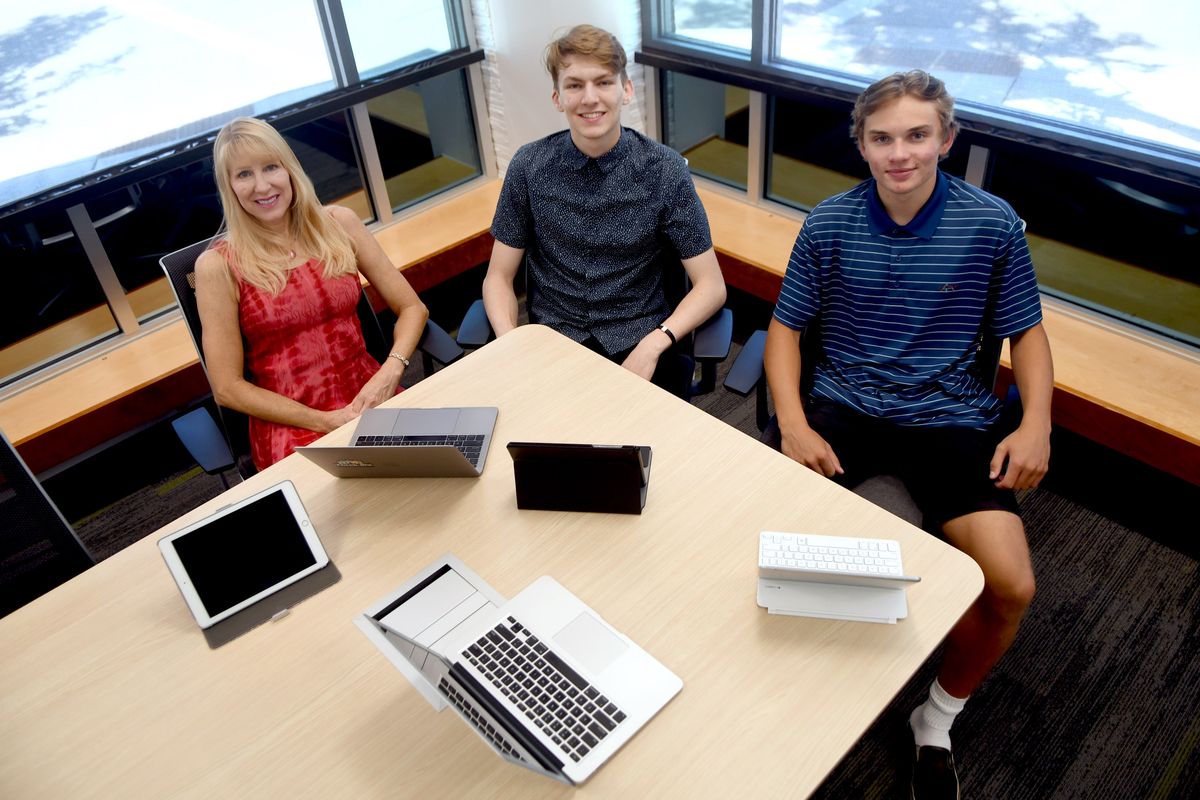 Coeur d'Alene High 2020 graduate Morgan Dixon, center, along with his mother, Karen Johnson, and friend Justin Jaworski have started a nonprofit called Imagination Initiative that will supply affordable tech devices by September to North Idaho and Spokane low-income students. They are photographed at Architects West in Coeur d'Alene on July 14. (Kathy Plonka/The Spokesman-Review)
Morgan Dixon, 18, uses the power of technology for learning. The recent Coeur d'Alene High School graduate even created an educational app a year ago.
But Dixon also learned from talking to area educators in 2019 about his Outloud Reader app that too many regional students don't have laptops, tablets or internet for learning at home because of cost. This technology gap grew more apparent this past spring when schools closed due to the coronavirus pandemic, Dixon said.
His awareness about the issue led to the June 21 launch of a nonprofit, Imaginative Initiative Incorporated, by Dixon, his mother, Karen Johnson, and friend Justin Jaworski to receive funds and donations of gently used devices from model year 2016 to recent ones. North Idaho and Spokane-area students will be able to buy the devices from the nonprofit at a reduced cost.
"We will be supplying low-income students with the technology they need for education for the next year of school," said Dixon, who plans to have a stockpile by early September of devices such as iPhones and laptops for as low as $25 each.
For his nonprofit bio, Dixon wrote, "I believe that technology is continually evolving and giving the upper hand to those who have it. This nonprofit will equalize education and help students who need access to updated technology."
Imagination Initiative is working with the Coeur d'Alene, Post Falls, Lakeland and Spokane-area Central Valley school districts. Dixon said he hopes to collaborate soon with Spokane Public Schools, as well.
So far, he said the nonprofit has set up device donation drop-off locations at the Kroc Center, 1765 W. Golf Course Road, and at Architects West, 210 E. Lakeside, in Coeur d'Alene. Dixon is yet to confirm a Spokane drop-off site but plans to soon.
If the founders do receive outdated devices or ones that don't work, they have partnered with a recycling outlet. The nonprofit also is seeking financial donations so it can purchase devices and computers auctioned off by school districts.
"We're going to digitally and physically clean devices and make sure they're factory reset," Dixon added. "Our goal is to collect used devices like smartphones, used laptops, tablets and desktop PCs that are ideally 2016 or newer and in good or working condition.
"We want by the beginning of the school year to have some devices to give to students. Our first plan is to contact the school districts and let them get a message to lower-income students so that they have an opportunity to purchase these products. Then we'll distribute them to the district or to a school where the student attends."
Scholarship options for students also are planned. "Once they have a device, it is theirs to keep."
He said this initiative could help hundreds of regional students. The group's website refers to how society has become more reliant on technology use. "However, there are students and families who cannot afford updated technology."
The nonprofit also will help college students, many who likely face additional challenges of online learning or finishing up at home if they return for the Thanksgiving break and are told to finish studies online through December.
He said most items through the nonprofit will be listed for about $25, compared with a 2016 good-quality iPhone that would cost about $100 to $200. Students should be able to order from the nonprofit's website once devices are available, but items likely will be delivered to a school or district office for a buyer to pick up, Dixon said.
Initial plans are to serve students in North Idaho and Spokane areas, but then Imagination Initiative could grow. "After that, we hope to go nationally, maybe more of the West Coast first, then across the nation and after that internationally."
Dixon is attending North Idaho College and then plans later to go to the University of Idaho's Coeur d'Alene campus to study computer science.
His Outloud Reader app is still available and uses the camera of a smartphone or electronic tablet to take pictures of reading material. That photo is converted to text on the app that's then read aloud by a programmed voice, a system that often helps people who have dyslexia, autism or reading disabilities.
Among the nonprofit co-founders, Jaworski plans to pursue a business degree, and Dixon's mother is a retired teacher.
Imagination Initiative's website has additional information on how to make a financial donation or donate a used device.
Local journalism is essential.
Give directly to The Spokesman-Review's Northwest Passages community forums series -- which helps to offset the costs of several reporter and editor positions at the newspaper -- by using the easy options below. Gifts processed in this system are not tax deductible, but are predominately used to help meet the local financial requirements needed to receive national matching-grant funds.
Subscribe now to get breaking news alerts in your email inbox
Get breaking news delivered to your inbox as it happens.
---