News > Pacific NW
Spokane County Bar Association gets $86,000 grant to help stave off 'a giant tsunami of evictions'
UPDATED: Thu., July 23, 2020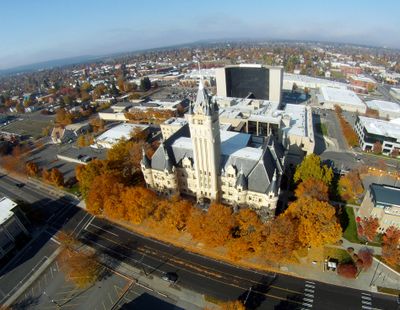 With the state's eviction moratorium set to expire on Aug. 1 and uncertainty about whether Gov. Jay Inslee will extend it, the Spokane County Bar Association has received an $86,000 grant to provide legal assistance to those at risk of losing their homes.
The money came from Washington's Office of Civil Legal Aid and was distributed by the Legal Foundation of Washington, a nonprofit established by the state Supreme Court.
Julie Griffith, executive director of the bar association, said the grant funds an eviction defense project expected to run at least through June 2021. That includes pay for volunteering attorneys as well as administrative support.
Tenants in need of assistance can contact the bar association's volunteer lawyers program at (509) 477-2674 or find intake forms at spokanevlp.org.
Typically, the bar association's volunteer lawyers assist clients only at certain points of the eviction process, often when clients are due in court. With the new funding, Griffith said attorneys hope to connect with struggling tenants "before they're even served with an eviction notice."
"We're hoping that our attorney will be able to work with the landlord's attorney or with the landlord directly and never go to court," she said.
The moratorium only protects tenants who can't afford to pay rent, including the many who have lost income due to the coronavirus pandemic. It doesn't prevent landlords from filing eviction or "unlawful detainer" cases due to alleged illegal activity on their property.
Also, the moratorium doesn't eliminate the burden of rent. Any debts accrued will have to be paid eventually – or tenants may be served with eviction notices as soon as the moratorium expires.
Spokane County Clerk Tim Fitzgerald said 1,156 eviction cases were filed in Spokane County Superior Court last year, and 287 have been filed so far in 2020. (The moratorium first took effect in mid-March.)
Griffith expects the number of filings to skyrocket when the moratorium expires.
"We think there's just going to be a giant tsunami of evictions," she said.
One solution is to work with landlords and try to set up payment plans for struggling tenants, Griffith said.
"We hope that there's some resolution where people can stay in the home. But we know the law only could do so much," she said. "So if there will be people that are evicted, then at least they will be represented along the way to make sure that they aren't taken advantage of."
Inslee recently told reporters he's considering extending the moratorium a second time but has not committed to do so.
Meanwhile, a number of landlord and property management groups, including the Washington Landlord Association, are raising money and recruiting plaintiffs for a possible legal challenge, Seattle-based news outlet Crosscut reported last week.
Spokane City Council President Breean Beggs has said the council is prepared to reimpose a local eviction moratorium if Inslee's statewide order expires.
Local journalism is essential.
Give directly to The Spokesman-Review's Northwest Passages community forums series -- which helps to offset the costs of several reporter and editor positions at the newspaper -- by using the easy options below. Gifts processed in this system are not tax deductible, but are predominately used to help meet the local financial requirements needed to receive national matching-grant funds.
Subscribe to the Coronavirus newsletter
Get the day's latest Coronavirus news delivered to your inbox by subscribing to our newsletter.
---