News > Education
Finding place to flourish: Five Mile Prairie School right setting for Owen Stanford to show strengths
Sun., June 7, 2020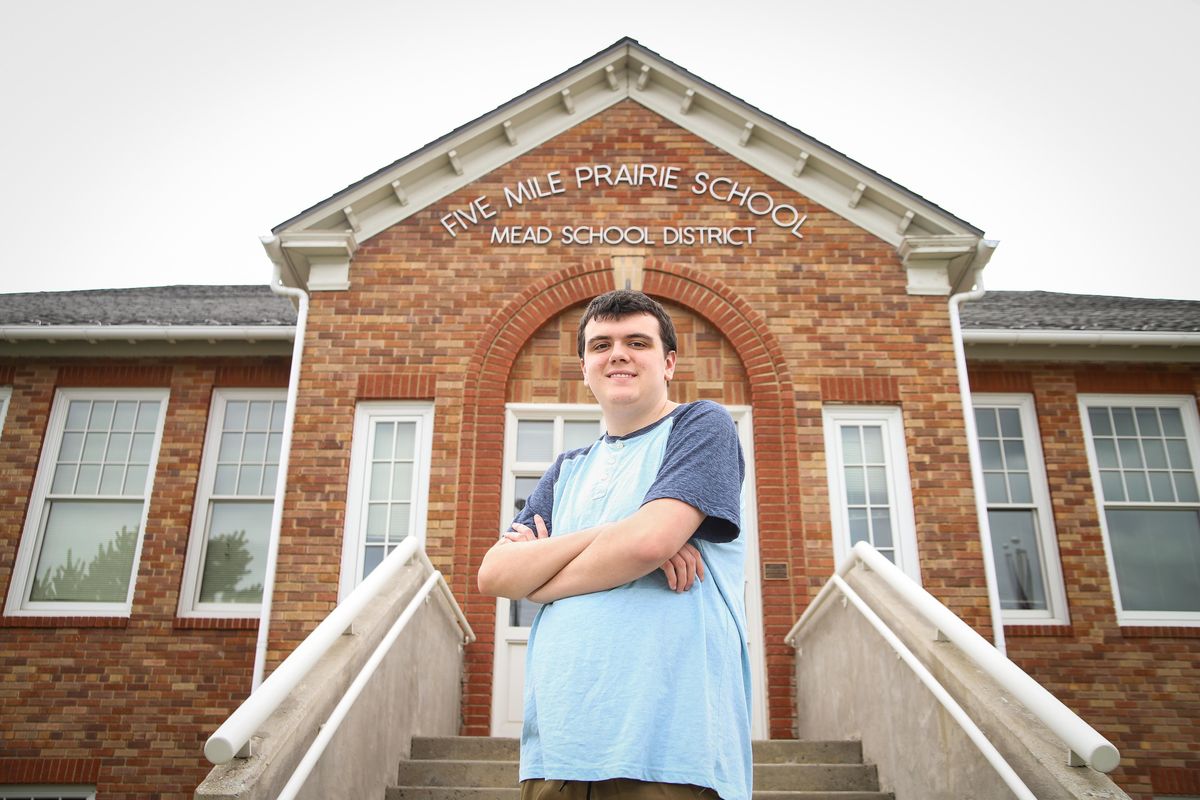 Owen Stanford is a senior from Five Mile Prairie School. Stanford has Aspberger's syndrome and had to work extra hard to overcome the challenges of the school environment and hone his strengths while on the autism spectrum. (Libby Kamrowski / The Spokesman-Review)
At Five Mile Prairie School students come and go.
The school partners with families who choose to do some or all of their child's education from home, and it's uncommon for students to attend the school throughout elementary and secondary grades.
But Owen Stanford is an uncommon student.
"Owen has been with us since third grade," said teacher Marcella Lybbert. "It was a rough start in elementary, but he has matured and honed his strengths significantly."
Stanford is on the autism spectrum and struggled in the traditional school setting.
"I couldn't handle my normal elementary school," he said. "It was all too overwhelming, too loud, too crowded. It was sensory overload."
When he transitioned to Five Mile Prairie, he found the environment to be much more relaxed, and he slowly began to shine.
"Teachers could see early on that he had a very focused way of learning," Lybbert said. "But he was always passionate and enthusiastic."
From seventh through 12th grade the staff watched Stanford make amazing growth and progress. Lybbert attributes much of that progress to the involvement of his parents.
"His parents have been tremendous in working with him, and have made many sacrifices to help Owen socially and academically," she said. "We appreciate how they've prioritized their son and his education."
As Stanford learned to self-manage, his witty sense of humor emerged and his participation brightened classroom discussions.
"He contributes greatly to our classes when it comes to discussions and deeper thinking," Lybbert said. "He's incredibly humorous, with a dry, quick wit."
That wit allowed him to present a unique spin on assignments. When tasked with a book report on "Huckleberry Finn," Stanford turned to his favorite medium – video.
"I got some help from Dad and pretty much played every character," Stanford recalled, laughing. "I acted like a doofus for the whole video!"
He enjoys English, writing and history, but video games and filmmaking are his true passions.
"At the Skills Center, he was working with video and film editing," Lybbert said. "He's grown into an independent learner."
As Stanford reflected on his bumpy start in public education, he thought of something he wishes he could have told that overwhelmed elementary student.
"I wish I could tell my younger self, 'You're going to go through some rough patches, but you'll get through it," he said.
For now, he's focused on the future.
"I love video games," he said. "I'd love to make one!"
He said he has lots of inspiration and creative ideas— things he's never seen done before, but that he'd like to.
His teacher has no doubt that he'll see some of those dreams realized.
"Owen is incredibly bright— a dedicated student who takes initiative and always wants to do well," said Lybbert.
Stanford plans to attend Spokane Falls Community College and explore the film program. Though he took improve classes at the Blue Door Theatre, acting doesn't ignite his passion the way writing and directing does.
"I'd love to see some of my work finished and realized on the screen in some way," he said.
Local journalism is essential.
Give directly to The Spokesman-Review's Northwest Passages community forums series -- which helps to offset the costs of several reporter and editor positions at the newspaper -- by using the easy options below. Gifts processed in this system are not tax deductible, but are predominately used to help meet the local financial requirements needed to receive national matching-grant funds.
Subscribe now to get breaking news alerts in your email inbox
Get breaking news delivered to your inbox as it happens.
---