News > Education
Senior's disappointment tempered by perspective; Rogers grad Malolo looking toward high-flying future
Sun., June 7, 2020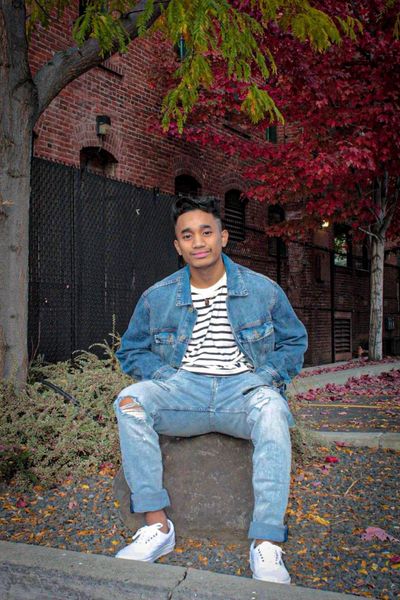 No one's senior year is ending as planned this year, but Rogers High School senior Joshua Malolo suffered another loss as well. The annual Manit Day celebration focusing on the culture of students who can trace their family origins to the Marshall Islands was canceled.
Malolo has helped organize the annual event, which includes recognition of students for their achievements along with food, sports tournaments and dance performances, for the past three years.
He joined his school's Islander Club his sophomore year and he and some of his friends decided they wanted to reactivate the Manit Day celebration that used to be held every year. "We came together to plan an event where the whole Marshallese community can just come together," he said.
The first year it was just for Rogers High School students. Now, Marshallese students from all Spokane County high schools are invited to attend with their families. This year's celebration had been scheduled for early May.
"That was really tough for all of us," he said. "We spent months planning it."
Malolo was working to groom younger students to take over putting on the celebration. He said he plans to help with next year's event, but only by giving advice and acting as a guide. "I'll be involved, but I would like to give the opportunity to next year's students to take charge," he said.
He's been trying to mentor younger students in other ways as well. He has been a Link commissioner, helping plan activities for the freshman class so they feel welcome at the large school.
Malolo has also been on the school's basketball team for the past two years. "I just loved playing basketball growing up," he said.
Spokane has a large Marshallese community. Malolo's parents arrived in Spokane from the Marshall Islands in 2000, following in the wake of others who had come before them. "They had friends and family here, but I think they mainly came here so their kids could have a good education," he said.
The family would eventually include five children; Malolo is the oldest and has three brothers and one sister.
Malolo has also been a youth leader at his church and was disappointed that a leadership conference hosted by his church that he was supposed to attend was canceled this spring. He said learning leadership skills is important to him. "I just want to keep learning how to be a good leader," he said. "Basically, I'm just a walking sponge."
This spring has just been tough, Malolo said. "I want to do all the things seniors get to do, like prom, senior breakfast, the senior all-nighter," he said.
But despite his disappointment, he is trying his best to look toward the future. He plans to enter the aviation program at Spokane Community College in the fall. "Hopefully one day I will become a technician or an air traffic controller," he said. "I just like the idea of directing and communicate well with everyone I work with."
And he wants to continue to be involved in the Marshallese community. He wants to create a Marshallese community center that would, among other things, help students who are struggling. "I just plan on getting the whole thing started up," he said. "That's a huge goal of mine."
Local journalism is essential.
Give directly to The Spokesman-Review's Northwest Passages community forums series -- which helps to offset the costs of several reporter and editor positions at the newspaper -- by using the easy options below. Gifts processed in this system are not tax deductible, but are predominately used to help meet the local financial requirements needed to receive national matching-grant funds.
Subscribe to the Coronavirus newsletter
Get the day's latest Coronavirus news delivered to your inbox by subscribing to our newsletter.
---