Marshallese people represent 1% of Spokane County's population and nearly a third of its COVID-19 cases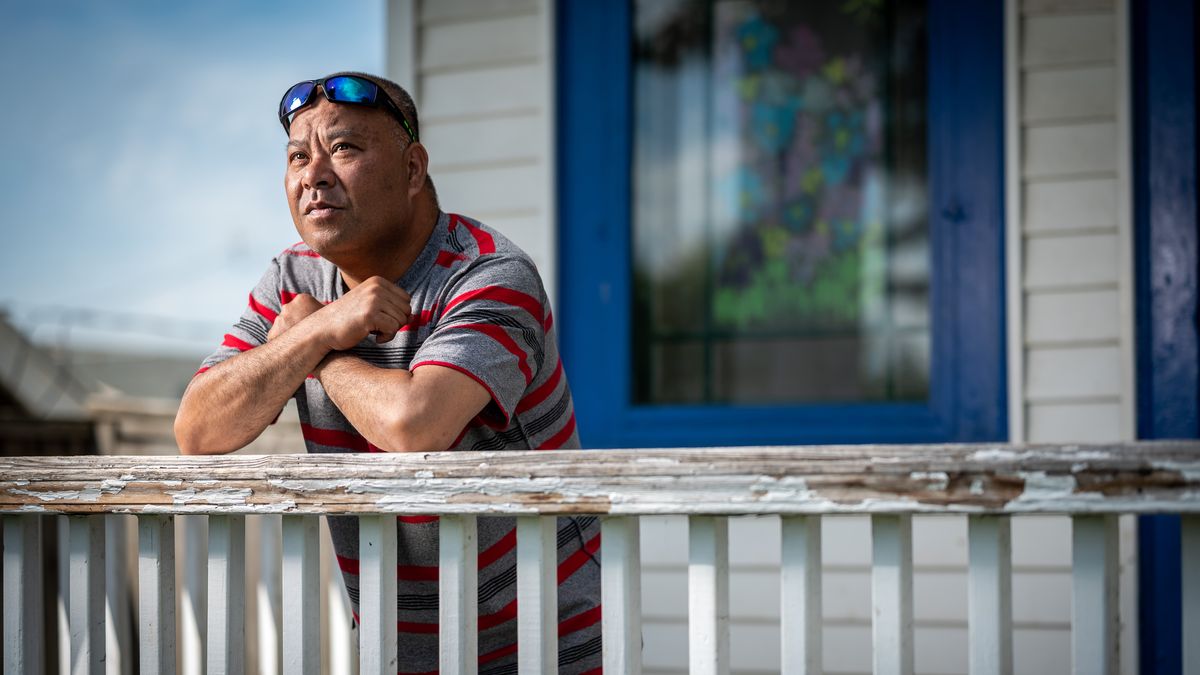 Jeffery Yoshikawa was at work in early April when he got the call.
His mother-in-law was running a high fever, and the dialysis clinic at which she was getting treatment suspected she had COVID-19.
He left immediately to take her to the hospital. On the way, her symptoms worsened.
When they arrived, she tested positive for COVID-19. Yoshikawa asked to be tested, too, since he had spent so much time with her.
They both had COVID-19, it turned out, becoming two of the 341 Marshallese people in Spokane to be diagnosed with the disease. With that number of cases, people from the Marshall Islands account for about 30% of the county's COVID-19 cases – despite making up less than 1% of the county's population, according to Thursday's data from the Spokane Regional Health District.
The COVID-19 pandemic didn't create the racial inequities that have contributed to this strikingly high rate of infections among the Marshallese community in Spokane, but it has laid them bare.
Fewer than 3,000 Native Hawaiians or Pacific Islanders make Spokane their home, and 347 of them have tested positive for COVID-19, 341 of whom are from the Marshall Islands.
An experimental drug treatment helped Yoshikawa recover in the hospital from COVID-19, and he was released after about two weeks. Back at home, he isolated for two weeks, wearing a mask whenever he left his room.
Though he was in the clear, he worried about his mother-in-law, who has diabetes and heart problems. She remained in the hospital for several weeks but eventually fought off the virus, too.
Like many people from the Marshall Islands, Yoshikawa has a long history with hospitals and doctors.
When his wife was diagnosed with Stage 3 cervical cancer in 2003, he had no choice but to leave his home in the Marshall Islands, where there are no cancer specialists, despite a high prevalence of the disease that has been connected to U.S. nuclear tests in the country.
That legacy of radiation as well as barriers to health care and the federal government's treatment of people from the Marshall Islands have historically placed the Marshallese community in a vulnerable place to begin with in the United States. The coronavirus pandemic has only intensified the community's needs.
A history of radiation
After World War II, the United States effectively commandeered several islands in the Republic of the Marshall Islands to use for nuclear testing.
Over a 12-year period, from 1946 to 1958, the U.S. government conducted 67 nuclear tests there. The radioactive fallout and radiation left behind made certain islands uninhabitable.
While residents of some islands and atolls were relocated due to the testing, the health effects and other devastating consequences are still being felt .
First, U.S. scientists studied those who were impacted for effects of radiation on their health without their fully informed consent, as materials were not translated into Marshallese at the time.
Since then, more studies have shown the adverse health effects of radiation on the Marshallese community. One group of researchers, which examined radiation doses, found that more than half of cancers diagnosed in Marshallese communities from certain islands since 1948 and in those who might get cancer in the future is due to the radioactive fallout. Rates of birth defects were found to be high, and even in recent years Marshallese women who moved to the United States have experienced high preterm birth rates compared to white women in the same counties.
Despite such evidence of the consequences of nuclear testing, the Ronald Reagan Ballistic Missile Defense Test Site in the Marshall Islands still is operational today. And the U.S. Department of Defense can continue to use some islands of the Kwajalein Atoll until at least 2066.
While the Marshall Islands were a trust territory of the U.S. until 1979, it has been a sovereign county ever since. Now an agreement known as the Compact of Free Association, or COFA, allows the U.S. access to all land and waterways in the country in exchange for financial aid to the islands' people and their free entry to the U.S.
Many, like Yoshikawa, left to seek care for family members, due to the ravaging health effects of U.S. nuclear testing.
Yoshikawa and his family are originally from the Kwajalein Atoll, where he was born in 1971.
After attending high school and college and meeting his wife in the capital of Majuro, he left the Marshall Islands for Hawaii in 2003.
A father to four kids, Yoshikawa has worked many jobs in the United States, including as a delivery van driver, a community advocate and a translator. Back in the Marshall Islands, he and his wife worked as teachers and had the certificates and courses needed to teach. When he got the United States, however, Yoshikawa's credits were not recognized. With four children to raise, he said going back to school wasn't an option, because he needed to provide for his family.
Yoshikawa's said his children began to learn English in public schools in Hawaii and he started working at Walmart, in the money center.
While he intended to return to the Marshall Islands, a 2011 call from a cousin in Spokane changed his course.
"If you have a good job but you have family in need, you go find a new job and help them out," Yoshikawa said. "So that's the reason we moved here."
They moved to Spokane and lived with his cousin for a few months.
Eventually, he found a house for his family and welcomed other relatives to live with them. Family is a key tenet of Marshallese culture, and Yoshikawa has his grandmother and mother-in-law as well as three of his children living with him.
Yoshikawa was able to transfer his job with Walmart from Hawaii to Spokane, which was more affordable and where his children would have opportunities to further their educations and careers.
While that has proved possible – his daughter recently graduated from Carleton College and plans to become a nurse – the health issues that found his family in the Marshall Islands have stayed with them. This spring, before COVID-19, his wife's cancer returned. She died in mid-March, before she could see their youngest son leave for basic training in the Army this May. Yoshikawa is still paying off some of his wife's medical bills.
Cut out of health care
The federal government does not recognize Marshallese people as immigrants or refugees, and they do not receive visas when they arrive. If they come to the United States and find work, they pay taxes but do not get to vote. Their left-in-limbo status in the country disqualifies them for Medicaid and Medicare, and it makes applying to other social service programs incredibly difficult. This was not always the case, but in 1996, when Congress made major changes to programs like Medicare and Medicaid, COFA islanders were cut out of access to those programs.
There are a few exceptions, and states with significant COFA-islander populations have attempted to remedy the federal gap in health care coverage. In Washington, children and teens under the age of 19 and pregnant women are eligible for Apple Health, due to the state's Medicaid waiver, but a large proportion of the COFA-islander population is ineligible.
Washington lawmakers attempted to remedy this and expand access to health care for Pacific Islanders from the Republic of Palau, the Republic of the Marshall Islands and the Federated States of Micronesia in 2018.
To be eligible for the program, a person must fall in a certain income category as well as enroll themselves in a silver level health plan through the state exchange. They must also be eligible for and receive tax credits for the program. Once enrolled in the program, COFA islanders receive a preloaded card to help pay for deductibles, copays and prescriptions. The list of requirements to be eligible for the Washington COFA insurance program is burdensome, and a report from the Health Care Authority about the program found that translation services and language barriers were challenges.
In December 2019, the HCA released a report on the progress of the program to the Washington Legislature. Spokane County has the highest participation in the program with 392 people enrolled in the health care program, but census data show there are 2,839 Pacific Islanders in the county. (The census data does not break down which Pacific Island a person is from.)
As of October 2019, 1,111 people were participating in the program statewide.
While the program has helped many COFA islanders, like Yoshikawa's mother-in-law, get connected to health care, it does not cover the majority of Marshallese community members, who instead rely on health coverage from their jobs if they can get it or simply go without.
When COVID-19 came to Spokane
Doresty Daniel has been working to connect her community with resources since the virus began to impact Marshallese in Spokane. She is a representative from the Asian and Pacific Islander Coalition to the Marshallese community in Spokane. Daniel is Marshallese, and she moved to the area in 2014. Daniel first heard of COVID-19 impacting the community here in Spokane in April, and she began to look for resources.
Not everyone in the Marshallese community can speak or read fluent English. Finding information about the virus translated into Marshallese was difficult, she said, and she looked for resources coming out of Seattle and even Arkansas, where there also is a large Marshallese community. While information is important, historic challenges accessing health care have created a second barrier for those trying to get tested too.
Persuading community members to go get tested for COVID-19 was not always simple, Daniel said, because without insurance, there is little security that one won't be charged. Estimates from the 2010 census show that 16.7% of Native Hawaiians and Pacific Islanders in the United States do not have health insurance.
"The majority of us are not covered, so when you tell them to go test and they know they have no insurance coverage, that's the other barrier for that," Daniel said. "Even if you tell them there's no insurance needed to be tested."
She compared having health insurance to having a driver's license.
"When people don't have an insurance card, they don't feel comfortable seeing a doctor knowing that the visit could end with medical bills they cannot afford," she said.
Daniel has worked tirelessly to get supplies to community members like hand sanitizer and masks, as well as access to food resources. Using Facebook, she connects with other Marshallese community members and does her best to find resources for them and deliver them to their doors.
For Marshallese people without COFA insurance from Washington or from their jobs, testing is available at CHAS clinics in Spokane, where they employ a Marshallese health worker to help translate and provide culturally competent care to the community members.
CHAS is offering free testing to anyone for COVID-19 throughout the community.
"From Day 1 of the COVID crisis, we've put forth a lot of efforts to get more widespread availability of testing for people who don't have access to care otherwise," said Deb Wiser, chief clinical officer at CHAS.
CHAS also will be receiving masks to give away to patients from Washington in July.
Daniel said she still is working to get masks to community members, even today.
Historic health inequities
Yoshikawa believes his mother-in-law got COVID-19 from her dialysis clinic, because that was the only place she was going outside of the house since the pandemic began. Other patients there had displayed symptoms, he said.
He thinks he probably got the virus from her. But he managed to keep the virus away from his other family members, in part due to his and his mother-in-law's isolation at the hospital. Many outbreaks across many communities are in households, where one family member contracts the virus out at work and then brings it back to others living at home.
Even beyond Washington, COFA islanders are disproportionately impacted by COVID-19.
Researchers at the University of Hawaii point to social determinants of health to understand and unpack why this is.
"The higher risk of infection among NHPI (Native Hawaiians and Pacific Islanders) is linked to preexisting and underlying inequities in the social determinants of health across racial and ethnic groups that are ubiquitous in the U.S.," according to a May article in the "Hawai'i Journal of Health & Social Welfare."
In Hawaii, for example, 24% of the Native Hawaiian population are in essential worker jobs. In Spokane, Daniel also believes that the virus has spread in the Marshallese community due to some community members working essential jobs and then bringing the virus back to their families.
Research done by Washington State University professors shows that the virus is, in essence, revealing inequities that previous studies on health and premature death have shown. The highest rates in premature deaths in Washington are in Native Hawaiian and Pacific Islanders, a WSU analysis from 2011 to 2015 found.
"I don't think there's anything unique to this virus. I think it's a reflection of the social, environmental and other inequities," said Pablo Monsivais, one of the authors of that study at WSU.
Moving forward
Joseph Seia, who is leading the Washington Pacific Islander COVID-19 task force, said that having community liaisons and partners helping to do the work is vital.
"There's still a significant number that haven't accessed health care," he said. "There aren't people who can help them navigate health care in their own communities."
Seia points to distrust in the Pacific Islander community as a result of a long history of institutional racism and resulting inequities in health care. He said there is one Pacific Islander medical doctor in the entire state .
The UH study suggests improved planning to support Native Hawaiian and Pacific Islander health.
"The longer-term recovery plans must include public policy changes to earnestly and effectively address racial and ethnic inequities in the social determinants of health and in the US healthcare system to eliminate the structural racism pervasive in our society," the study says.
The Pacific Islander Community Association of WA applied for funds from the Department of Health to support COVID-19 responses in disproportionately impacted communities. The department plans to announce the winners of those contracts on Tuesday.
Kiana McKenna, an APIC member and an Eastern Washington lead on the Pacific Islander COVID-19 task force with Daniel, said they reached out to the Spokane Regional Health District when they began to see the number of COVID-19 cases rising in the Marshallese community.
They received some masks from the statewide Pacific Islander coalition to distribute, but a lot of these resources came after the virus was spreading among families.
"They are a strong and resilient community to have to uproot their lives and family from the land that your culture and heritage and identity is connected to, as Indigenous communities, that's a lot," she said. "And (they) have the courage and resilience to come to a place where the language is different, the health care system is complex and promises have been made and not many have been fulfilled."
Going forward, APIC Spokane plans to continue meeting with the Spokane Regional Health District in order to continue to mitigate the disparities seen in the Marshallese community here, McKenna said.
"There's a high need to raise awareness and visibility around these issues facing Pacific Islander communities and especially COFA islanders right now, and our communities seem so small that they get forgotten about or dismissed," she said. "We must address the systemic barriers that are in Islanders' way to thrive fully here."
Daniel said another growing concern is those in the community who lost their jobs due to COVID-19. Applying for unemployment benefits is difficult for those in the Marshallese community due to their lack of citizenship. They qualify, Daniel said, if their immigration documents are not expired.
Still, just getting the application looked at can be difficult when the unique nature of their legal status means that they do not have some of the required documents listed by the state to qualify initially.
"It is really hard for Marshallese people to get qualified for unemployment because of citizenship status, and lack of understanding the system, how to fill out the system, so that's the other thing that now I see, how people are struggling with and trying to get paid while they are in isolation," Daniel said.
Yoshikawa's daughter is pursuing her plan to go back to school to be a nurse. His youngest son, who graduated from Rogers, enlisted in the Army and is in basic training.
"He sent me a Father's Day letter," Yoshikawa said. "It said, 'I wouldn't understand the real world if it wasn't for you.'"
Editor's note: This story has been corrected to update the web headline to match the most recent data from the Spokane Regional Health District. A previous version of this story also said that Yoshikawa's wife did not get to see her youngest son graduate, but she did. She did not get to see him off to basic training in the Army. We apologize for the error.
---