A&E
Locally Writ: Exploring Jack Castle's 'Stranger World'
Sat., March 21, 2020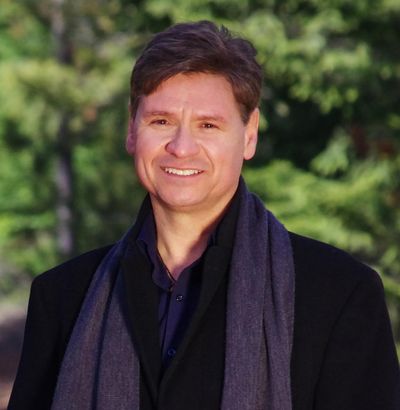 Local author Jack Castle can't remember a time when he wasn't writing. "Even as a little kid, I wasn't content for my friends and myself just to shoot toy guns at each other," Castle said. "Nope. I always had to write a backstory as if we were actually time travelers sent back to WWII to accomplish some secret mission."
In his 20s, while working at Disney's Hollywood Studios at Walt Disney World in Florida, Castle met actress June Lockhart, famous for her roles in "Lassie" and "Lost in Space." When Lockhart asked him what he wanted most to do in his life, Castle answered that he wanted to write. Castle remembers her then saying, very seriously, "First, young man, you need to go out and do a whole lot of living before you sit down and write about it."
"So that's exactly what I did," Castle said.
After working at Disney, he moved on to Universal Studios Orlando where he was later handpicked by George Lucas to work as a double for Han Solo in the Star Wars attraction back at Disney. There he met "Cinderella." The couple soon married and began traveling the world for a series of adventurous job opportunities.
The most unusual place Castle settled was Shemya, one of Alaska's Aleutian Islands. Sent there as a response team commander, Castle and his team were tasked with upgrading and improving physical defense measures for a now-declassified Ground Missile Defense Site.
One arduous flight amid heavy winds behind them, their Lockheed C-130 finally landed. "Not only are the weather changes some of the most severe in the world," Castle said, "but the barren, rocky landscape that greeted us seemed almost cruel and otherworldly." Castle would later receive a commendation for his work on the island.
What made Shemya especially unusual was, rumor had it, Japanese soldiers had left hidden tunnels behind during WWII. For more information on the history of the tunnels, Castle recommends Stan Cohen's "The Forgotten War."
During his off-hours on the island, Castle was determined to find the tunnels. "The station master thought I was crazy and told me the tunnels had long since collapsed," Castle said. "But using old black-and-white photographs I discovered in a long since used basement, I was able to triangulate the position of the hidden entrances and reconnoiter passages that hadn't been explored in more than half a century."
Throughout this time, Castle kept writing stories, but he was convinced that no one would ever read them, let alone pay for them. Then in 2015, after encouragement from his wife, Castle reached out to a publisher for the first time. Two months later, Edge Science Fiction and Fantasy Publishing offered him a contract. "Three months after that, my first book, 'Europa Journal,' became a bestseller on Amazon," Castle said. "I was blown away."
In the past, Castle's "Stranger World" series also has made it onto Amazon's Top 100 list for Exploration Science Fiction. Castle began the series while his daughter was bedridden due to illness.
"I felt helpless," Castle said. "So I dusted off an old outline and started writing this story. Each night, when my daughter would wake up for her dinner, I'd read her a new chapter. Thus, 'Stranger World' was born."
A combat helicopter pilot, a French microbiologist and an accountant from the 1970s wake up disoriented in an unfamiliar and sinister world. With no idea of where or when they are, the newcomers are soon thrown into the company of a snarky woman in search of her lost airship, a friendly gargoyle with a questionable diet and a mysterious "Lamppost Man" who may or may not have all the answers.
This "Stranger World" in which they've landed turns out to be an elaborate theme park complete with robotic cast members and dangerous guests. The latest book in the series, "Stranger Origins," was published earlier this year.
When he isn't writing, Castle runs Silverwood Theme Park's theatrical train ride as lawman Marshall Jack. In his free time, Castle enjoys helping other aspiring authors to get published, and he teaches literary workshops at local libraries and North Idaho College.
To his students and fellow writers, Castle offers the following advice: "To quote one of my favorite authors, Stephen King: 'If you want to be a writer, you must do two things above all others: read a lot and write a lot. There's no way around these two things that I'm aware of, no shortcut.' "
Local journalism is essential.
Give directly to The Spokesman-Review's Northwest Passages community forums series -- which helps to offset the costs of several reporter and editor positions at the newspaper -- by using the easy options below. Gifts processed in this system are not tax deductible, but are predominately used to help meet the local financial requirements needed to receive national matching-grant funds.
Subscribe to the Spokane7 email newsletter
Get the day's top entertainment headlines delivered to your inbox every morning.
---