A&E
Pantry essentials: Spokane's culinary industry shares must-have items and why they're necessary
March 31, 2020 Updated Thu., April 2, 2020 at 8:06 a.m.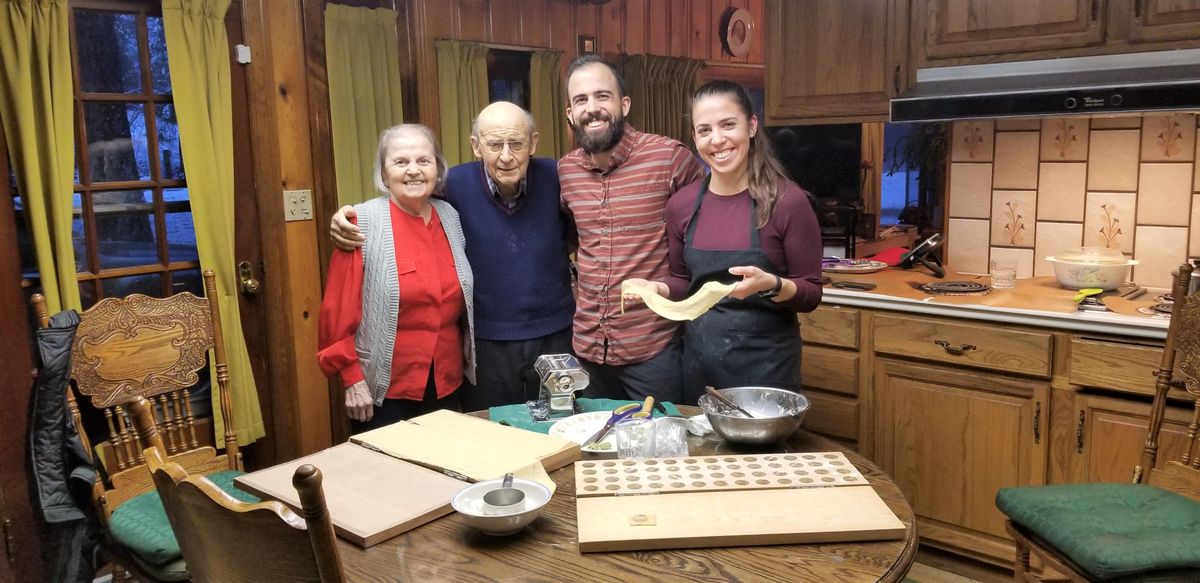 Gina Seghetti, Mauro Seghetti, Damiano Seghetti and Desiree Seghetti-Sulpizio make fresh ravioli. Gina Seghetti is the niece of Albert and Leda Commellini of Commellini Estate. (Courtesy)
It's a few weeks into the stay home, save lives order, and it's becoming increasingly difficult to shop at the grocery store – first for toilet paper and paper towels and now reportedly for ice, soups, pasta sauce, eggs, milk and more.
It's a challenging and unpredictable time, and one industry that has been especially hard hit is the restaurant industry. Takeout from favorite restaurants is essential for many businesses to survive right now, but it might be unrealistic for some to order pick-up meals, especially for a family, seven days a week.
Members of Spokane's culinary industry were asked to share their must-have items in their pantries at home (but not pantry fill or hoard) and why they're essential, and here are their responses:
Dave Adlard
Chef/owner, Candle in the Woods
Must-have pantry items: We're pretty well-stocked normally because our family is a bunch of snackers, so we don't have to do much extra. If I had to start from scratch to survive, at the most primitive level, flour, sugar, eggs, bacon, yeast, bacon, Masa harina, my Cajun seasoning, salt, milk, olive oil, canned tomatoes, salt and vinegar Pringles (for my wife), raisins and oatmeal.
Why: With these items, I can make bread, ice cream, oatmeal raisin cookies – all the essentials. On a more practical level, and taking my family's advice into account, soup, dried fruit, chocolate and microwave popcorn. I would cook, and did cook, a lot of the fresh things that would turn before we could eat them. We made them into casseroles, which we froze, and used our dehydrator for the rest.
Katy Azar
Owner, Azar's Restaurant
Must-have pantry items: I rarely cook at home. I cook everything at the restaurant and bring it home. For a staple, I always have hummus, Babaganuj, tzatziki sauce, pita bread, olives, olive oil, feta cheese and cut-up vegetables for dipping and gluten-free bread. Rice and salsa – whatever I am serving on the buffet at that time. Greek salad and spanakopita also are a favorite of ours.
Why: Because it is so healthy and nutritious with lots of garlic to help the immune system. We like rice served with the different salsas that we make, like green bean salsa, okra salsa, mushroom salsa and peas and potato salsa, just to mention a few. I also bring home gyro meat for omelets on Sunday. The Mediterranean diet really works for me and my family. For holidays, I make a traditional Middle Eastern dinner of dishes that take a long time to prepare and are delicious also prepared at the restaurant and brought home.
Jennifer Davis
Owner, the Scoop Ice Cream
Must-have pantry items: A loaf of locally made bread, Sir Kensington Mayo, coconut aminos, avocados, bacon, chicken thighs (skin on, bone in), pork tenderloin, rice, sugar snap peas, Brussels sprouts, asparagus, broccoli, lemons, arugula and butter lettuce. I also try to keep charcuterie stuff on hand like cheese, olives, nuts and salami.
Why: I love being able to use each item in a variety of ways. In general, I stick to 4 S's in my house: sandwiches, salads, stir fry and sheet pan dinners. I'll use the chicken and broccoli in a sheet pan dinner, then throw it into a salad the next day. The avocado and bacon for avocado toast, a BLT or a salad. The sugar snap peas in a stir fry or a charcuterie plate and the Brussels sprouts in a sheet pan dinner or a stir fry. After a long day of work or being quarantined, I just want to throw something kinda healthy and super delicious together in 30 minutes with the least amount of dishes.
Deborah Di Bernardo
Owner, First Avenue Coffee and Roast House Coffee
Must-have pantry items: Besides copious amounts of coffee, gluten-free pasta, white and red wine (bourbon, too), onions, dried beans, risotto, olive oil, garlic, tomatoes, dried parsley, oregano, thyme, broths and jars of peanut butter and jams for my non-Italian husband.
Must-have freezer items: Local grass-fed meats and butter, Ezekiel breads and organic frozen fruits.
Why: Eating is pure joy! I can't imagine not having the above foods to create meals every evening with Jim while sipping wine. It calms me down and brings the two of us together after crazy OMG days of work. Besides, I enjoy the buzz wine provides.
Travis Dickinson
Chef/co-owner, Cochinito Taqueria
Must-have pantry items and why: Buttermilk bread, peanut butter and jelly: The classic, this is my dinner far too often. Canned San Marzano tomatoes: With just a few more basics, I can make a mean red sauce. Good-quality, all-purpose flour: Just a couple eggs and we have pasta for that San Marzano sauce. Dry chiles (ancho, guajillo, chipotle, pasilla): It's instant flavor to any braise or sauce. Jasmine rice and coconut milk: I love coconut rice. Cochinito's chile/garlic oil: I cook nearly everything in the stuff. And wine – lots of wine.
Adam Hegsted
Chef/owner, Eat Good Group
Must-have pantry items: Rice, grains, noodles, veggies, cilantro, fish sauce, kimchi, eggs and Chili Cheese Fritos.
Why: My pantry is always pretty loaded truthfully. These are my must-haves. Eggs are breakfast. Breakfast sandwich, burrito, fried rice or just plain fried eggs. Fish sauce adds saltiness and depth to almost everything. Kimchi is for snacking, burgers and all-around condiment. Rice, grains, noodles and veggies allow me to cook many different styles of international foods. Cilantro is great to add punch in Latin dishes or Asian cuisine. And Chili Cheese Fritos are delicious.
Callie Johnson
Owner, Made With Love Bakery
Must-have pantry items: Peanut butter, plain bagels, tortillas, ham, cheese, hummus, banana chips, trail mix and all the basic baking ingredients.
Why: I love routine and eat mostly the same thing every day – peanut butter on a bagel for breakfast and tortilla wraps for lunch, with snack-y items throughout the day. I must have supplies for baking on hand so I can whip up a dessert or sweet treat at any time!
Drew Padrta
Co-owner, Bridge Press Cellars
Must-have pantry items: I like to keep a lot of nice cheeses and crackers that would go nicely with wine and for entertaining. Also, fresh pastas and homemade sauces, as well as peanut butter, fruit snacks and Goldfish crackers (not for me!).
Why: My pantry right now has changed some with a toddler in the house, but you can't forget about the adults – I always have a full shelf of wine.
Desiree Seghetti-Sulpizio
Co-owner, Commellini Estate Venue & Event Restaurant
Must-have pantry items: Fresh garlic, tomatoes, onions, olive oil, flour and eggs. Normally, my husband and I don't prepare meals in advance but rather rely on using quick trips to the grocery store for fresh ingredients. However, with now limiting our grocery trips, we've tried to use this as an opportunity to get creative.
Recently, in meetings with executive chef Blake Caldwell discussing Commellini's menus, I've been inspired by his passion for tradition and authenticity. So, at home, we've returned to family recipes (or more accurately, hand-scribbled notes from our grandparents and great-grandparents) for that much-needed culinary nostalgia. Childhood in the kitchen with grandparents who witnessed the Depression and WWII taught me that every ingredient matters – and, with a little creativity, nothing needs to go to waste.
Why: In times of uncertainty, I especially enjoy foods that are not only comforting, but also remind me of childhood. Most of my cooking has a touch of nostalgia, and these staples not only last, but also can serve as a foundation for most meals. Our house almost always smells of roasted garlic, which we add to everything from pasta sauces to my grandfather's bean soup.
Taylor Siok
Pastry chef, Luna Restaurant
Must-have pantry items: Quality bread and cheese, nuts, pasta, ice cream, sparkling water, local coffee beans and Cognac.
Why: Although there are other essentials, each of these items brings me a huge amount of joy, something that I feel should not be underrated.
Travis Tveit
Lead chef, Iron Goat Brewing
It's a weird time for everyone (especially the consumer), and I have a hard time telling people what they should go out and get for themselves. All I could say is to make sure you have some good beers in your fridge, ingredients to make a few things you enjoy eating, and, on top of that, make sure you're supporting the local restaurants who need it. As much as I love the home cook, small business needs it more right now.
Ricky Webster
Business resources/chef consultant, Sysco Spokane
Must-have pantry items: Flours (bread, cake, all purpose, wheat and rye), bacon and eggs.
Why: With these items, I could feed me and not limited to an army all while getting creative cooking and baking and nourishing my soul. I have a couple sourdough starters I need to keep alive. With these, I can make anything from breads to biscuits to brownies and everything in between. I also can make pasta – spaghetti Carbonara is one of my favorite pasta dishes. I just made sourdough pasta, to stock the pantry, with flour, starter and eggs from my four hens. So be it a comforting pasta dish, a BLT on fresh baked bread or sourdough pancakes with bacon and eggs, I know with these staples, there's no going hungry or bored.
Chad White
Chef/owner, Zona Blanca, High Tide Lobster Bar and TT's Old Iron Brewery and BBQ
Must-have pantry items: Also in my refrigerator and freezer. When on lockdown, I know I should be eating healthy. But if I'm held against my will, I'm gonna eat for comfort. Tater tots, whole muscle meats (brisket, turkey breast, ham, fish), ground meats (beef, pork, turkey), bread, cheese, bacon, tomatoes, pickles, Cuties, eggs, hearty greens (kale, mustard, chard), potatoes, beans, mayo, popcorn and lots of condiments … lots!
Why: This allows me to make a big variety of quick and simple dishes such as patty melts, meatloaf, cold-cut sandwiches, omelets, frittatas, salads, stews and snacks.
Local journalism is essential.
Give directly to The Spokesman-Review's Northwest Passages community forums series -- which helps to offset the costs of several reporter and editor positions at the newspaper -- by using the easy options below. Gifts processed in this system are not tax deductible, but are predominately used to help meet the local financial requirements needed to receive national matching-grant funds.
Subscribe to the Spokane7 email newsletter
Get the day's top entertainment headlines delivered to your inbox every morning.
---