On this date 50 years ago, National Guard troops fired on unarmed student protesters at Kent State University in Ohio, killing four and wounding nine. The incident would become a key point in the turning of American public opinion against the Vietnam War. Here's how the tragedy unfolded: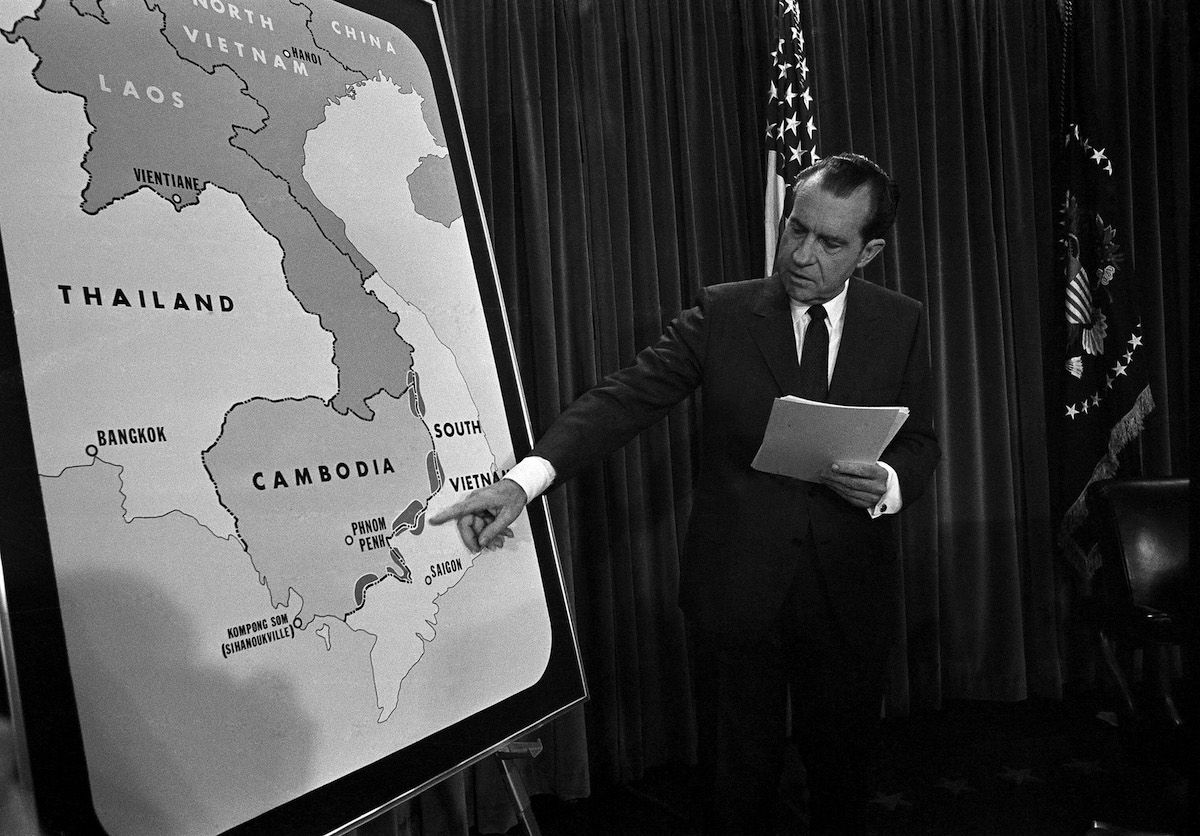 APRIL 30
President Richard Nixon announces on national TV he's sending U.S. troops into Cambodia to search for Viet Cong said to be hiding there. This seems to counter Nixon's promises to wind down the war. Protests are organized around the country and especially on college campuses.
MAY 1
Protests erupt around the country – some are peaceful and some, not so much. In Kent, Ohio, students throw rocks and break windows of downtown shops.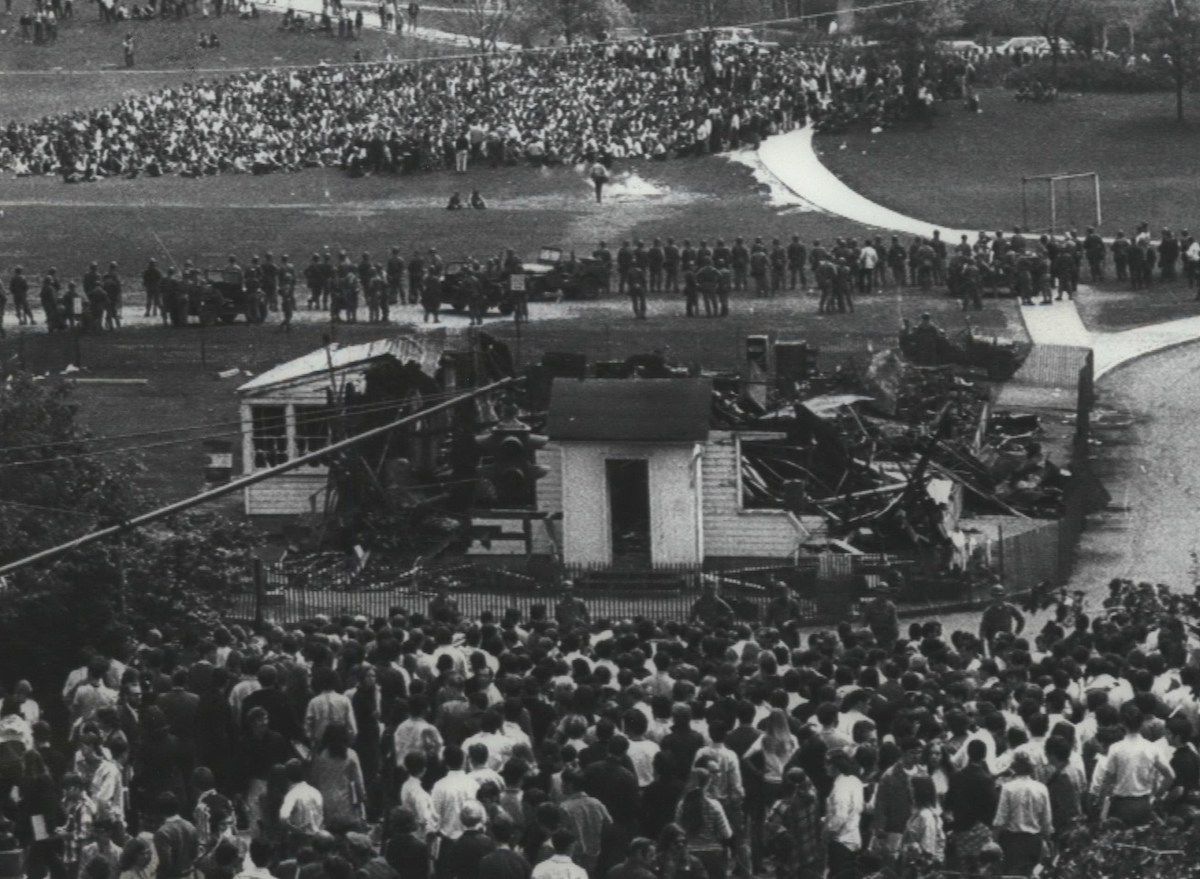 MAY 2
The governor calls in the Ohio National Guard, but the guard doesn't arrive until after someone has set fire to Kent State University's on-campus ROTC building. Tensions continue to rise over the next two days.
---
MAY 4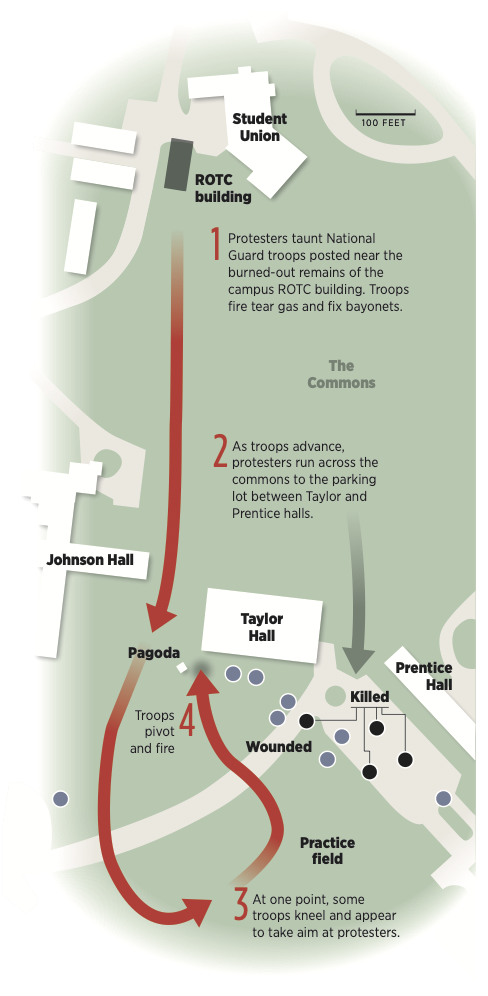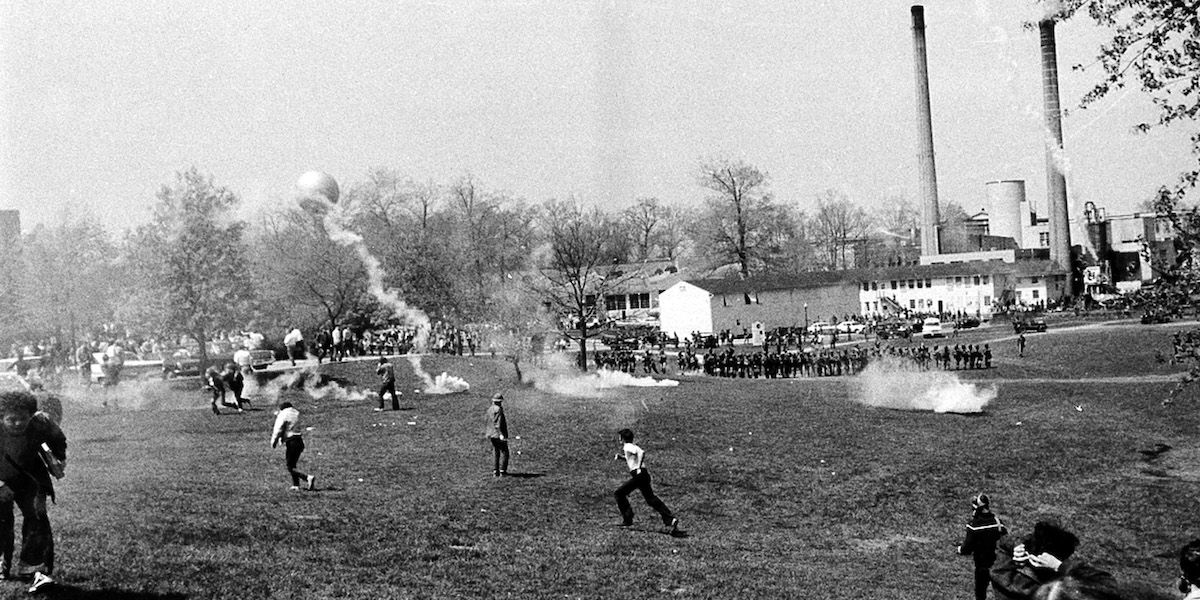 NOON
About 2,000 people gather on the university commons – a large grassy area behind the college of communication in Taylor Hall – for another protest. They begin by ringing the Victory Bell, which is used to signal football victories. National Guard officials demand the protesters disperse. When they don't, troops fire tear gas at them.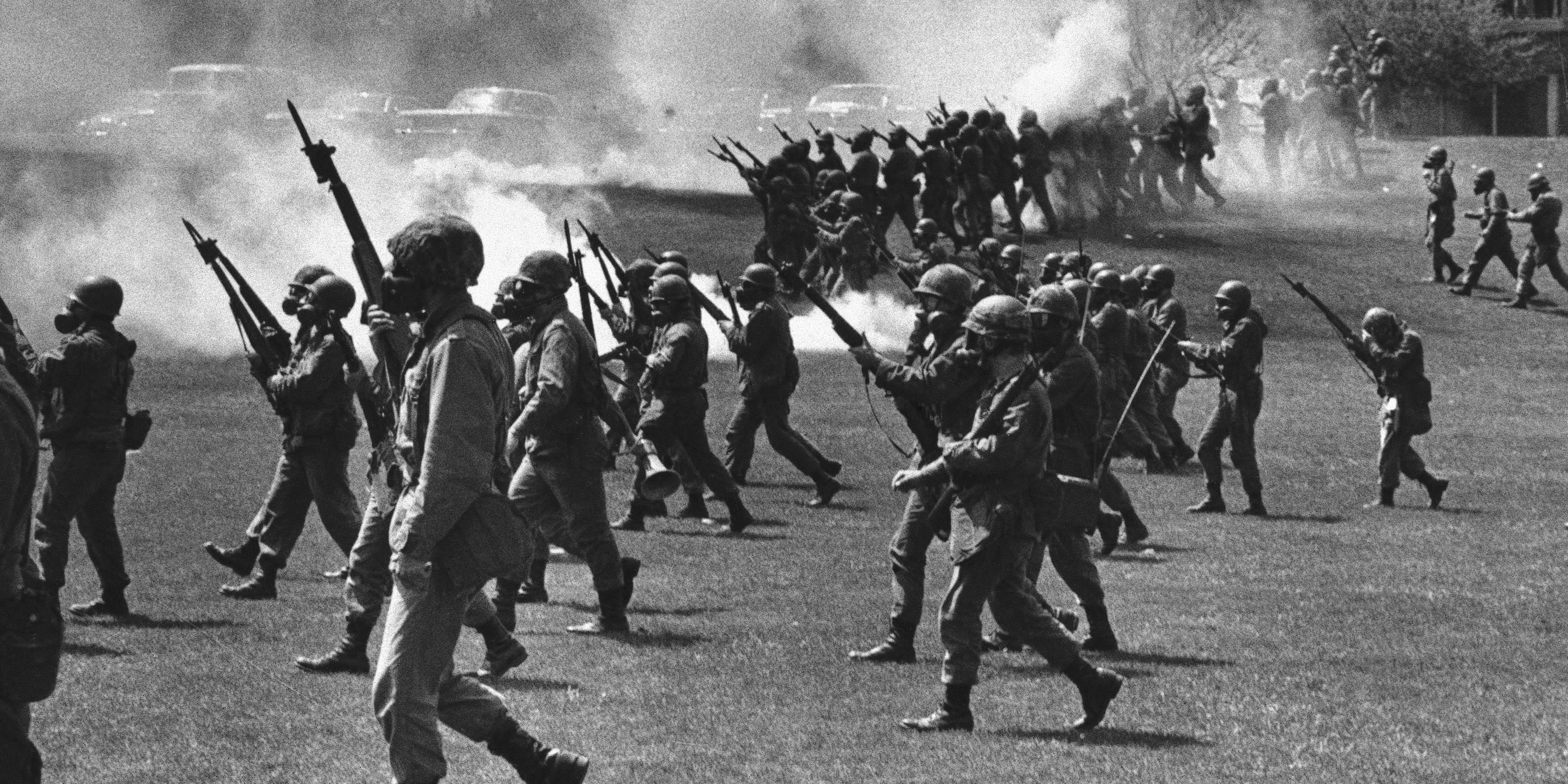 The troops then fix bayonets on their M1 rifles and advance on the protesters, who flee up a hill past Taylor Hall and into a parking lot. The troops march past Taylor Hall, through a football practice field and, at one point, some of them kneel and appear to take aim at the protesters taunting them from the parking lot, about 100 yards away. The troops then reform and march back toward Taylor Hall.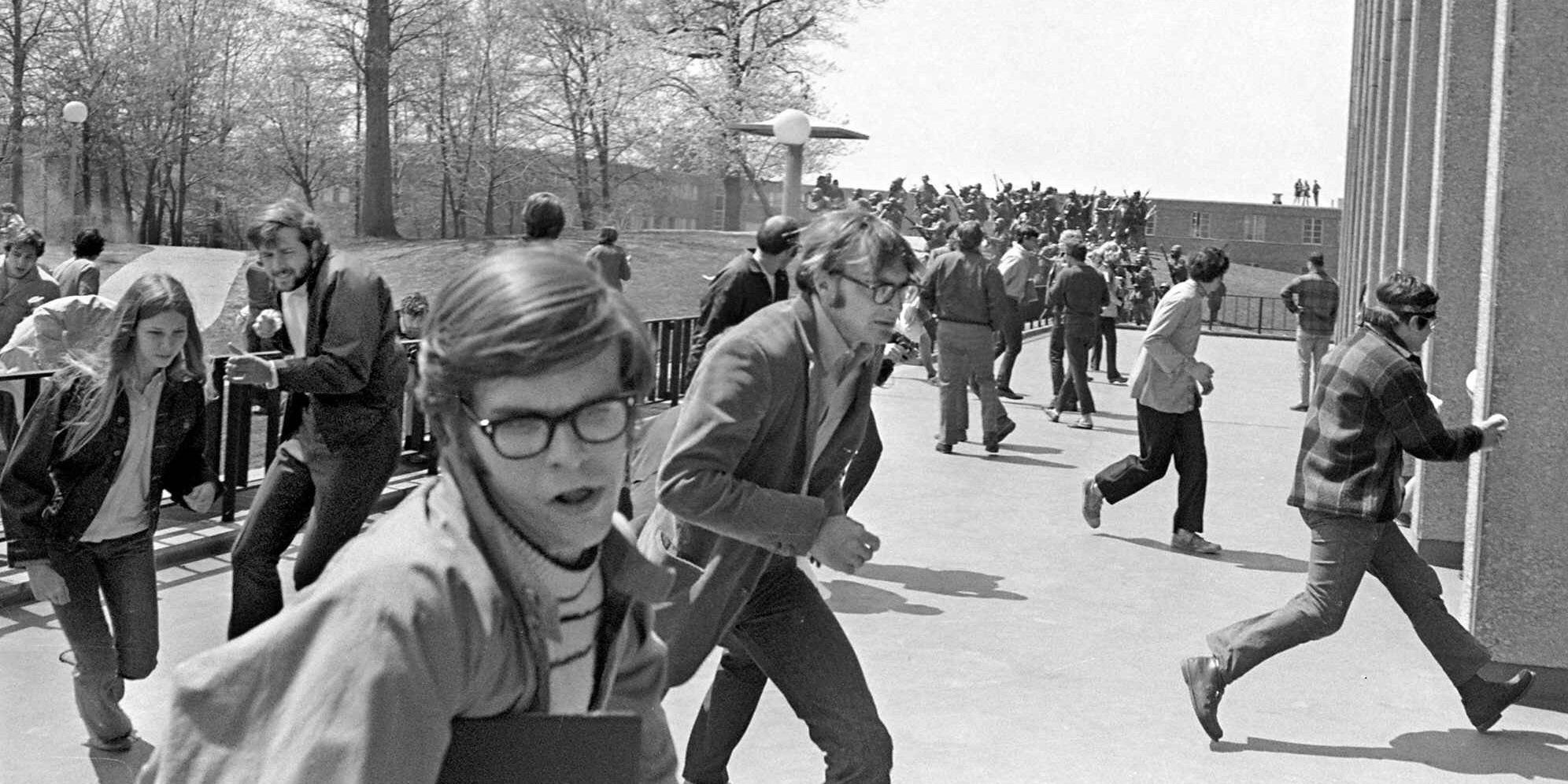 12:24 P.M.
The troops halt near a pagoda at the corner of Taylor Hall. One guardsman draws his pistol, turns toward the protesters in the parking lot and opens fire. A number of other guardsmen join in. In all, 29 of the 77 National Guardsmen fire a total of 67 rounds of ammunition at the protesters, over 13 seconds. Stunned that the troops are using live rounds, the students scatter.
---
Four students were killed in the shootings and nine more were wounded. Two of the fatalities were students who hadn't even been involved in the protests – they were walking to their Monday afternoon classes.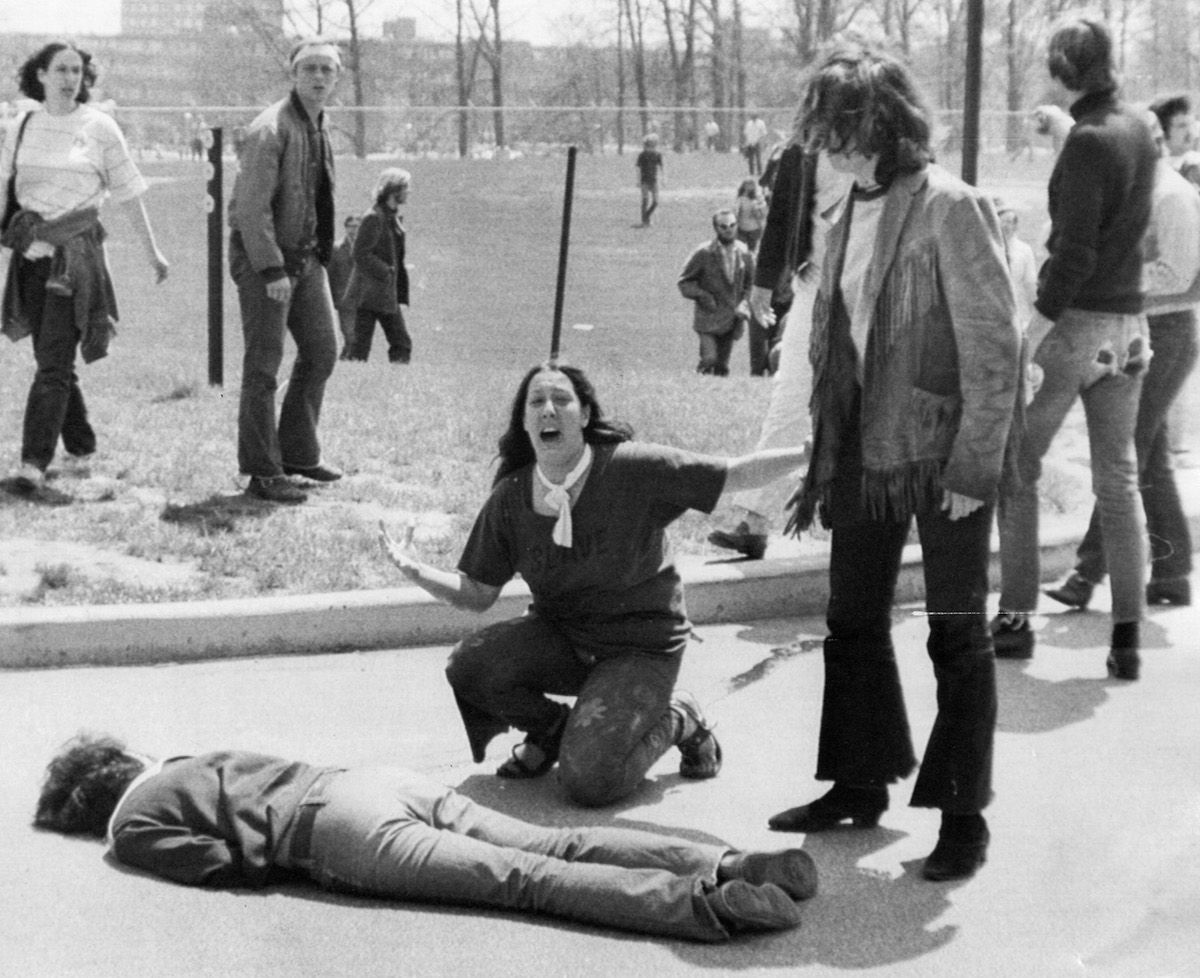 21-year-old journalism student John Filo was taking pictures of the protests. He captured the most memorable image of the day: 14-year-old runaway Mary Ann Vecchio kneeling over the body of one of the four killed, Jeffrey Miller. This photograph would win a Pulitzer Prize.
Other Kent State students who were among the protesters that day: Chrissie Hynde, who would go on to be lead singer of the Pretenders, and Gerald Casale, who would go on to play bass for Devo.
The anti-war protest at Kent State wasn't the only one that ended in violence that month:
MAY 7
Students occupy the ROTC building at the University of Virginia until a fire breaks out.
MAY 8
Members of the New Mexico National Guard bayonet 11 protesters at the University of New Mexico.
MAY 8
Pro-Nixon construction workers attack an anti-war protest by 1,000 college and high school students at Federal Hall National Memorial in New York City. More than 70 people – including four police officers – are injured.
MAY 15
Police open fire on unarmed protesters at predominantly black Jackson State College in Mississippi. Two students are killed and 12 wounded.