News > Spokane
Weathercatch: It's raining, it's pouring, it's (finally) clear and summerlike
Thu., May 28, 2020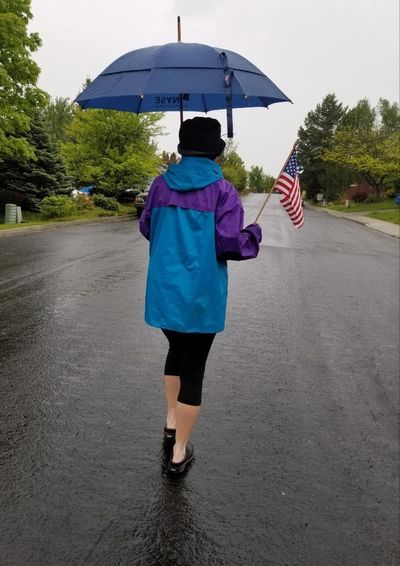 As the sun shines over the Inland Northwest, less than a week ago it seemed as if we lived in a shower stall.
Mist. Drizzle. Heavy rain. An abrupt torrent. From May 12-22, Spokane experienced 11 days of precipitation, including an historic downpour on May 20 that marked the heaviest single day of rainfall in 16 years.
A series of vigorous weather systems left some of us to wonder if water was replacing air. Among the more notable events were Sunday, May 17, when heavy rain, thunder and lightning rolled through the region, and Monday, May 18, when two funnel clouds appeared over the Palouse during intermittent showers.
The most intense downpour occurred on Wednesday, May 20, when more rain fell in Spokane, Moscow-Pullman and Lewiston than any May 20 in history. Spokane's 1.4 inches of rainfall broke the previous record of 1.19 inches set more than a century ago – 1912, to be exact. Moscow-Pullman received 1.25 inches during the steady rain, and Lewiston got .96 inches.
This historic deluge was followed by a light drizzle the following day, May 21. By the close of last week, Spokane had seen 2.42 inches of rain during the first three-quarters of the month, putting us at 1.35 inches above normal.
Feeling waterlogged, we welcomed the rain-free weekend of partly sunny skies and mild temperatures. By the afternoon of Sunday, May 24, however, it was apparent from radar reports that another precipitation-laden system was aimed our way. Described as a "strong fetch of Pacific moisture directed into the Northwest," the National Weather Service-Spokane said to expect rain showers to track through the region on Memorial Day.
That's just what happened. Thick clouds rolled in Monday morning, giving rise to light rain that fell early in the afternoon. More rounds of light rain fell later in the day, just as some of us were preparing to cook hamburgers and drumsticks on the outdoor grill.
Clouds began easing up on Tuesday and the moisture-rich air exited the region. As you read this column, sunny skies and summer-like temperatures embrace us.
A late spring gloom has given way to an end-of-May bloom. Will it last? Enjoy it while you can, as another unsettled weather pattern may bring cooler temperatures, showers and a few thunderstorms this weekend.
Nic Loyd is a Washington meteorologist. Linda Weiford is a writer in Moscow, Idaho, who's also a weather geek. Contact: ldweiford@gmail.com.
Local journalism is essential.
Give directly to The Spokesman-Review's Northwest Passages community forums series -- which helps to offset the costs of several reporter and editor positions at the newspaper -- by using the easy options below. Gifts processed in this system are not tax deductible, but are predominately used to help meet the local financial requirements needed to receive national matching-grant funds.
Subscribe to the Coronavirus newsletter
Get the day's latest Coronavirus news delivered to your inbox by subscribing to our newsletter.
---