News > Crime/Public Safety
A mother waits for her son's trial with COVID-19 and BLM stirring
Nov. 15, 2020 Updated Sun., Nov. 15, 2020 at 11:19 a.m. Nicole Ellis was proud of her son Tyler Rambo. He was 18 and back on his feet after being convicted of battery and disturbing the peace as a teen. He had completed a service program and begun work drywalling with her brother. He was looking for a second job, working toward getting his GED and spending time with his five younger sisters.
All that changed on July 4, 2019. Rambo is accused of pulling a gun during a fight at Independence Point.
Coeur d'Alene police officers responded and shot him more than 10 times. Doctors had to amputate his legs to save his life.
More than a year later, Rambo's trial has been delayed multiple times due to COVID-19 and impacted by a nationwide movement against police brutality that could affect jury selection.
On the day of the shooting, Ellis drove to downtown Coeur d'Alene to pick up her 8-year-old daughter, Deja, who had been celebrating the Fourth of July with her older siblings.
Rambo hoisted Deja on his shoulders as they walked to find their mom. Along the way, Ellis said, a girl who Rambo had turned down for a date shoulder-checked him, and sent Deja tumbling. Rambo stands more than 6 feet tall, and Deja's long fall upset them.
"He went to give Deja to me and he wanted to go back down there and report her," Ellis said.
The incident bothered Ellis, but Rambo was supposed to meet up with his sisters, Aleeya and Angelina, twins who are just a year younger than he is.
Ellis had been worried about her kids all night but her husband, Curtis Ellis, reminded her Rambo was almost 19 and encouraged her to give him some freedom.
Not long after returning home, Ellis got a broken up FaceTime call from Aleeya saying someone got shot.
"I'm like, who got shot," Ellis said. "She's like 'Tyler' and I'm like 'By who?' She's like 'By the cops.' "
Ellis and her husband froze before scrambling to get in the car.
"You don't survive when you get shot by the cops," Ellis recalled thinking. "Like my kid is a dead man."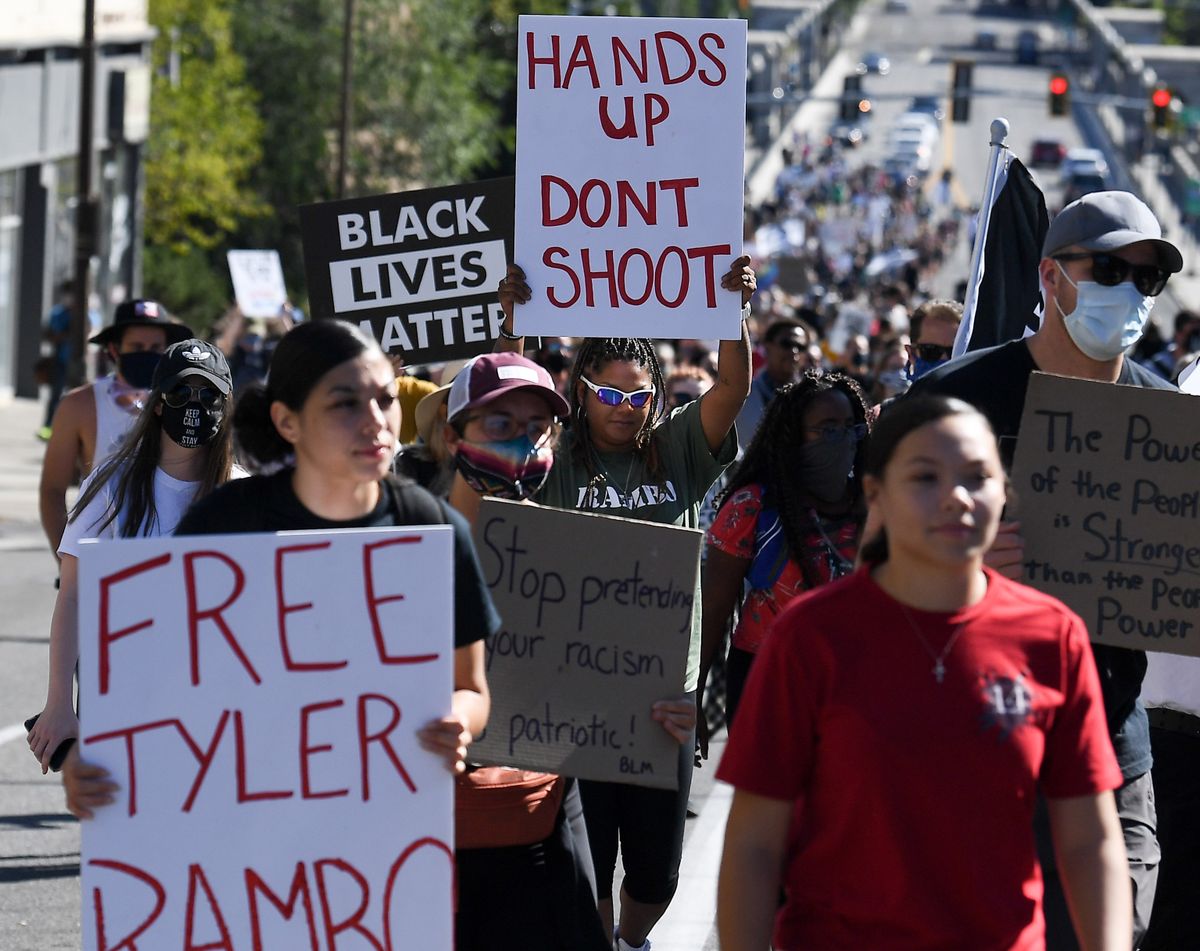 Nicole Ellis, center, mother of Tyler Rambo who was shot by police 14 times in 2019 holds a "hands up dont shoot sign" as she marches during a Black Lives Matter protest and march on Sunday, Aug. 30, 2020, in Spokane, Wash. (Tyler Tjomsland/THE SPOKESMAN-REVIEW)
In a panic, Ellis rushed to Kootenai Health only to face an excruciating few hours of waiting while it was determined if the young man from the shooting was in fact her son.
Eventually, a nurse came to the lobby, where Rambo's family and friends had gathered, and asked Ellis to describe her son.
Still, no one could confirm if the patient was Rambo. The most she would get, from a nurse in the middle of the night, was that the person who had been shot was still alive.
It wasn't until the afternoon of July 5 that Ellis finally laid eyes on her son. Rambo was in a medically induced coma with tubes "coming out of everywhere on his body," Ellis said.
"It was intense and I'm like that's not what I was expecting," Ellis said. "He's not even awake. Like he's barely alive. He's being held alive by all these machines."
After another sleepless night in the hospital lobby, Ellis said the doctors told her Rambo kept crashing. After checking Rambo's legs, Ellis said it was obvious to both her and the doctors there was no pulse in his feet and amputation would be the best option.
The doctors also said it was unlikely Rambo would survive the surgery.
"Well, do it anyway," Ellis said she told the doctors. "At least I know that we tried everything before he's gone."
Both of Rambo's legs were amputated above the knee. Not long after, doctors began to wake him up, Ellis said.
"I can't describe that feeling; it was scary and amazing," Ellis said. "Him waking up was the most beautiful thing I've ever seen in my life."
Minutes later, Ellis was faced with the task of telling her son he had lost his legs.
"Your survival came with a price," Ellis recalled saying. "And he was like, 'What, am I never going to walk again?' And I'm like, 'They had to amputate your legs in order to save your life.' "
A few days later, Rambo was transferred to Providence Sacred Heart Medical Center where he began improving. But three weeks later, he began to develop sepsis and gangrene. The only way to get ahead of the infection, Ellis said, was to amputate again, this time up to Rambo's hips.
By the beginning of August, a month after the shooting, Rambo was transferred to St. Luke's Rehabilitation Center to start physical therapy. On Aug. 14, after refitting her Coeur d'Alene home to accommodate his new disabilities, Ellis brought her son home.
Early in her son's hospital stay, Ellis said she started looking for an attorney and settled on Rick Baughman.
"In regard to legal representation, it is almost always better to have an attorney on board as soon as possible," Baughman said.
Rather than ask her son about what happened, Ellis let Baughman handle that. Instead, she focused on Rambo's physical and mental health.
A few weeks after getting home, on Sept. 11, Rambo went with a friend to a shooting range to see how hearing gunshots would affect him after being shot, Ellis said.
On their way home, the pair were stopped and arrested by the Idaho State Police for possession of marijuana and drug paraphernalia. Rambo later pled his charges down to just possession of drug paraphernalia.
The next day, a SWAT team showed up at Ellis' Coeur d'Alene home and arrested Rambo.
"That was a nightmare," Ellis said. "They showed up banging on the door."
Rambo was charged with attempted murder related to the initial fight along with aggravated assault and eight counts of battery against a police officer.
Pushing back against police brutality
Once Rambo was in jail, Ellis began to hear more about the allegations against him and was faced with the community's reaction.
As a Black family in North Idaho, Ellis said the community judged her and her son unfairly. People called him a thug and suggested he was from the inner city.
"It's an easy stereotype to throw out there," Ellis said.
Ellis said she knows her son as a goofy and protective big brother. He's a history buff with a special interest in World Wars I and II, planes and civil rights figures, like Martin Luther King Jr. The gun Rambo was carrying the night of the shooting was inherited from his grandmother.
Once Rambo was arrested, Ellis decided it was time to act. She began protesting in front of the Coeur d'Alene Police Department and the Kootenai County Jail against what she believed was police brutality against her son.
"That was like, OK, game on," Ellis said. "I would have left it alone if you would have left my kid alone."
Recent attempts for an interview with Coeur d'Alene police went unanswered.
In November 2019, Rambo filed a tort claim seeking more than $9 million in damages alleging Coeur d'Alene city officials failed to adequately train or supervise the officers who shot him.
Early information in court documents written by police indicated the fight on the Fourth of July was a continuation of an altercation at a house party the week prior, involving 23-year-old Jawaun Anderson.
Anderson told police Rambo responded to being tapped on the shoulder on the Fourth of July by punching him, and the two men went to the ground fighting.
Witnesses claim Rambo then pulled a gun, which Anderson said he slapped away before Rambo fired. The shot prompted many of the thousands gathered for the fireworks show near Independence Point to flee.
Rambo then took off running as Coeur d'Alene police officers and Kootenai County Sheriff's deputies rushed to the scene. The officers chased Rambo into City Park, where he began to walk.
Police Chief Lee White said his officers told Rambo to stop 15 times and attempted to shock him with a Taser.
The officers reported that Rambo turned toward police with the gun leveled and fired a single round, White said at a news conference the day after the shooting. Officers returned fire, he said, striking Rambo at least 10 times.
That version of events is disputed by Baughman, who wrote that the electric jolt from the Taser caused Rambo, who had put "his hands in the air," to fire his gun involuntarily.
"Thereafter, the law enforcement officers proceeded to unleash an unnecessary barrage of gunfire at and into Mr. Rambo," according to the tort claim.
A more in-depth description of events alleged by police and prosecutors normally would be available in court documents. However, many of the documents in Rambo's case have been kept secret from the public by a judge's order to seal them.
The Coeur d'Alene Police Department has not released any further information or body camera footage of the incident. In response, Ellis started a petition that now has nearly 13,000 signatures for the department to release the footage.
The Bonner County Prosecutor's Office, which reviewed the case as an outside agency, declined to press charges against any of the nine officers who fired their weapons.
When George Floyd was killed in Minneapolis in May, causing a resurgence of the Black Lives Matter movement and protests against police brutality, Ellis said it felt like "salt in the wound."
"It was already upsetting to me long before that because what happened with Tyler is that classic police brutality thing," Ellis said. "It's a story that I hear about in another city to another family to another son, not mine, and to realize, 'No, that's actually your life,' I still have a hard time – like this really happened."
Ellis began speaking at larger protests in Spokane, sharing her family's story.
"In the end, he is the one being blamed for the injustices and violence committed against him," Ellis said at an August protest. "What do you do when complying still gets you killed or almost killed? Who do you call when the police officers are the ones instigating violence?"
COVID-19 causes trial delays
Rambo's trial was set to begin earlier this month but was postponed due to COVID-19 restrictions.
Ellis said she is "devastated and disappointed" the trial was postponed.
"Nobody can really move on with their lives until this is over," Ellis said.
Idaho Supreme Court has ruled trials can only be held if the weekly average of new COVID-19 cases is under 25 per 100,000 residents or if the rate does not increase the week after counties record 14 to 25 cases per 100,000 residents. A new opinion issued Thursday by Idaho Supreme Court Chief Justice Roger Burdick orders no jury trials, whether criminal or civil, to begin in Idaho courts before Jan. 4.
Delays also create struggles when it comes to the fairness of the trial, Baughman said.
"It's horrific," Baughman said. "It is a complete impediment to an accused's right to a fair trial, particularly in cases like this."
The state's case relies on law enforcement officers, Baughman said, who not only write reports but also have experience testifying. The defense's case relies on lay people who move away or forget what they may have witnessed, Baughman said.
It's also hard to schedule a trial as large as Rambo's.
"We are anticipating the trial to last for two weeks," Baughman said. "In a case like this you have such an uptick in COVID there's no reasonable way you can assume it's going to be over in a couple months."
Spokane attorney Jeffry Finer, who is not involved in this case but has a background in criminal defense, including his successful representation of the Otto Zehm family in its wrongful death lawsuit against the Spokane Police Department, said myriad factors must be mitigated by a judge during this trial, including the political climate surrounding race and police brutality.
"First of all, everyone read about it, so jury selection is going to be tough," Finer said.
There are two main ways to handle that issue, Finer said.
"One is to move the trial. That won't help," Finer said. "It's not a sensational trial, it's a sensational issue."
The other route is through jury selection.
Potential jurors with "attitudes that are unsuitable" will be dismissed, Finer said.
With a long trial and COVID-19 continuing, an additional alternate juror will likely be needed, Finer said, and 110 to 120 people could be needed to eventually find an appropriate jury.
It will be hard to find enough people who can sit on a jury for two weeks and who don't have a "predetermined attitude about police or about suspects," Finer said.
"The jury selection is going to tell the story. This challenges not the integrity of the system so much as the capacity of the system," Finer said. "Even with a well-managed trial with decent jurors, a careful judge and good attorneys, it's a nightmare."
While Finer said postponing the trial due to COVID-19 concerns makes sense, he does not think it will help mitigate the potential police brutality or race factors in the case.
"Postponing to February makes sense COVID-wise, but I don't think it's going to matter having the Black Lives Matter self-defense setting," Finer said. "I don't think it can be pushed out of the case altogether."
Trauma that affects the whole family
While Ellis knew a postponement was possible with COVID-19 cases on the rise in Kootenai County, she said the trial being pushed back to February 2021 is difficult to accept.
Ellis said Rambo has kept to himself in jail and is dealing with PTSD and anxiety without his support system. Court documents show a psychologist recommended an emotional support animal but Rambo's lawyer said he does not currently have one.
"He has nightmares – being shot every single night," Ellis said. "He wakes up smelling blood and gunpowder."
During the first portion of his jail stay, Ellis said her son was in solitary confinement.
"The first several months we would sit on the phone for like four to five hours a day because it was scary and I wanted to make sure he was OK," Ellis said. "I don't trust the jail and I don't trust the police and I was worried about if they would even care if something did happen to him."
One night early on, he was describing symptoms of an infection to Ellis, who ended up going down to the jail and calling 911 from the parking lot to make sure her son would get the care he needed. Rambo did have an infection that was treated.
Despite the mental health challenges, Ellis said her son is doing "really well, considering."
The rest of the Ellis family continues to be affected by the upcoming trial. Ellis' children were being bullied at school last year to the point that Ellis began homeschooling.
"The school thing was really hard," Ellis said.
While they're now back in school, Deja, Ellis' youngest daughter, struggles to be around any type of law enforcement officer or first responder.
"How do you explain this situation to a 9-year-old. Like you really can't, not without her hating cops. Even Tyler (Rambo) has told her not all cops are bad," Ellis said. "Trying to restore that trust in them is just going to be very difficult."
Local journalism is essential.
Give directly to The Spokesman-Review's Northwest Passages community forums series -- which helps to offset the costs of several reporter and editor positions at the newspaper -- by using the easy options below. Gifts processed in this system are not tax deductible, but are predominately used to help meet the local financial requirements needed to receive national matching-grant funds.
Subscribe now to get breaking news alerts in your email inbox
Get breaking news delivered to your inbox as it happens.
---