Sports
A Grip on Sports: It was nearly a full Saturday of Pac-12 football games, and a lot happened – including in Pullman
Sun., Nov. 15, 2020 A GRIP ON SPORTS • We watched quite a bit of Pac-12 football yesterday, especially after the Masters finished play for the day. And we have some thoughts.
•••••••
• Everything starts in Pullman. For us anyway. But it doesn't finish there.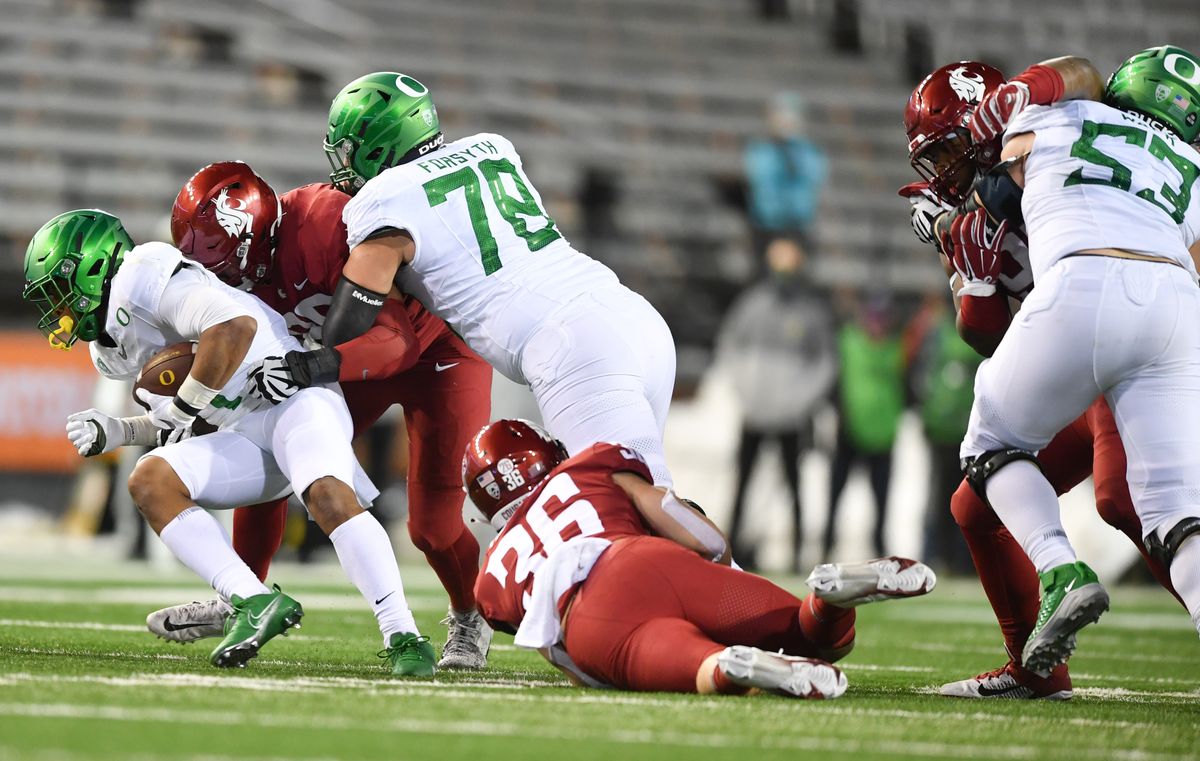 – The Cougars are certainly game. But do their defensive linemen have the size to win many games? Scheme can account for only so much. So can quickness. Some times football is about bulk, strength and heft. In the middle of the defense, Washington State lacks a little of that.
Against Oregon it showed, especially as the game wore on and players wore down. As one college football coach once told me: quickness and speed slow down during a game; big dudes are still big dudes in the fourth quarter.
– WSU can never afford injuries. Even in its best years. The Cougars just don't have the depth, and the depth of talented players, as many of the Pac-12 best. The loss of Max Borghi really hurts them – as did Saturday the loss of Calvin Jackson Jr. Yes, Deon McIntosh has been a revelation, but there were a couple of his long runs against the Ducks that Borghi would have been a threat to take to the house. His top-end speed, when healthy, is that good. Another first-half touchdown would have made a big difference.
– The conference's best don't belong in the national picture. At least not now. USC is still coached by Clay Helton. And it still shows. There is just something missing with the Trojans and that's enough to keep them out of the playoff picture. Yes, there is talent. But the defense still enjoys self destructing. And unless Kedon Slovis can start throwing spirals again, their offense isn't going to scare anyone. Except maybe Larry Scott and his hopes of a multi-million dollar playoff payout.
Oregon has weapons, but Tyler Shough is still learning. He is not consistently accurate, which will bite the Ducks at some point. The jury is still out on the offensive line, despite the hype thrown its way by the Fox broadcast crew yesterday. Washington State was more of a quiz concerning their abilities, not a final test.
After watching the best of the best play multiple games this season, the Alabamas and Clemsons and even, though this hurts to say, the Notre Dames, the Pac-12's best doesn't look to be in that category. (Ohio State may be in that category as well, but their resume isn't deep enough just yet.)
– The Pac-12 still has a major problem with its officiating. And it seems to be getting worse, not better.
There were plenty of examples in the Oregon/WSU game, but the misses in Washington's win over Oregon State actually determined the outcome. There is no one in America who thinks Jermar Jefferson didn't pick up a first down near the Husky goal line late – except the officials who marked the ball and the person in the replay booth. The marks – on third and fourth down – were so poor as to be an embarrassment to the conference. Though that's not unusually. Disappointing, sure, but not unusual.
But maybe the worst call (or non-call) occurred in Tucson. It helped the Trojans survive and cast aspersions on the conference's motives. A USC receiver grabbed and pulled an Arizona tackler so blatantly on a key late play, the Wildcats' fans were speculating about collusion throughout the afternoon on social media.
Such conspiracy theories are all the rage. But it occurs to me it's impossible to complain about the conference office's incompetence at the same time ascribing to it an ability to pull off a complicated conspiracy that ensures victory for one team or another. It just doesn't add up. We always believe in the easier explanation. Mistakes happen because of a lack of competence, not some grand plan.
• A Cougar great – in many, many ways – died recently.
Bill Gaskins, a Spokane high school star and a member of WSU's 1965 group nicknamed the Cardiac Kids, passed Thursday.
His name doesn't appear in all that many spots in the Washington State record book, but if there were a list of top 10 nicest people connected to the university, he would be on it. And quite possibly at the top.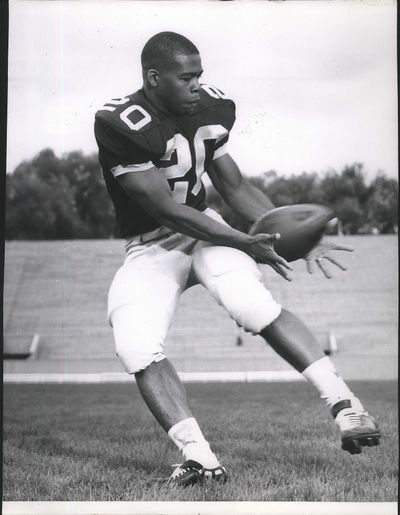 Gaskins made my time (and the time of everyone who came in contact with him) in Pullman better, even though we only interacted at home games. He sat just behind me in the press box for many games, performing his duties as an observer of Pac-12 officials. (Now that's a thankless job.)
We talked often about subjects as varied as our children and WSU quarterback play. He taught me about officiating – he spent years on the field after his playing days were done – and he was my go-to guy when something untoward happened in that arena.
No matter what, Gaskins was a gentleman. He spoke the truth at all times – he occasionally mentioned something I had written he didn't agree with, but he was never mean about it – and you always felt uplifted after speaking with him.
If there are a handful of Cougars representing Washington State's interests in heaven today, Gaskins is among them. And he belongs.
•••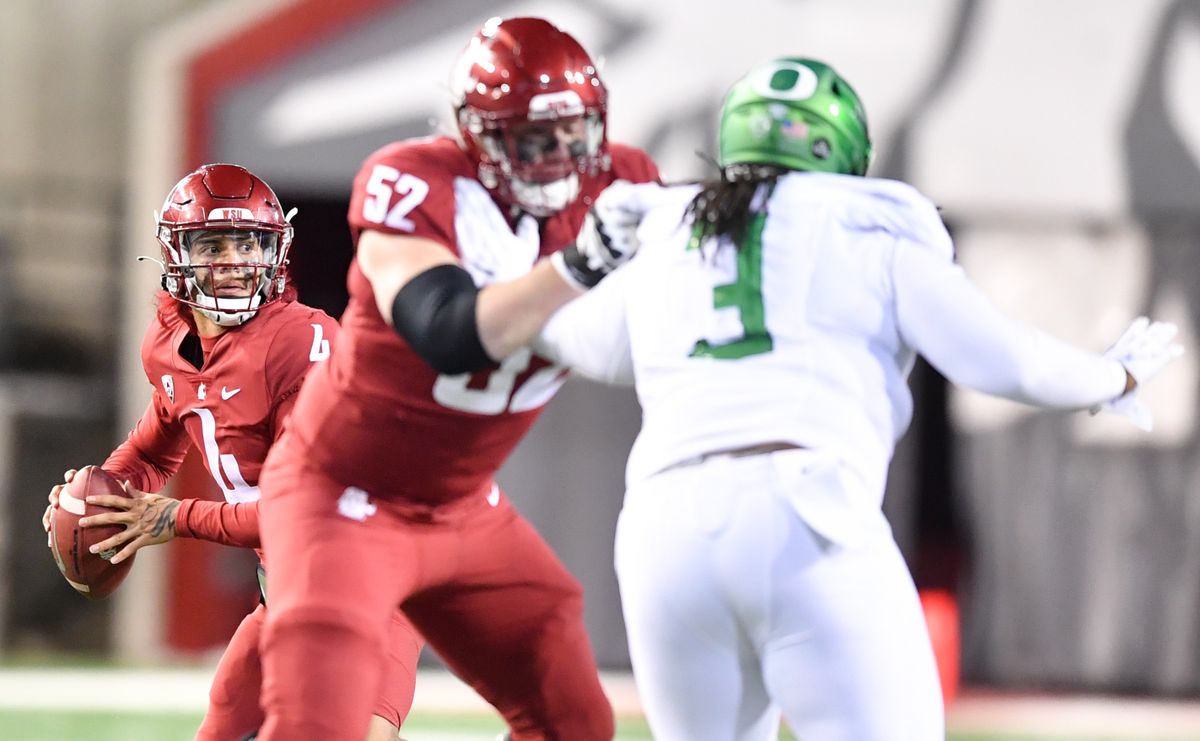 WSU: There is a lot to unpack from the Cougars' 43-29 loss to Oregon. And most of it was put in your suitcase by Theo Lawson. Before the game began, Theo had a story on Gaskins' passing, one on a freshman defensive standout and another on Washington State's injuries. Afterward he supplied the game analysis and the difference makers. … John Blanchette has his column from Pullman and a quiet Martin Stadium, a sign of the 2020 times. … Dan Thompson chipped in with a story on Lucas Bacon's first touchdown catch. … Tyler Tjomsland has a photo gallery. … The hardworking folks in Spokane added this recap with highlights. … Like all of you, I watched from home and dealt with the TV broadcast. … There are impressions from all over. … Oregon trusted its running game and that was enough to get past WSU. … Around the Pac-12 and college sports, Jon Wilner sees USC and Oregon the same way I do. Good, but not good enough just yet. … The conference is dealing with coronavirus issues each day, it seems. … Washington and Oregon State slugged at each other for 60 minutes. Every mistake was magnified. Even the ones made by people other than those playing. That's too bad. Still, the Beavers are 0-2. … The testing screw-ups cost Stanford at Oregon. And they continued to reverberate this week, costing the Cardinal against Colorado as well. The Buffs will take the win. After all, they are 2-0. … The bottom line is USC defeated Arizona. As if the bottom line is all that matters in college football. The Wildcats played well but not well enough. … California and UCLA play this morning in the Rose Bowl. Yep, a Sunday college game. Hello 2020. … Arizona State is in limbo today.
Gonzaga: Jim Meehan has more to add from the Kraziness in the Kennel. As does photographer Dan Pelle, who posted this photo gallery. … If you want to buy a cutout to have in McCarthey, you can. Jim has more in this story.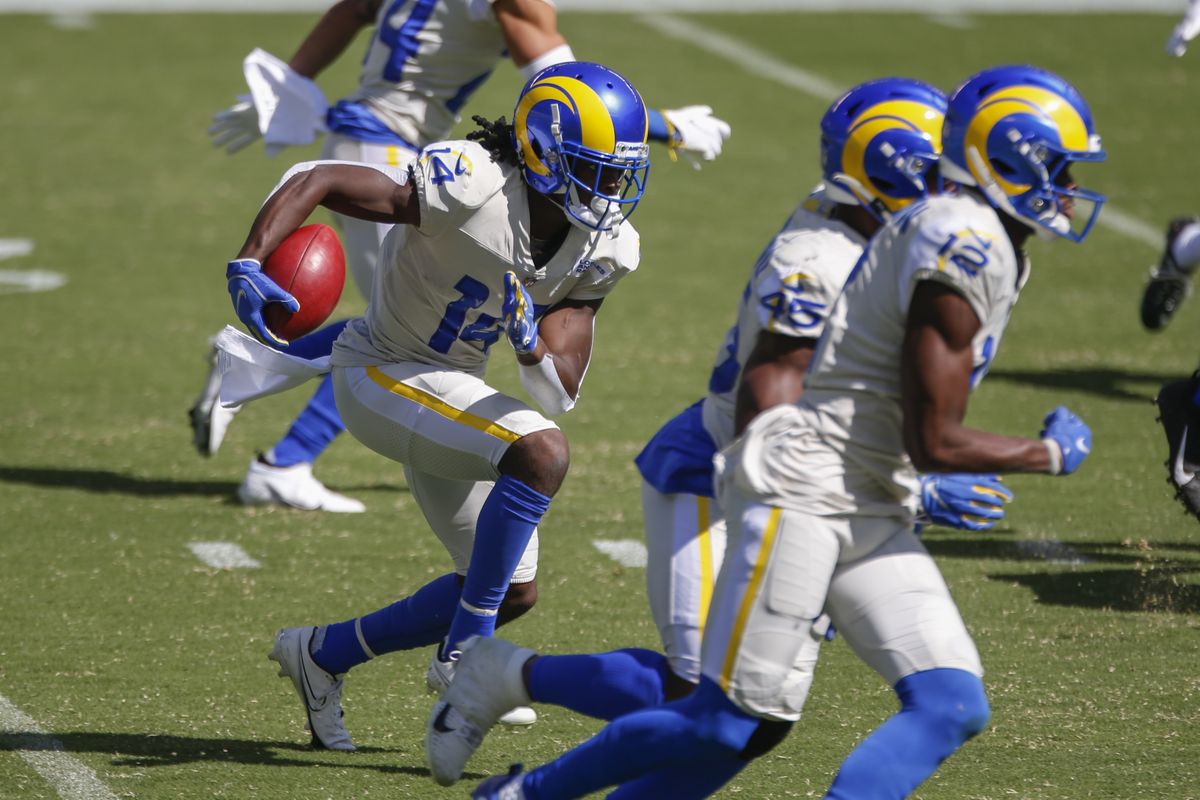 EWU: Nsimba Webster is the Los Angeles Rams' special teams star. Ryan Collingwood shines a spotlight on the former Eastern player in advance of today's game in L.A. against the Seahawks. … Ryan also continues to examine the Eagles' championship season, looking back at their first FCS playoff game in 2010.
Preps: There was one more football playoff game yesterday involving a North Idaho school but it ended with Mullan-St. Regis eliminated in the semifinals at Dietrich.
Chiefs: There won't be a Teddy Bear Toss this season. But the Chiefs have come up with a way to help the S-R's Christmas Fund. Nina Culver has this story.
Seahawks: The NFC West may be decided in the next few days. … The Rams must be licking their chops thinking about attacking the Hawks' secondary. … Seattle is missing a bunch of key players. Can the Hawks win the key matchups?
Mariners: Is J.P. Crawford the shortstop of the future?
Sounders: The MLS has a plan for 2021. It seems, well, ambitious.
•••       
• We have been watching the Masters as we write on this, the ides of November. Dustin Johnson is doing Dustin Johnson-on-Sunday things. We'll have a recap of the final result in tomorrow's column. Until later …
Local journalism is essential.
Give directly to The Spokesman-Review's Northwest Passages community forums series -- which helps to offset the costs of several reporter and editor positions at the newspaper -- by using the easy options below. Gifts processed in this system are not tax deductible, but are predominately used to help meet the local financial requirements needed to receive national matching-grant funds.
Subscribe to the sports newsletter
Get the day's top sports headlines and breaking news delivered to your inbox by subscribing here.
---