News
Thinking of a last-minute COVID-19 test for Turkey Day? Think again
Nov. 24, 2020 Updated Tue., Nov. 24, 2020 at 2:51 p.m.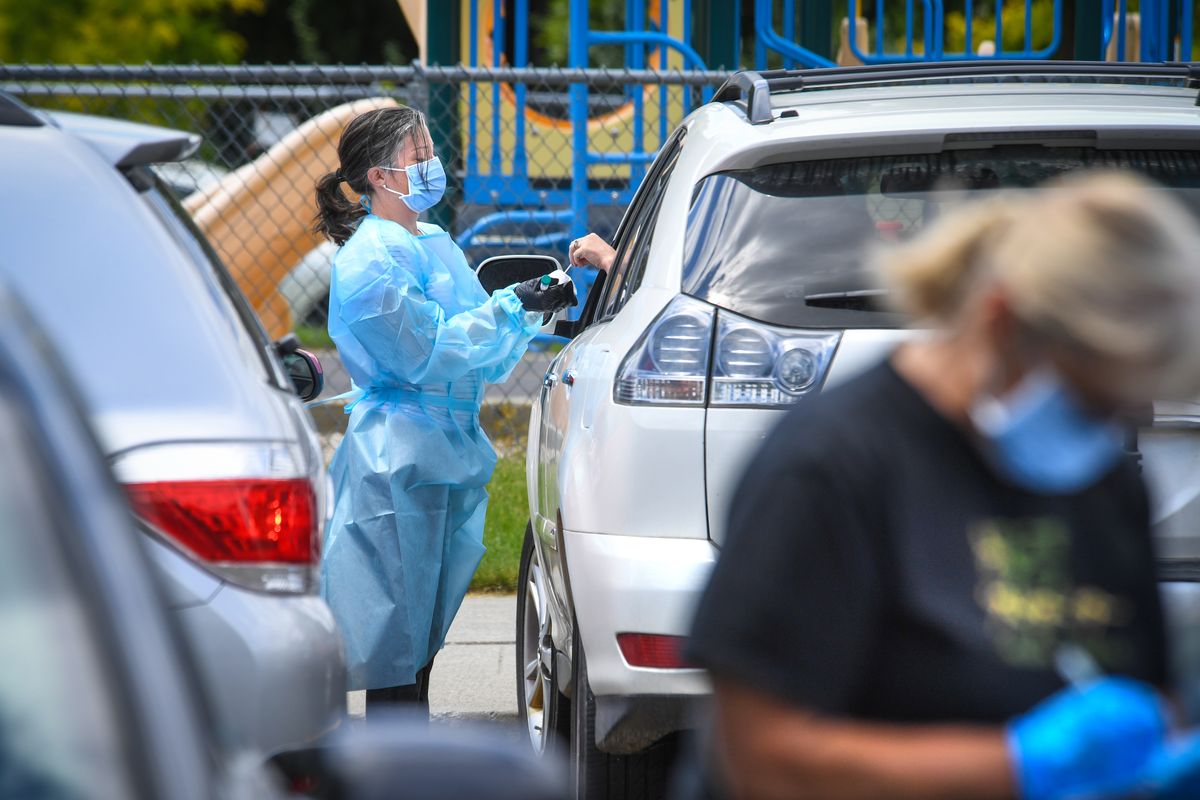 Spokane Regional Health District and volunteer nurses conduct curbside COVID-19 testing in the parking lot at Holmes Elementary School in July. (DAN PELLE/THE SPOKESMAN-REVIEW)
COVID-19 tests are not for healthy people hoping to get the all-clear in advance of a Turkey Day family gathering.
In fact, a rush for testing has stressed local resources as case counts hit record highs.
CHAS clinics in Spokane County are offering a large amount of the community's testing for low-income and uninsured residents free of charge. Staff at CHAS clinics tested the most people they have in a single day last Friday, with more than 600 tests administered.
Testing is not for people who do not have symptoms, however, including those who simply want to get tested before a Thanksgiving gathering, said Deb Wiser, chief clinical officer at CHAS. She asked community members to not overwhelm the testing system by seeking testing unless they have COVID-like symptoms or a known exposure to a person with the virus.
"Our system does not have capacity to handle (testing for people with no symptoms), and it really limits the capacity of the system for the people who do have those symptoms and exposures," Wiser said.
Wiser believes the increased demand for testing in recent days is due to people wanting to get tested ahead of the Thanksgiving holiday, but she noted that test results take one to three days to return. A person who is tested for COVID-19 is supposed to isolate until they have received their test results.
Even a negative test result would not necessarily be an indoor-gathering green light. A person could still be infected between the time they receive a negative test result and when they slide up to the dinner table with family and friends.
The PCR test may not be positive for up to five days even after a person is exposed to the virus, according to the Washington Department of Health. The department recommends that a person exposed to COVID-19 but not showing symptoms should get tested at least five days after their exposure.
"If people are looking to get pretested before they see family for the holidays, it's important for them to know they could have an infection, not test positive and develop symptoms later," Wiser said.
There are two exceptions to the governor's restriction on indoor gatherings, which is in place through Dec. 14:
• Residents are allowed to gather indoors with less than five people outside one's household if all people quarantine for two weeks prior to the event.
• Residents are also allowed to gather if people quarantine for seven days and receive a negative COVID-19 test 48 hours or less before gathering.
Rather than navigate the complicated quarantine requirements, public health officials and health care providers are urging people not to get together in person at all for the holidays.
Tests are not infallible, especially when it comes to rapid antigen tests, which return results faster than PCR tests but are less reliable.
"We know that rapid tests (offered at ExpressCares) work best on people who are symptomatic, so that's not a good option for people who aren't showing symptoms," said Beth Hegde, a spokesperson for Providence Health Care, in an email.
Unlike CHAS, Providence has not seen a significant increase in demand for testing from asymptomatic people, according to Hegde.
Although Spokane is conducting more COVID-19 tests than any time in the pandemic, testing supplies remain finite and health care provider resources are inadequate to offer blanket testing to the asymptomatic public.
"We need to conserve resources for people who are showing symptoms," Hegde said.
MultiCare is requiring patients to have a doctor's referral to be tested for COVID-19.
Individuals without a provider can contact a MultiCare urgent care clinics or fill out an online assessment to determine if they need to be tested.
The stakes are enormous. Already facing a wave of COVID-19 cases that are straining health care resources, officials have warned in recent days that another post-holiday surge could be disastrous.
"The house is on fire and we need everybody's cooperation," said Secretary of Health Dr. John Wiesman in a Friday news conference.
News outlets from the West Side reported long lines at drive-thru testing sites last week. But in Spokane, the drive-thru testing site at the county fairgrounds was dismantled months ago and testing is scattered among health care providers.
The initial guidance that accompanied Gov. Jay Inslee's new round of restrictions may have contributed to the surge in testing demand in places like Seattle, suggesting a negative test result allows for indoor gathering.
On Friday, state officials clarified that people who are asymptomatic and unexposed should not rush to get tested.
Quarantining for 14 days is an option for people if they want to attend a social gathering, Wiesman said, but those protocols are pretty strict.
It would mean staying home for 14 days with no visitors or contact with anyone outside, he said. Fourteen days is the "incubation period" of the virus, where if someone is exposed, they could become infected at any point during that time period, he added.
Wiesman urged everyone again to avoid social gatherings of any kind until the virus is under control. Inslee also urged residents to avoid social gatherings, especially during Thanksgiving.
He also asked residents, who simply want to gather on Thanksgiving, to avoid getting tested for COVID-19.
"We want to make sure people who actually have symptoms can get tests," Inslee said. "We really do discourage people from getting testing just to enable them to have Thanksgiving dinner."
Local journalism is essential.
Give directly to The Spokesman-Review's Northwest Passages community forums series -- which helps to offset the costs of several reporter and editor positions at the newspaper -- by using the easy options below. Gifts processed in this system are not tax deductible, but are predominately used to help meet the local financial requirements needed to receive national matching-grant funds.
Subscribe now to get breaking news alerts in your email inbox
Get breaking news delivered to your inbox as it happens.
---