News > K-12 education
Opportunity Elementary educator Mandi Rehn named principal of year in Washington
Thu., Nov. 26, 2020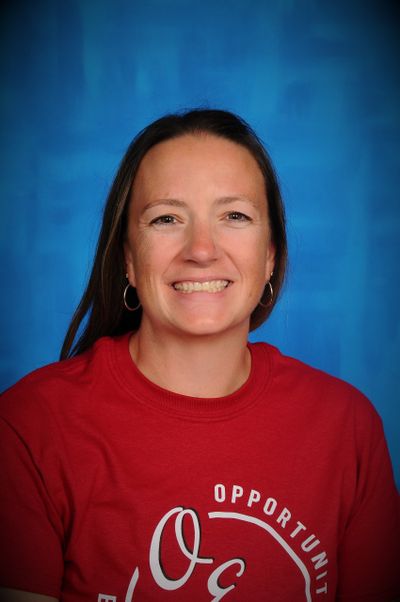 Mandi Rehn is in her ninth year as principal at Opportunity Elementary in Spokane Valley and transitioning to a new job in the Central Valley School District main office. As she juggles both jobs, she was just named the Washington State Elementary Principal of the Year by the Association of Washington School Principals.
Rehn said the news of her award came as a surprise. She was asked to set up a Zoom meeting to discuss finding a replacement principal.
"When I got on the Zoom meeting, I saw my brother," she said. "My brother lives in New York. And then on another screen I see my parents."
She said she got emotional when she was told about the recognition.
"It was just a super surprise," she said. "When I think about it, I still get teared up."
Rehn's career in education has been assured since she was about 6 years old, when she recruited neighborhood children to come to her school.
"I used to get the kids to come to school in my treehouse in the summer," she said. "I had a schedule and worksheets and everything."
She doesn't know why teaching has always been her passion, but she does point to her childhood teachers as an inspiration.
"I wanted to be just like them," she said.
Rehn grew up in north Spokane and got her teaching degree at Whitworth College. She started her career in education 20 years ago at Indian Trail and Cooper elementary schools in Spokane teaching kindergarten through third grade. She said teaching kindergarten was her favorite.
"Kindergarten kids still have so much love for life and everything," she said. "They're just like sponges. They soak everything else."
When she was working on her doctoral degree in educational leadership at Washington State University, a mentor suggested she get her principal certification. It was something she hadn't considered before, but she was soon all in.
"You go from impacting your 25 kids in your classroom to impacting an entire building," she said. "Being a principal is the best job I've ever had. I love it."
She was principal at Michael Anderson Elementary on Fairchild Air Force Base for five years before landing at Opportunity Elementary. She said she wanted to work in the Central Valley School District because of Superintendent Ben Small.
"His leadership and direction and philosophy very much matched what I believe in," she said.
She fell in love with Opportunity Elementary, which is one of the poorer schools in the district.
"The staff at this school is amazing," she said. "It's like a family. It's really about the culture."
Still, she accepted the position of director of special programs and elementary curriculum in July. She's been doing both jobs ever since. She'll finish out the school year at Opportunity, when a new principal will be hired.
Her final year has been nothing like she planned. Students started out the year attending virtual classes. Students in kindergarten through third grade have been brought back to the classroom with fourth- and fifth-graders remaining virtual for now.
It's been going better than expected, Rehn said. The children back in the building have been doing a good job of wearing their masks and maintaining their distance.
"I am super impressed with how it's going," she said. "Our kids are just fantastic."
While virtual school went well, Rehn said she's glad to have students back in the building simply because it's easier to form connections.
"I believe relationships are the most important things we do here," she said.
Rehn said it was a tough decision to leave Opportunity, but she's convinced she can make a difference at the district office. "Just like when I transitioned from teaching to principal, I'm seeing how my skills fit with the team at the district office and seeing how I can impact the district, the thousands of students and staff."
Though her office will be in the district office, she plans to spend plenty of time visiting schools to stay connected to students and staff.
"I will miss the kids more than anything," she said.
– Nina Culver can be reached at nculver47@gmail.com
Local journalism is essential.
Give directly to The Spokesman-Review's Northwest Passages community forums series -- which helps to offset the costs of several reporter and editor positions at the newspaper -- by using the easy options below. Gifts processed in this system are not tax deductible, but are predominately used to help meet the local financial requirements needed to receive national matching-grant funds.
Subscribe to the Coronavirus newsletter
Get the day's latest Coronavirus news delivered to your inbox by subscribing to our newsletter.
---