News > Spokane
Inspired by the nearby Spokane River, the new Glover Middle School project is taking singular shape
Sun., Nov. 29, 2020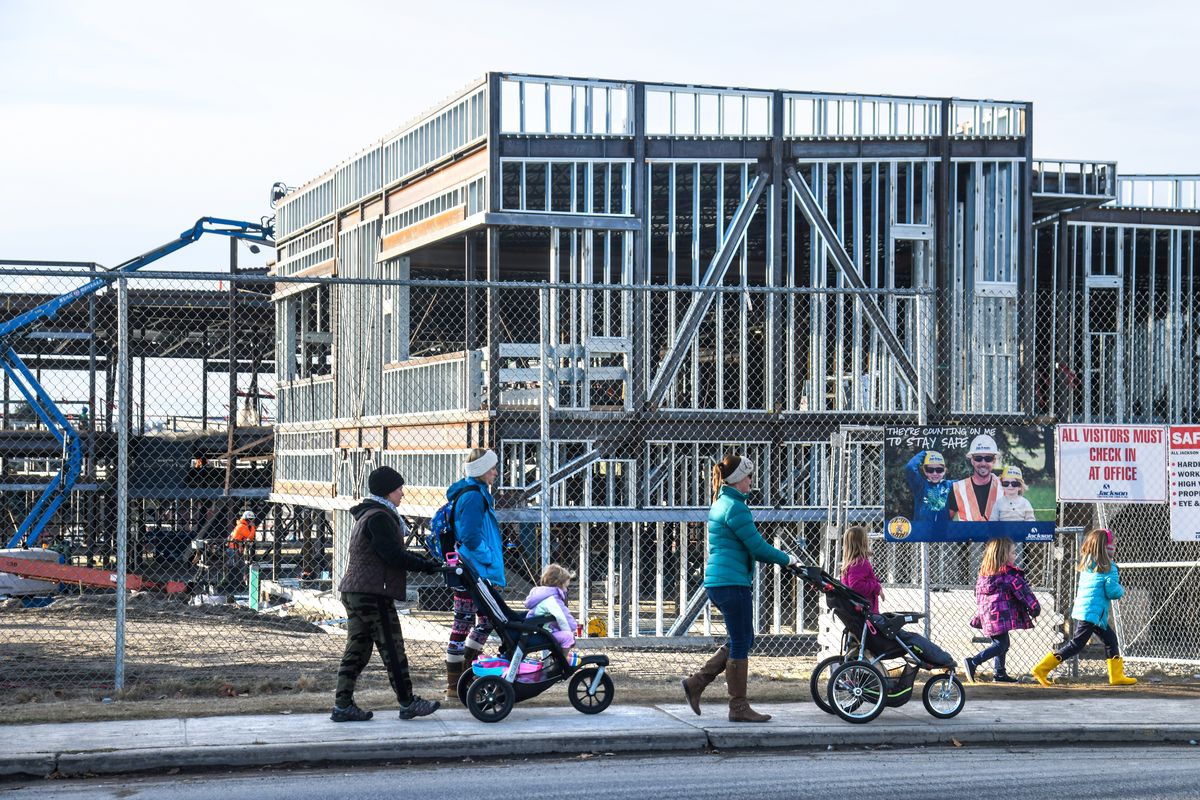 Families stroll past the construction site Nov. 20 at the new Glover Middle School on Belt Street and Longfellow Avenue in Spokane. (DAN PELLE/THE SPOKESMAN-REVIEW)
As the new Glover Middle School rises up next to the old, Principal Mark Lund sees more than a façade of steel and brick.
"I think it's a way to bring people together," Lund said Monday from his office – a quiet place these days because of the COVID-19 pandemic.
With no students roaming the halls, Lund said he's had more time to "seize the moment and carry forward" and plan for next year.
He and his staff have already crafted a mission statement for next year. Among other things, it promises that students will have "equitable access to on-demand, purposeful, essential and deep experiences."
They also will have a new building, a light at the end of this long tunnel of educational uncertainty.
"COVID has impacted the way people come together," Lund said. "I look at the new building and the heart of it, being able to connect people together."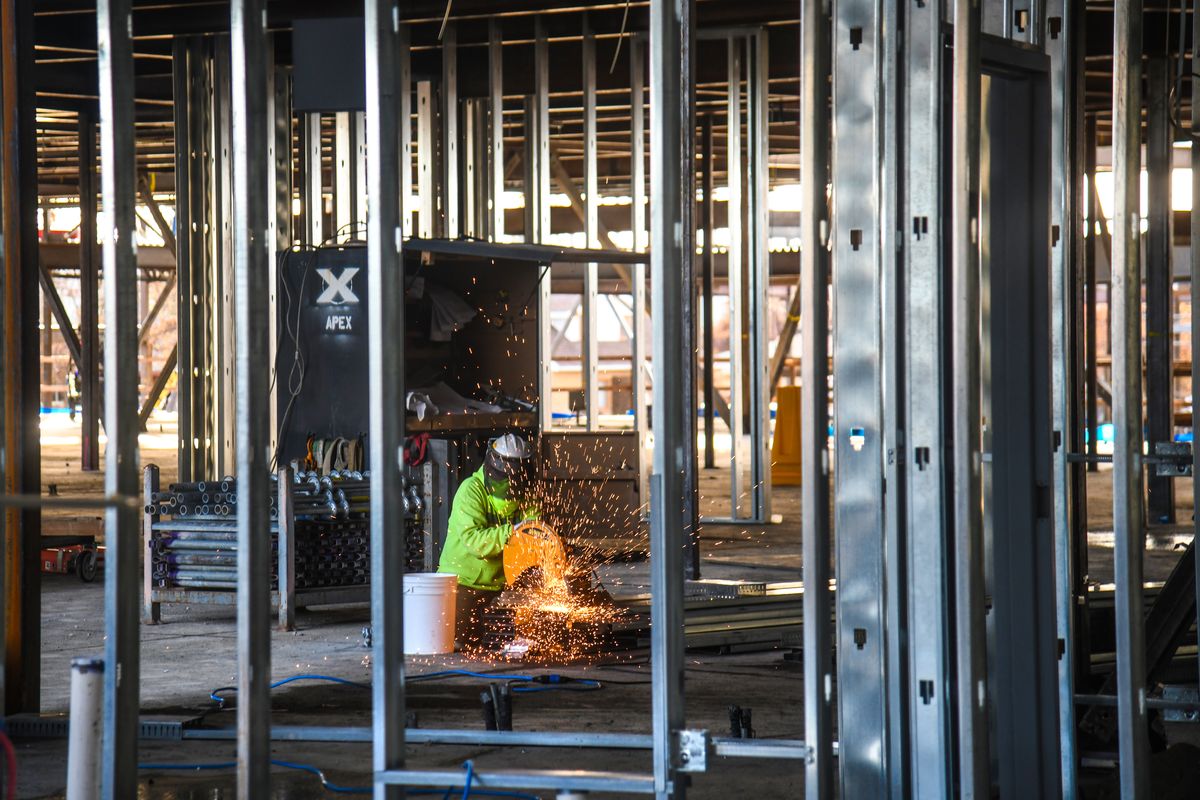 Bob Endicott, of LAC Drywall, cuts metal strips in the library area of the new Glover Middle School, Friday, Nov. 20, 2020, in Spokane. (DAN PELLE/THE SPOKESMAN-REVIEW)
Barely 50 feet away, the new building is fast becoming a reflection of the work put in by the Glover staff.
A few months after Spokane voters approved a $495 million bond – much of it earmarked for six new middle school buildings – students and teachers got to work.
When student-teacher design teams from Glover Middle School were asked to help envision the design of a new school building, they decided to go with the flow, drawing inspiration from the current of the Spokane River as it passes the Bowl and Pitcher at nearby Riverside State Park.
NAC Architecture of Spokane took it from there, designing a building that will allow students to find the right current, the right eddy – and make a few friends along the way.
That vision is taking shape.
Amid several dozen workers on a chilly Friday afternoon, steel girders sloped upward, flattened and then rose again as they followed the gentle rise toward the baseball field at Shadle Park High School.
In another nod to the nearby Spokane River and the Bowl and Pitcher, much of the masonry is black onyx.
However, the signature feature of the $43.5 million, 135,000-square-foot project is the collection of learning "neighborhoods."
Also inspired by the river, they were originally drawn as boulders on the east end of the campus. Hallways flow through, but at angles that look nothing like the ones in the current building.
Greg Forsyth, director of capital projects for the district and a Shadle Park grad, shared the passion during a recent tour.
Pointing at the "neighborhoods" on the second floor, Forsyth noted that "we can be self-contained or independent, can be divided by grade level or subject."
That's important, because some sixth-graders will move to middle school buildings in the fall of 2022.
"Our sixth-graders are so excited to be going into middle school," associate superintendent Mark Anderson said.
When they arrive at the new Glover, there will be fewer reasons to feel intimidated.
"There are a lot of opportunities to blend grades or separate them," Forsyth said.
"The most exciting thing is to bring relevancy between subjects – English helping science write a report, for example."
Forsyth also expects students and teachers to feel more connected to one another, partly because the neighborhood concept will keep them together 90% of the time.
Instead of long walks down the hall to a distant classroom, there will be more opportunities for small-group collaboration.
"If I want to grab five students, I can take them right there," Forsyth said, pointing to a slab of concrete. In a few months, that spot will be light and airy, with plenty of windows.
Most are small, but others will offer a panoramic view of the Spokane River bluffs to the west.
"Kids at Glover have never seen that before," Forsyth said.
Local journalism is essential.
Give directly to The Spokesman-Review's Northwest Passages community forums series -- which helps to offset the costs of several reporter and editor positions at the newspaper -- by using the easy options below. Gifts processed in this system are not tax deductible, but are predominately used to help meet the local financial requirements needed to receive national matching-grant funds.
Subscribe now to get breaking news alerts in your email inbox
Get breaking news delivered to your inbox as it happens.
---