News > Washington
Infamous Virginia Hill lived briefly in southern edges of Spokane
Thu., Sept. 3, 2020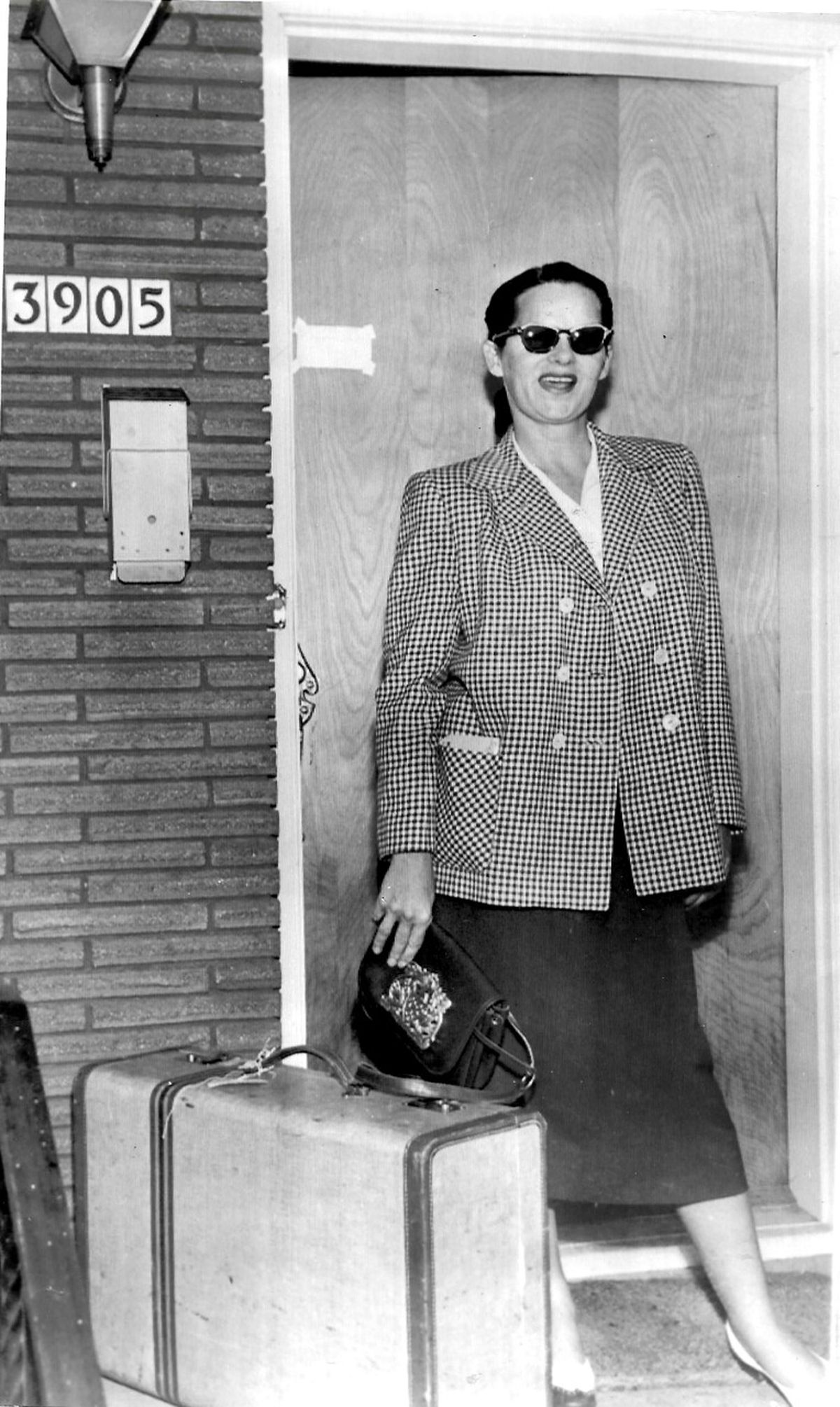 A photo of Virginia Hill in front of her Spokane house at 39th Avenue and South Skyview Drive on the South Hill appeared in October 1955 in the Houston Post. The Post's caption read: "Spokane, Wash. LOCKED OUT. A miffed Virginia Hill arriving with baggage but barred from her expensive home by a treasury agent." (Courtesy of Darin Krogh/For The Spokesman-Review)
'Bugsy" Siegel's ex-girlfriend moved to edge of Spokane in early 1950s, before her troubles began
Virginia Hill was famous for surviving her love affair with mafia big shot Bugsy Siegel. He didn't. Bugsy tended to get insanely angry at small provocations; some people described his condition as "Buggy in the head," which is why Benjamin Seigel became "Bugsy."
In the 1940s, Bugsy built the first luxury hotel casino on the Las Vegas Strip, The Flamingo, 105 rooms. Las Vegas had not seen anything like it. Big name entertainers and his famous Mafia moll, Virginia Hill, were features of the new resort. The Mob didn't like the way Bugsy was running the Flamingo. He was skimming off the top. Bugsy's days were numbered.
Six months after the opening of The Flamingo, Virginia Hill lost interest in Siegel and moved into a home at 810 North Linden Drive in Beverly Hills. Bugsy and other upper echelon mobsters had made her rich.
Virginia Hill started out as a "shimmy" dancer at Chicago's "A Century of Progress Exposition" in 1933. She later became a waitress in a short skirt at a restaurant hangout for the Capone gang. The connections she made in Chicago launched Virginia Hill's career as the mistress, cash carrier, money launderer and spy for many of America's leading racketeers. She was the only woman ever mentioned as an associate of the Mob.
When it came time for business, Mafia bosses, who knew and cherished Virginia Hill, told her to fly to Paris. Hill told Bugsy she was going to Paris to buy wine for The Flamingo and left him at her Beverly Hills home. She never saw him again.
At approximately 10:30 p.m. on a night in June, a hail of bullets crashed through the living room window of VirginiaHill's Beverly Hills home. The first shot hit Bugsy in the head. More bullets, fired from a .30-06, crashed into his body, broke his ribs and tore up his lungs. Bugsy Siegel was dead at age 42.
Virginia Hill's home in Spokane never suffered a hail of gun fire.
After a cooling of her Mafia ties, Virginia Hill married a dashing Austrian ski instructor, Hans Hauser, and they moved to a quiet South Hill neighborhood in Spokane. Their son, Peter, was born in 1950. They raised him in Spokane until the Internal Revenue ServiceI.R.S. began to pressureVirginia Hill for back taxes they claimed she owed. VirginiaHill hoped to trade her diary, which included names and dates, for leniency from the IRSIRS.
Virginia Hill went into hiding while Hans and Peter left for Europe to avoid the scandal.
In 1954, Virginia Hill returned to Spokane and went straight to her home on a corner of 39th Avenue and South Skyview Drive, just a few blocks off High Drive. (See A Houston Post newspaper the photo shows of Hill standing with a suitcase at her Spokane door, blocked from entry by an IRS agent.)
Spokane-born author Jack Sheehan wrote in gamingtoday.com this about Virginia Hill's return to the Lilac City:
"My personal interest in Ms. Hill originated in the years after Bugsy's demise. In 1950, she found her way to the Pacific Northwest, where she married a dashing Austrian Olympic snow skier Hans Hauser. The couple moved to my hometown of Spokane and purchased a modest home, one block from the house I was raised in. Their son Peter was born that same year.
"My parents met and socialized with Virginia and Hans several times over the next couple years. They played bridge together and Virginia even had dental work done by my father and another local dentist. The Hausers fit in comfortably in this middle-American lifestyle, which was so radically different from that of her earlier life.
"But when the IRS closed in on her in 1954, their home was seized and her expensive jewelry and fur collection were put up for auction. My mother bought a few trinkets at that sale, which she treasured in later years as memorabilia."
The auction of Hill's house and possessions raised $41,000 against the unpaid tax balance of $161,000. With no way to pay up and determined to stay out of jail, Hill fled the country.
The New York Times wrote, "Miss Hill is having problems in Spokane, Wash., where the Treasury Department has seized her $35,000 house and most of her personal assets against $161,000 in taxes that West Coast Agents said she owed. The lien prohibits her from disposing of any of her assets until the tax bill is met."
On Aug. 2, 1954, a government auction took place on the front lawn of Virginia Hill's home on the South Hill in Spokane.
More than 2,500 people gathered in stifling 90-degree heat to bid on Hill's former possessions – even going as low as to bid on her garbage cans.
"The big catch of the day for bargain hunters was Hill's silver blue mink coat, which the government estimated at $5,000. The highest bid was $1,550 The auctioneer G.T. Gregson said he sold 100 pairs of Hill's shoes, eight dozen suits, and assorted dresses, silverware, and dishes. The total haul for the government was $14,992. On the following day, Hill's seven-room ranch-style house in an exclusive Spokane residential district went up for bid.
"The winner of the auction was Jack H. Vertrees, who bought the house for $30,237; only $237 more than the government's minimum bid."
The auction of Hill's house and possessions raised $41,000 against the unpaid tax balance of $161,000. With no way to pay up and determined to stay out of jail, Virginia Hill fled the country.
Hill and her family drifted from one European resort to another, receiving money from several unidentified sources to finance her extravagant lifestyle. While the government renewed efforts to indict her, she apparently tried to drown her problems in drink. The Treasury Department pled its case against her before a federal grand jury. Ruling in favor of the government, the grand jury issued a warrant for Hill's arrest, and the Treasury Department distributed a "WANTED" poster to major post offices throughout the country.
News of the government's action soon reached Hill, who lived in Switzerland. Ostracized by her social circle who found it appalling that a "gangster" resided among them, Hill now succumbed completely to alcohol, which took its toll mentally and physically. She became paranoid and on several occasions reportedly attempted suicide by drinking herself into a stupor, then taking barbiturates.
In the 1960s, Virginia Hill decided to return home, turn herself in and serve her jail term as long as it was short. She was aided by her lawyer and an FBI agent Clifford Rice, who was her one-time neighbor in Spokane.
She arranged to return to the United States, as long as her arrival was known only to the government. When the IRS added a number of impossible conditions to her return, Hill used her secret diary as leverage, but the government was unimpressed and held firm to its demands.
Virginia Hill fired her lawyer believing that he had betrayed her. She returned to Switzerland to live out what were to be the final months of her life.
After separating from Hauser, Virginia Hill moved into a Salzburg hotel with her son Peter, nowthen 15.
According to criminal sociologist Dr. Lorraine Blakeman, Hill was then on the verge of a complete breakdown.
In desperation, she contacted Mafia bosses and threatened to reveal the contents of her diary unless they gave her money.
Hill met with syndicate boss Joe Adonis in Naples on March 22, 1966. The following morning, after supposedly receiving $10,000 in cash from Adonis, she was escorted from his house by two "friends" of the mobster.
Virginia Hill was found dead two days later, on March 24, 1966, near a brook in Koppl, Austria. Her death was ruled a suicide, and, for the next 25 years, it was believed that she had ingested barbiturates and alcohol, then wandered off to die.
Local journalism is essential.
Give directly to The Spokesman-Review's Northwest Passages community forums series -- which helps to offset the costs of several reporter and editor positions at the newspaper -- by using the easy options below. Gifts processed in this system are not tax deductible, but are predominately used to help meet the local financial requirements needed to receive national matching-grant funds.
Subscribe now to get breaking news alerts in your email inbox
Get breaking news delivered to your inbox as it happens.
---