Fire rages through Malden, leaving much of the small farming town in ruins
MALDEN — A wildfire decimated the small town of Malden on Monday, destroying an estimated 70% of homes in the northern Whitman County community and leaving behind scorched piles of rubble.
Whitman County Sheriff Brett Myers said the Babb Road Fire started in Spokane County before spreading across the county line and raging through Malden and the neighboring town of Pine City. The fire quickly consumed thousands of acres of Palouse wheat fields, forcing Malden's roughly 200 residents to evacuate.
"When we got information that fire started, there were 40 or 50 mph winds," Myers said. "By the time we had law enforcement in town to evacuate, the fire was at city limits, and within 20 minutes, it was consuming homes."
State firefighters responded along with crews from local fire districts.
At last check, the state Department of Natural Resources estimated the fire had burned roughly 2,500 acres, but Myers and local firefighters believed it had grown significantly larger. Myers said the blaze destroyed Malden's post office, town hall and roughly 70% of its homes, though firefighters will need to survey the damage more closely.
On Monday evening, the fire was still progressing toward the town of St. John and threatening the Whitman County communities of Thornton and Sunset, Myers said. Residents in those areas were preparing to evacuate, he said.
Myers said he believed deputies managed to evacuate every resident of the area, though he couldn't immediately verify it.
"The fire was too hot and too quick to even get a count," he said.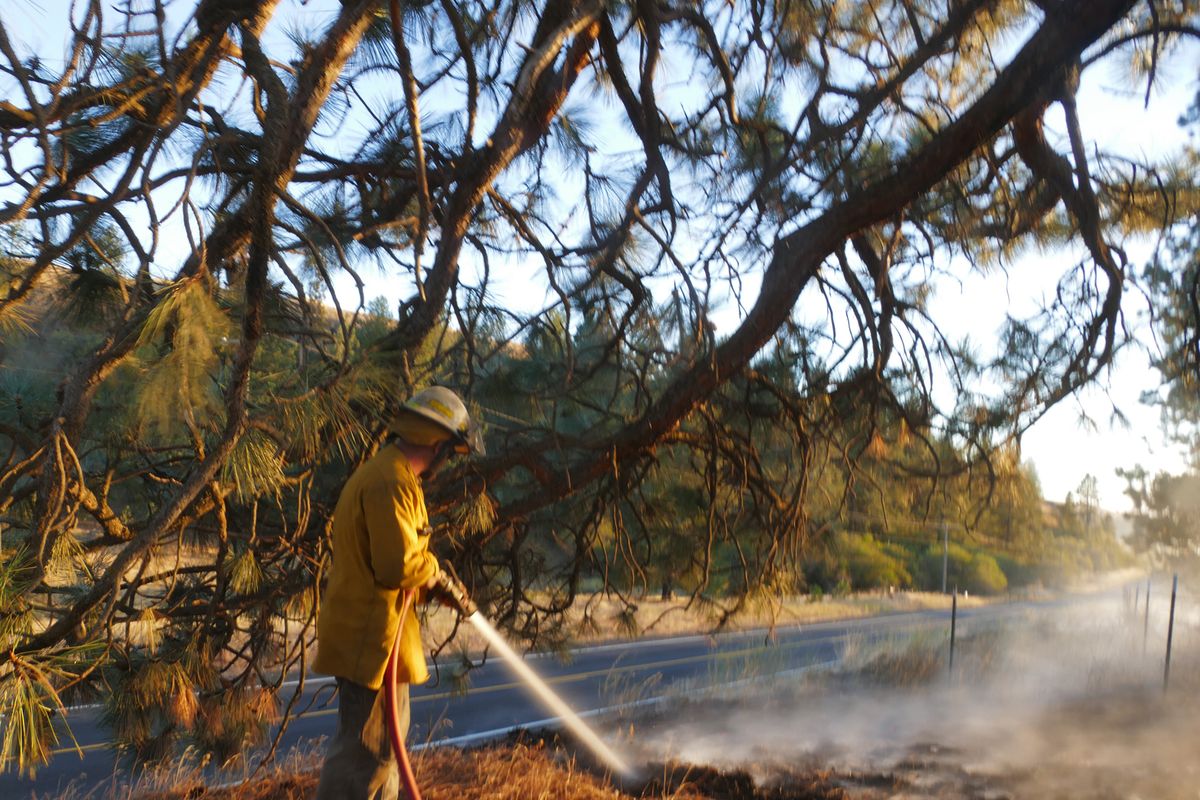 Evan Ellis, the news director for Pullman radio station KQQQ, met Myers at the edge of Malden andgot in the sheriff's car as the parade of destruction began.
"Immediately, just getting to the edge of town, we could see several foundations smoldering and several homes already on fire," Ellis said. "As we went further into town, the post office was already destroyed, City Hall was rubble, the fire station was rubble. Most of the homes and businesses were on fire."
Most of the residents had fled, but Myers and Ellis encountered a woman standing on a second-story deck spraying down her roof with a garden hose.
"She said, 'I'm not going anywhere. I'm going to save my home,' " Ellis said, "and her home was standing."
Ellis had earlier responded to the fire in Colfax, which prompted an all-units call from surrounding fire stations. As a result, Malden units were fighting the fire in Colfax when dispatchers started calling out a field fire near Rosalia.
Pushed by winds, the fire raced up a canyon between the small towns before taking out Malden and most of Pine City.
"Everybody was sucked into Colfax, and then boom this fire comes out of Rosalia," Ellis said. "I've never seen anything like it."
Larry Pitner, a retired welder who has lived in the Malden area for 25 years, recalled his wife shouting, "We gotta go! We gotta go! We gotta go!" as the flames closed in from the north. He said he prayed for the best as they evacuated, but he could hardly believe it when he returned late Monday to find their house and yard had been spared.
"We thought our house would be gone when that fire was here," Pitner said.
Pitner said several relatives who live in the area were not so fortunate and lost their homes. His niece and nephew also lost tens of thousands of dollars in equipment for a duck egg laying operation on the land across the street from Pitner's home, he said.
Myers urged those displaced by the fire to call the Red Cross at (509) 670-5331 for assistance with lodging, food and other necessities.
Malden, which sits about 7 miles west of Rosalia and U.S. Highway 295, was once a prosperous and fast-growing community, starting in 1909 when the Chicago, Milwaukee and St. Paul Railway built a depot and roundhouse there to serve as headquarters for its Columbia Division, according to spokanehistorical.org. By 1920, the town counted more than 1,000 residents.
Those boom times were short-lived, however, as the railroad soon began pulling operations out of Malden. By 1930, the town was home to only 375 residents.
---